Winner, Winner. Would Buy 10 more!
This is probably my favorite lingerie/clothing item I've gotten from EdenFantasys. Although I am a little shy to pull if off outside the bedroom, I think that those who are confident enough to do so, would love it! It is the highest quality I've seen here, great materials, comfortable and form fitting. It is very in style and doesn't look cheap. The only thing to be aware of is the sizing - made for large breasted and runs large (order a size smaller!).
Published:
Pros:
So cute.
High quality.
Nice materials.
Cons:
None - ZERO!
The Linden Bustier is unlike any item I've seen at EdenFantasys. It reminds me more of something you would find in a hip young adult store than an online sex shop. Maybe that is why they are slowly putting these on sale and finishing out their stock. It seems as though they are going to be discontinuing them, but I could be wrong! If they completely get rid of them, I will be so sad! This is an awesome item that all should have!
Packaging:
Basic, Simple and Straightforward.
The Linden Bustier by Forplay came in a nice sealed plastic bag. Inside the item was neatly placed with a tag attached. The Forplay tag didn't say anything much, other that the logo. Inside the actual Bustier is where you can find all the needed information about this item. You could choose to re-use the plastic bag for storage, hang or fold the Bustier.
I am currently storing the Bustier with my other summer tops. It is folded flat, and doesn't cause any creases. This item is sturdy enough to not be handled too delicately. It can handle a bit of abuse.
Born in Hollywood
Made in China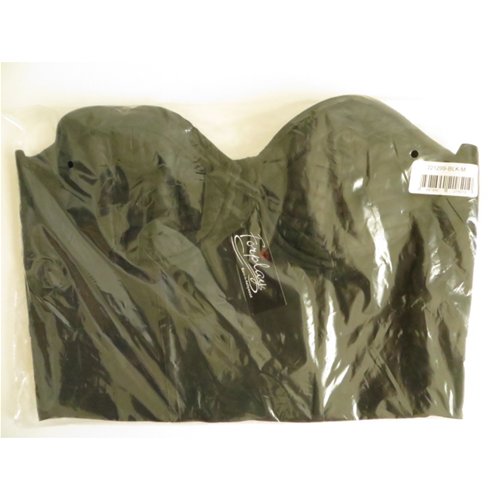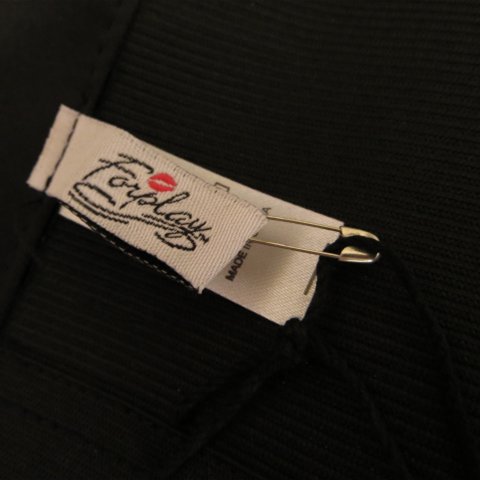 Care/ Maintenance:
Check the inside tag
When you open up the Bustier, you will find a white car tag inside. This is the only place the care instructions are, so I suggest taking care when washing the item, making sure the tag does not fade over time. The care instructions include: hand wash in cold water, do not bleach and lay flat to dry.
If you were going to wear this out around town and to the clubs, I can see you washing it more frequently than I do. I would follow the care instructions to a T, I would HATE to ruin this item!
Size:
Runs large
It is available in the sizes: XS, S, M, L, and XL.
There are five sizes available for purchase, but it looks like only the large is currently in stock. I would grab it while you can! The suggested size information from Forplay is as follows:
Cup Bust (in) Waist (in)
XS / 0 - 2 / A - B / 30 - 32 / 22 - 24
S / 2 - 6 / A - B / 32 - 34 / 24 - 26
M / 6 - 9 / B - C / 34 - 36 / 26 - 38
L / 10 - 14 / C - D / 36 - 38 / 28 - 30
XL / 14 - 16 / D - DD / 38 - 40 / 30 - 32
Measurements I took:
Laying flat across top – 29 inches
Laying flat across mid – 29 inches
Laying flat across bottom – 29 inches
Bust included – 36 inches
Top to bottom length – 8.5 inches
I am typically a size small-medium. I wear size 4-6 in dresses and jeans. I have a 34D bust. The rest of my measurements can be found on my
profile page.
That being said I ordered the size medium.
I found the medium to be a good fit in the cups, but around my body was loose. I needed to order down a size. The reason I didn't in the first place was I was afraid for the bra size, but it actually is quite accommodating. I would say the medium would fit a C-D nicely. The medium is good for medium-large.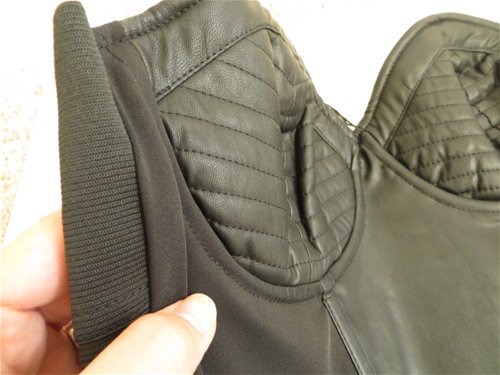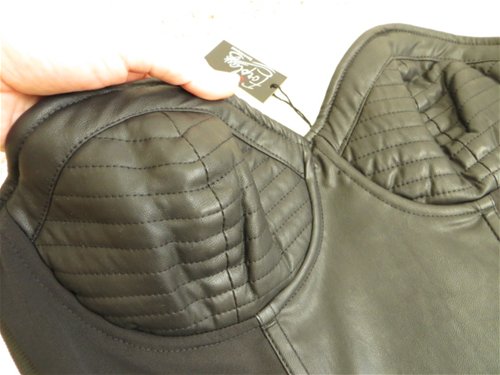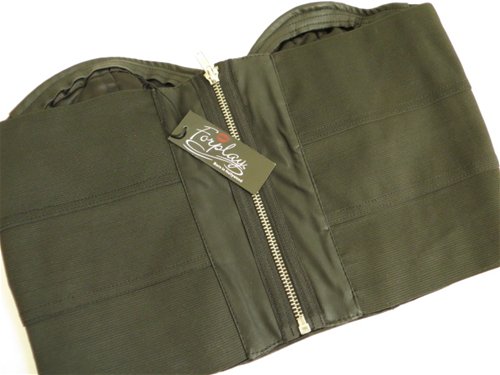 Design/Shape:
So hip/80s hot!
This item comes in black only.
This item is very unique. The main waist band is a thick elastic. There are three panels of these elastic bands. They are very stretchy. They remind me of the elastic on
this dress.
Then there is the front panel which is a faux leather. It isn't quite as shiny as the product pictures, but it looks like real leather. It isn't the cheapy fake leather. The bra cups are very interesting and give this piece some dynamic! It is a scoop style with stitched waves in the cups. They are textured and add a lot of pazazz! The inside has a lining that is silky and smooth. It is like a satin texture, very comfortable. The back zips up all the way down the length of the top.
The top would be more supportive the tighter it is. The cups do have a small underwire that adds some support, but it is very thin.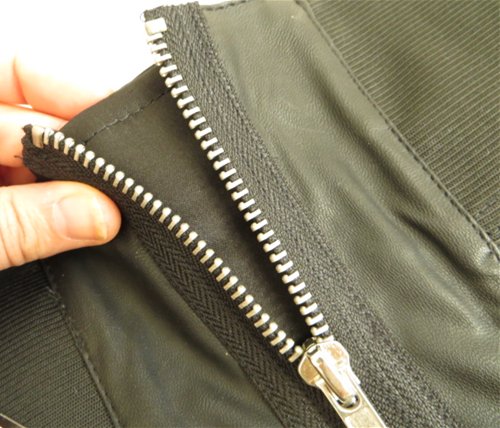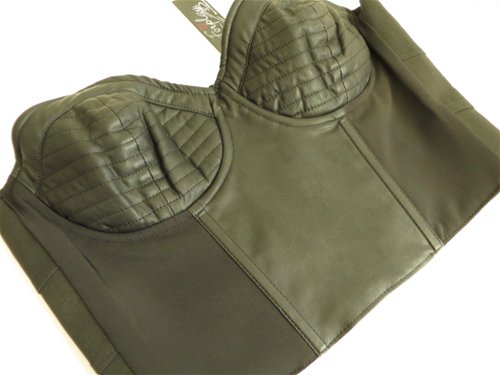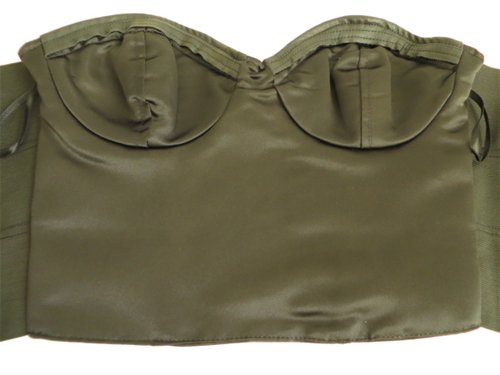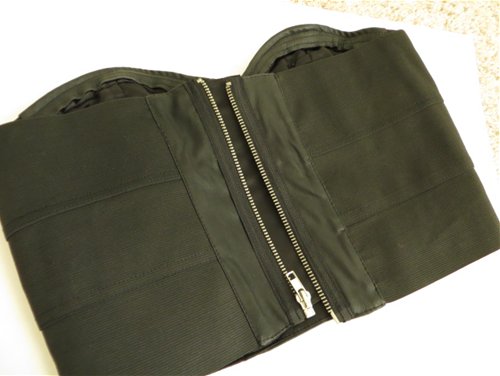 Experience
continued...
Material/Texture:
Love the materials
The product tag says the materials are 65% polyester and 35% polyurethane
This was a little shocking to me since I just used polyurethane this weekend to paint furniture. It is a protective varnish that I thought was very harmful. Or so the paint can said! After doing some research, I found it can be mixed in clothing and is even used in toys! Amazing!
Anyway, I love the faux leather look. I think it looks high quality and closer to leather than the wetlook. I love the sides of spandex elastic texture. It is stretchy and allows for your body to move. The inside silky fabric is soft against your skin when wearing it, no need for a bra. This item is heavy duty, not very breathable and very well made.
Personal Experience :
LOVE LOVE LOVE THIS!
Right now I am not brave enough to wear this out and show belly, although I think it is a hot look that is in style right now. I love the way this item looks and I would love to wear it around! It is an awesome piece and I HIGHLY SUGGEST it to anyone who is willing to pull it off!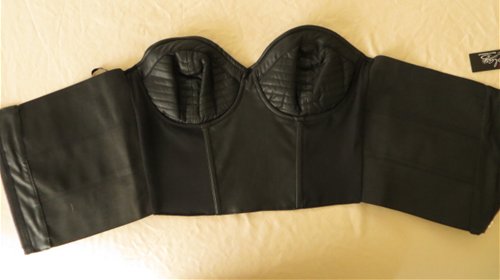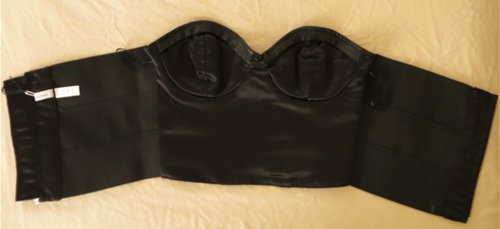 This content is the opinion of the submitting contributor and is not endorsed by EdenFantasys.com

Thank you for viewing
Linden bustier
review page!