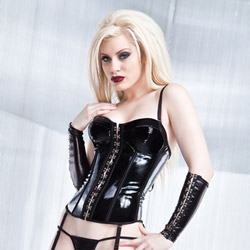 Wetlook corset with padded cups
Corset
by Coquette
The Cups Aren't Really Very Padded
I like this corset. It fits me well and looks pretty sexy. I like how easy it is to clean the outside of the corset up: just wipe it with a damp cloth. I do think the price tag on this is a bit high for just a simple corset, though. While the title says "padded cups" these are only lightly lined, rather than a fully padded cup like a push up bra.
Published:
Pros
sexy, good fit, good quality
Cons
a bit expensive, cups aren't really padded just lightly lined
When EdenFantasys added the new wet look lingerie pieces by Coquette, I knew I had to have one. I have never tried wet look lingerie before and really wanted to try it at least once. I was ecstatic when I was looking through the list of products I could choose for my free monthly assignment and saw the wet look corset with padded cups available. I requested the corset in size medium. It is available in sizes small to 1X/2X.
The corset arrives on a plastic hanger with a small red foil lip print on it. Unfortunately, my hanger was broken during shipping so I had to toss it in the trash. The corset has a tag attached to it that only a small amount of useful information on it. Its purpose seems to be mainly displaying other lingerie in the wet look line. The back states that this corset should be hand washed and hung up to dry. Do not bleach it or throw it in the dryer. A small tag inside the corset states this is made of 100% polyurethane, exclusive of the trim.
This corset is pretty simple in appearance. It's covered completely with the shiny wet look polyurethane. It doesn't have any additional trim or detailing to it other than the boning, clasps, garters, straps, and lacing. The straps and garters are both removable and adjustable. Both are black and resemble adjustable bra straps. One of my straps has a bit of fraying to it underneath where the slider sits. There are 14 metal clasps running up the front of the corset. They can be used to get the corset on while the lacing remains somewhat tight if you are putting this on by yourself. In the back there are 8 evenly spaced metal rings for the black lacing. Each ring is approximately an inch apart. The lacing resembles a flat shoe lace in look and feel. It can be replaced with ribbon if you do not care for it. There is no modesty panel in the back or front, so skin will show between the clasps and in the back between the lacing. Along the bottom of the corset are the four garter straps. These are used to hold up thigh high stockings that will not stay up on their own. If you do not wish to use them, they can be unclipped from the corset. They're easy to reattach to the corset.
The cups of the corset are very lightly padded. At most, the lining will hold your breasts in slightly and cover up nipples. It does not do anything to push up breasts. There is no underwire. They are cut in a demi-cup shape.
Right underneath the cups and between them along the metal clasps is where the boning starts. There are eight strips of boning in all. Each of them is covered in a black satin-like material rather than just the wet look material. This material is also used for the top and bottom trim of the corset. Eden lists the boning as plastic, which I fully agree with. Each one feels a bit flimsy, however they do offer some support in the corset. I did not notice any bending to the plastic when I have removed the corset. The boning between the breasts measures 14 inches long while the boning under the bust measures 11 inches long. I have not had any issue with the boning poking out through the fabric.
Here are the measurements of the corset without any lacing let out:
Bust: 27 inches
Waist: 24 inches
Hip: 27 inches
Length: 16 inches
Keep in mind there is enough lacing to let this out at least 8 inches in each area.
Here's the size chart information for size medium:
Dress size: 8 – 10
Cup size: B
Bust: 36 – 38 inches
Waist: 26 – 30 inches
Hip: 38 – 40 inches
My own measurements are:
Dress size: 5 – 8
Bra size: 34B
Waist: 27 inches
Hip: 35 inches
I'd say the most important measurement for this is the bust measurement. If your rib cage or breasts are too big for the corset, it will not fit. I chose size medium because I can never seem to fit in size small corsets by Coquette, at least in the way I want to. I don't like having my entire back exposed like how it is shown on the product page. I prefer to have maybe 5 inches of back exposed at most. In this corset, I have about 4 inches of skin exposed. I feel the size chart is accurate, so if you do like having the lacing spread apart so much, go for the size you match.
Continued..
Experience
If you want more coverage in the back, go up a size. I am size 34B in bra and found the cups to fit comfortably for my chest. The cups feel and look like they can fit up to a 38B or 36C. If you're larger than that, you'll want to go up a size.
When I put this on, I typically do it on my own. I loosen the laces enough that I have a bit of breathing room and unhook the front clasps. I then clasp it all up and pull it tight in the back and tie a big bow. The clasps are annoying to hook together, but they hook together very securely and will not come undone unless you are undoing them. If you have someone helping you, you can just loosen the corset enough to slip it over your head and have them adjust the back.
I like how this looks on me. It fits very tightly and gives me some nice curves. It helps hide my tummy a bit. The plastic boning is enough to hold me in, however it doesn't fully alter my curves like metal boning does. If you are looking into corset training or want something that will really modify your appearance, go for something with metal boning. For just casual corset wear as lingerie or a top, plastic is fine.
While the product photos show the model wearing this with a thong, the set includes only the corset with the straps and garters. I think any kind of black bottom would work well with the corset. I like wearing it with a pair of black panties with lace trim. Most of the wet look pieces by Coquette would match the corset very well. I think the skirt and sleeves with the corset would look best.
I suggest spot cleaning the corset if necessary. A damp cloth should wipe off both the inside and outside of it. I like that the outside is slippery since it makes spots very simple to wipe off. I would not put the corset in either the washer or dryer. It will most likely ruin the boning and material.
When you store the corset, do not fold it in half against the boning. It can be folded length-wise to take up less room. It should be kept where it can lay flat to keep the boning from becoming misshapen. The hanger is ideal for storage.
My overall opinion of the corset is pretty high. I like how it looks, especially with my pale skin. I like the rougher look it gives me. I think it's a great match for when I use rougher toys. I personally do not feel I'd wear it out, just because it isn't as elegant as other corsets. I think the construction and quality is pretty good, though maybe not for the price. I'd say the corset is worth no more than $40 considering the materials and the simplicity of it.
Follow-up commentary
2 months after original review
I still like the wet look corset. It's so shiny. It's flattering to most of my body, with the only exception being my chest. I'm on the fence regarding purchasing more of the wet look line because of the price and the fit through my chest. I think I'd go back and change my original rating to 4, just because I don't like it as much as I did when I first received it. It would be a 5 star corset if it actually flattered my breasts.
This product was provided free of charge to the reviewer. This review is in compliance with the FTC guidelines.
Thank you for viewing
Wetlook corset with padded cups
review page!