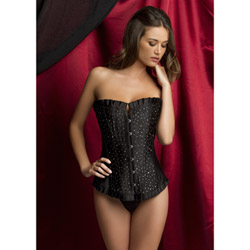 Tres Sexy corset and g-string
Corset by Oh La La Cheri
The So close corset!!
Tres Sexy Black corset and G-string set is so closed to being awesome, it's sturdy, and pretty to look at. But with ill-fitting bust area, and hooks that don't line up it goes to being awesome, to being a fail.
Published:
Pros:
Very pretty, sturdy, lots of ribbon in the back to tighten
Cons:
Hooks dont line up, rhinestones fall off
I was super excited to receive the Tres Sexy Black corset and G-string set, but in the end it was a big letdown. The set while beautiful in the photo seems to be inconsistent with the make, and several people got flawed corsets. Between the ill fit and the actual structure, I am going to say this one is a pass.
I must admit I was hesitant about even trying the corset because of the plastic boning, BUT that isn't an issue at all here. The boning is really sturdy, and doesn't bend oddly or out of place---it holds up quite well. This corset is made from a cotton polyester blend with clear rhinestones attached. Note the rhinestones will come off if you are to forceful with it, or brush against something hard. It fastens in the front with 6 hooks; this is where most of my issue with the structure is. While I did struggle to even get the hooks to connect, the bottom 2 failed to line up at all.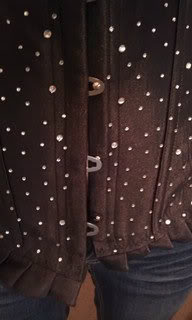 The one I received is a Large so, the follow are the measurements associated with that particular piece.
The corset consists of 6 panels on each side. (A side being from latches to back where it laces up) Both the top and bottom are pleated with a 1 inch ruffle. The center section is covered in rhinestones that vary in sizes; this gives it a "starry night" type feel. It is really very pretty because of this. At the very center from top to bottom it is 16 ½" long, the center back is 12". If you lay the corset flat it is 30" in length before you fasten it together. The lace up holes on the back are an inch apart, and the latches in the front are 2 ½" from each other. The corset is sweetheart cut, which means it makes almost a heart shape on the top.
My measurements are as follows for reference: hip size is 36"; my waist is 28", and my bust 36 to 38 c or d; depending on the make.
The bottom half of the corset fit me like a dream, it was snug didn't flare or bunch up even when I moved or sat down. The top half the bust area was swimming around me---I couldn't believe it, this is the one area that's usually too small for me. You could fit 2 of me in the top half of this corset easily.
The G-string is kind of stiff like the material for the corset, and doesn't have much stretch. It has a satin shiny finish to it, but is otherwise unnoteable. It fit me well, but was uncomfortable material wise.
Experience
Overall the set failed to impress me; it could have so easily been a great buy. There needs to be more of a check on pieces before they sell them as company, there is no reason why errors with structure should be getting passed their doors.
This product was provided free of charge to the reviewer. This review is in compliance with the FTC guidelines.

Thank you for viewing
Tres Sexy corset and g-string
review page!