Twinkle twinkle little star
Oh La La Cheri's Tres Sexy black corset and g-string are just that... tres sexy! The sparkly corset is well-made and quite sturdy, and did I mention SPARKLY?! The corset fits well and the plastic boning doesn't bend out awkwardly, making this piece quite tres sexy indeed.
Published:
Pros:
Sturdy, sexy, sparkly, actually fits larger sizes
Cons:
Tiny g-string, loose breast area, minor defect (though that could just be mine)
The Tres Sexy black corset and g-string from Oh La La Cheri is strapless with rhinestones covering the front. It is available in red and black and in sizes S, M, L and Plus Size (I will be reviewing the Plus). The tag does not list what it is made of, but the product page lists the materials as Cotton, Polyester and Spandex, and this does have plastic boning. There are no care instructions listed either, nor could I find any on the manufacturer's website. I sent an e-mail to them and was told that this item should be dry cleaned or spot cleaned only, do not bleach, and hang to dry.
The corset feels quite sturdy and is not stretchy. The outside is shiny and feels smooth to the touch; the inside looks a bit rough, but it feels softer than it looks. The front has six hooks and pins to hook them onto; neither are individual, there are strips of metal that they are attached to under the corset material. This does make it a little hard to hook up the front if the back is laced tightly already (plus the metal strips don't allow the corset to completely hug and follow the body line over the stomach - so it could flair out at the bottom).
The corset and g-string both arrive wrapped in a sheet of pink tissue paper, with a tag hanging from the corset.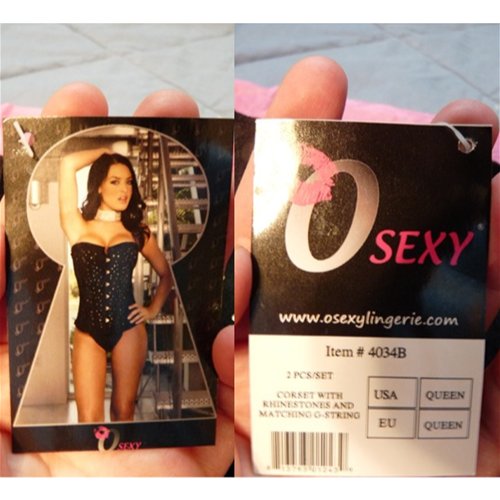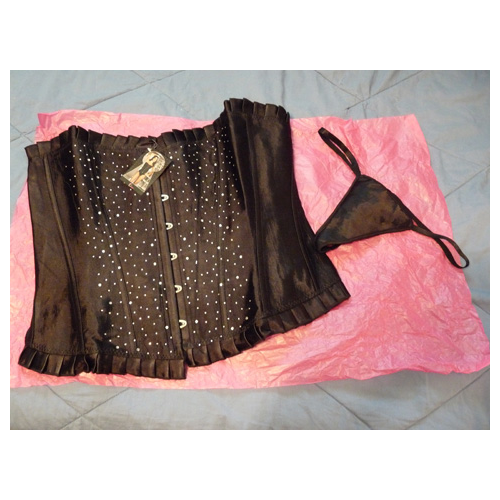 The g-string is the same material as the corset. The g-string for the Plus Size set is actually quite small and would probably better fit someone a size medium or large. The elastic is quite tough and doesn't stretch easily, so it could also cut into flesh unless it fits perfectly.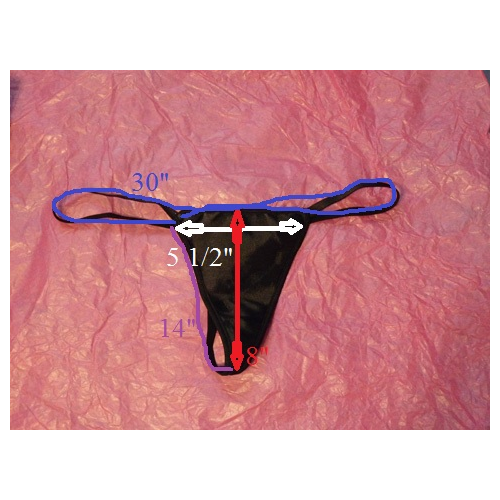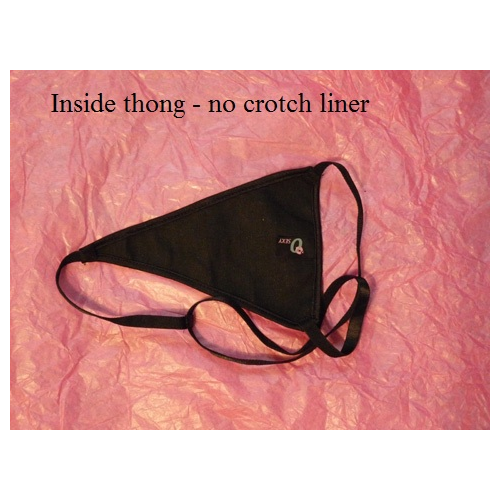 The measurements for the g-string I received are - 30" around the entire top, 14" from bottom tip of triangle to back where elastic is attached to top elastic, 5 1/2" top of triangle, 8" from top middle of triangle to bottom. The inside of the g-string has no crotch liner and a small tag that says "O Sexy".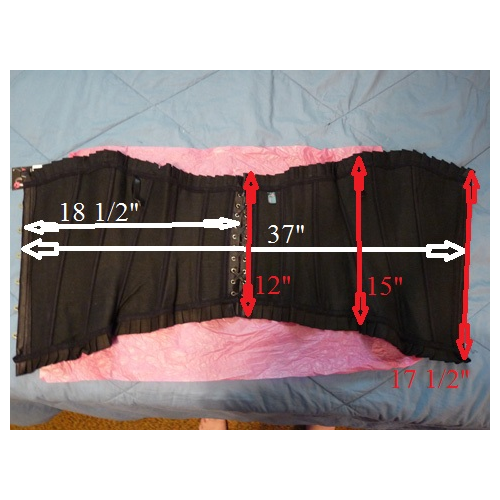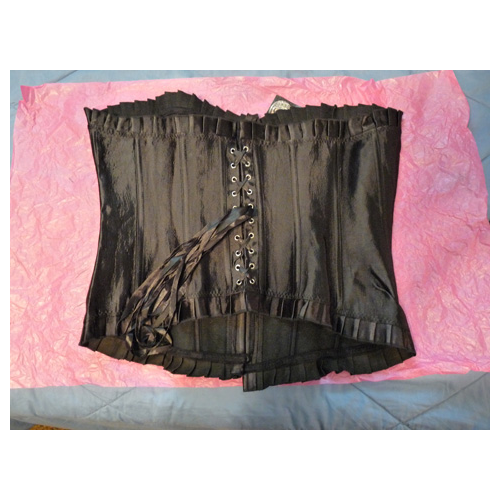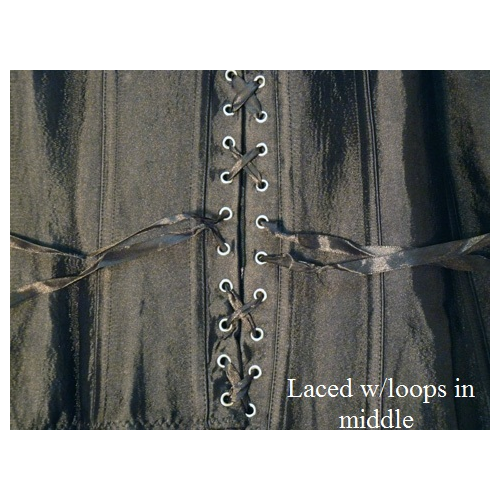 The corset laid flat measures 37" across (with each section being 18 1/2"). The front edges are 17 1/2" long (including about 1" of ruffle on top and bottom), mid-way measures 15" high and 12" at the middle. There are ten eyelets on each side and the ribbon is laced with loops in the middle (the bottom photo shows the ribbon knotted at the bottom - you can undo this knot and re-lace the corset in your preferred method if you wish).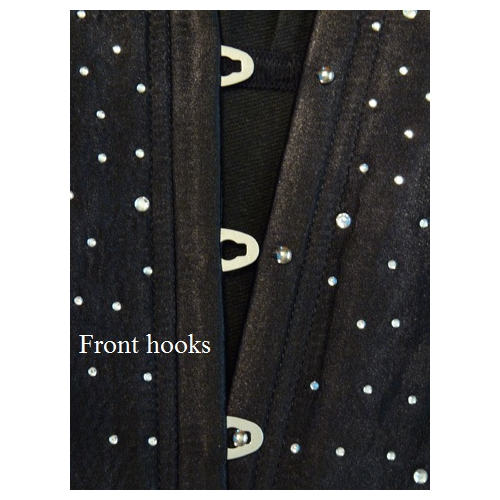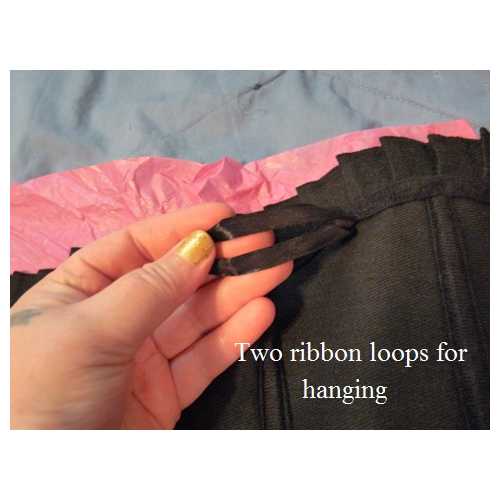 The first photo shows some of the hooks and pins (as I said above, each one is not an individual - they are all part of a metal strip underneath the material). There are also two ribbon loops inside, enabling hanging. The last photo shows the stitching over one of the plastic bones - if you wished to remove that, you'd have to rip through the top to get to where the plastic boning is.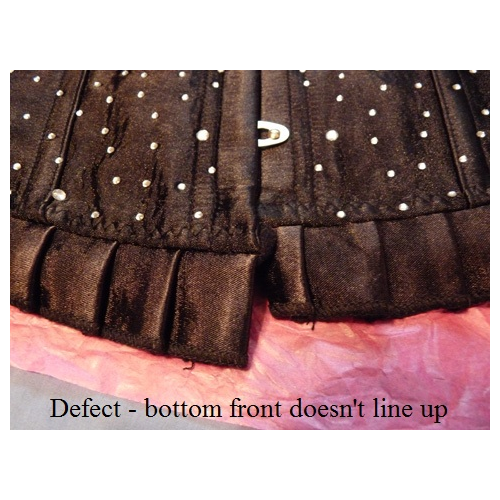 I'm also including this last photo to show a minor defect in my corset. The front top and back top and bottom all lined up, but one side of the front bottom was longer than the other. I cannot say if all are like this or if it was just mine.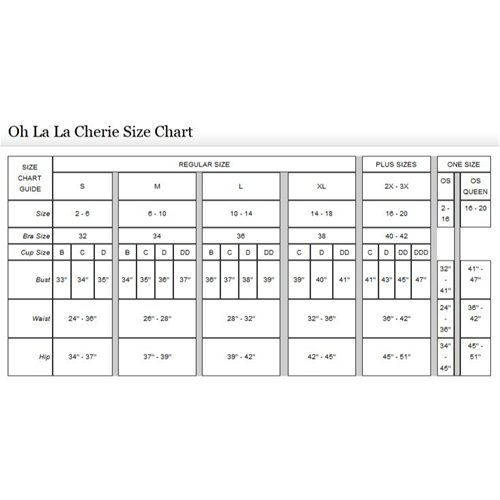 Since there wasn't a size chart up yet, I found one on another website and took a screen shot.
Experience
I've never owned or worn a corset before, but when this one was added to EF, I HAD to have it. It's so pretty and sparkly. Even though there was no size chart for it yet, I ordered it anyway so I could perhaps help others who were wondering what sizes the Plus fit. After finding a size chart on another website, I worried a little that this wouldn't fit me because the Plus should fit sizes 16-20 and I'm a 20-22 (more a 22 right now). But I figured I'd take one for the team, and if this didn't fit right now, I am trying to lose weight so it would fit soon enough.
When I first received this, I had my cousin try it on to see how small it would fit. I don't know her exact measurements, but she's a large with C cups. With the corset laced all the way (as it came), it fit her perfectly (and of course now she wants one as well). There is quite a bit of room in the breast area though, so that is something to remember.
Experience
Continued:
Because this fit her well, I would say if you're a large (closer to XL than medium) and you want this laced as closed as it will get, then the Plus might be your best bet (if you're M-L, go with the L size). I'm a 2X, so the Plus should fit L, XL, and 2X (perhaps even 3X).
To fit me, I obviously had to open up the lacing. Because I didn't have anyone to help me out with putting this on, I had to loosen the lacing until I was able to hook up the front. Being a DDD cup, I definitely found putting this on while wearing a bra much easier (and then just slip the bra off after). Most lingerie items usually are too small in the bust for me, but this corset had quite a bit of room on top. A little TOO much room. To keep my girls from popping/falling out, I took the ribbon off and re-laced this so it tied on the top to enable me to tighten it around my breasts. As you'll see in one of the photos below, this caused some muffin-topping in the back. So you'll have to pick which you want more/less - a loose top or a back fat ledge. Personally, I think I'm going to re-lace this with the middle loops - this will cause a looser fit around my girls, but will give me less of a fat-back look.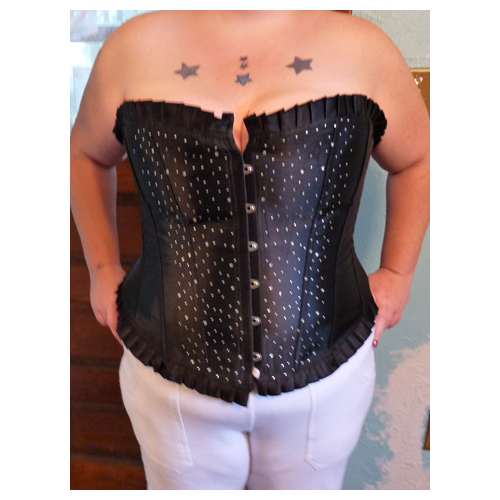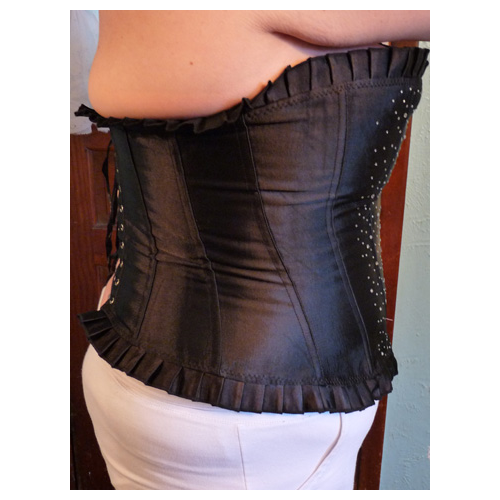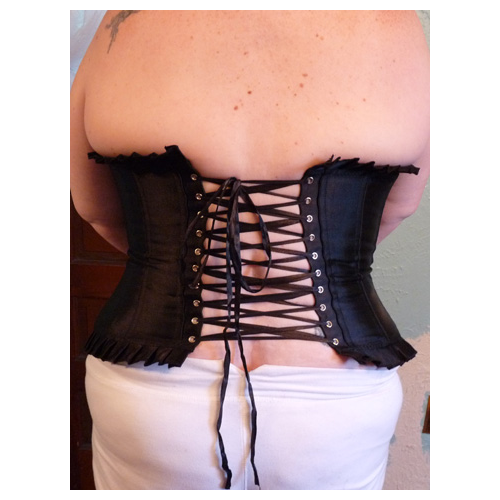 Here is the corset on me - front, side (the ruffle fell down a bit), and back. As you can see in the back photo, after I finally got someone to help tighten the lacing up more after I got it on, I still had quite a bit of ribbon, so someone a little bigger than me might be able to get this on.
As for the rhinestones on the front - when I first received this, there was one rhinestone stuck to the top ruffle. I quickly found where it belonged because there was a small green circle on the front where it should be. After a careful application of super glue, I managed to reattach it. But this left me worried about how sturdy and stuck on those little sparkles were, so I tried to be as careful as I could be while trying to hook the front. Though I accidentally clawed and pulled at a few of them, no more came off. But you should still be careful with them anyway (unless you want little green circles instead of sparklies).
Overall, I think this is a sturdy, pretty corset that should fit a variety of sizes and shapes. Of course being a corset, it can be a bit of a hassle to get it on by yourself (so enlist some help!). I've been shying away from buying too much lingerie right now because I'm trying to lose weight, but with a corset, when I lose weight, I can just tighten it up. So this was a worthwhile purchase. Though because of the tiny g-string, "defect" at the bottom front of mine, and loose breast area, I can't give this a full 5 stars. But I do think it deserves 4.
Follow-up commentary
7 months after original review
I still like this piece, however I haven't really worn it since my review. It's pretty and sparkly, but the loose breast area is still a problem. If you can get this to fit right (and have someone to help you get it on), it's a wonderful corset. However I just don't think corsets are my thing.
This product was provided at a discounted price in exchange for an unbiased review. This review is in compliance with the FTC guidelines.

Thank you for viewing
Tres Sexy corset and g-string
review page!