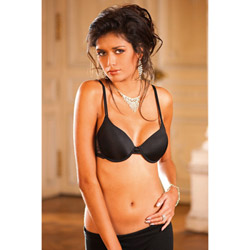 Black maximum cleavage bra
Bra by Baci
These Cups Runneth Over
As you can see from the model shots, the only way this gives you cleavage is if you purchase this bra in too small of a size and have perfectly rounded breasts to begin with. Even in your correct size, it probably won't fit. The tiny cups are awkward in shape, and this bra suffers from strange quality issues all around.
Published:
Pros:
Basic design
Cons:
Cups run small, cheap elastic, weird shape, doesn't create cleavage, poor quality
I opted to take advantage of the lingerie sale and get me a new bra. Okay, so my old ones were stabbing me in the boob and about to bust apart at the bust--literally. The maximum cleavage bra wound up in my cart because of its decent price. I ordered mine in classic black; although, you also have the option of other colors. I ordered Baci's animal print bra as well, because I wasn't sure of fit. Unfortunately, this one's going back; although, you'll see how much more I like the other bra when I finally write that review.

This bra comes in tissue paper and a plastic bag. Some of Baci's bras come in a box, though. At first, it looks like quite a few bras I've seen. The cups are thin fabric that is smooth and solid; the band is black lace that feels pretty soft. Baci didn't do anything terribly original, but that's not a bad thing.

I had first tried on the animal print bra and noted that the cups ran small, so I was expecting the same thing with the maximum cleavage bra. I wasn't expecting for this bra to have a different fit and feel entirely, though.

I'll break down my complaints, piece by piece.


The band on this is a soft black lace. It'll likely rip after some use. Of course, you'll experience stretching over time. The elastic on the bottom of the band, however, seems like it's already stretched out. It doesn't snap back into place like a bra should. I guess, if teenaged boys snap your bra a lot, this might be a good thing? To me, it simply feels unsupportive. Other reviewers received bras with loose threads, but mine seemed pretty good quality.

Similarly, the straps offer an absolute lack of support. There's flat elastic in back and a double strap in front. I've had many VS bras that work in a similar fashion. The Baci bra differs in that the elastic is thin, doesn't snap back, and those split straps in front feel as though they'll break if I do so much as breathe. This is, easily, the flimsiest part of the bra. It's as though the manufacturer forgot that, you know, this garment has to hold things up!

Finally, you have the cups. A maximum cleavage bra would have padding for pushing up your boobs, but this one just doesn't. That's why everyone has complained of a lack of cleavage. It just doesn't do it. This is lightly lined, which I don't really like. The padding curved outward ever-so-slightly, but seems a little cheap. It easily dents on the inside of the bra.

The cups look like they're large, but it's only because they're actually cut really high, which means this won't fit so well under low-cut tops and blouses. The cups are actually cut far too small. I have to smoosh my boobs in there, and they just don't fit. I ordered a 38C, but I'm pretty sure a D would've fit better and I may have been able to wear a DD. That's how small Baci cuts the bra cups. My boobs wind up pushing down the cups because they're too small. I've got two sets once I squish everything in there. SO not attractive.

Also, the cups really bunch up around the underwire. There's some serious quality issues. While I had no giant loose threads, it seemed like the edges were all just a little rough. You can see right through the thin band between the cups in front. The cups also seem pretty close together. This is the same with my either Baci bra. Others gives you 1/2" to 1" or so of fabric in between, but it's not really the case.

You can see why I quickly took off this bra and submitted a return to the site. It doesn't even feel like a bra. It won't hold up over time. It's not attractive.
This product was provided at a discounted price in exchange for an unbiased review. This review is in compliance with the FTC guidelines.

Thank you for viewing
Black maximum cleavage bra
review page!