These do make me feel like a princess! (1X)
These really make a statement and they remind me of something that some of the suicide girls would wear. These would be perfect for a boudoir photo session, just like the name of the panty suggests. I actually have a bra that matches these perfectly and they look great together. I'm so glad that Eden carries these. They are flattering and will look great on most body types.
Published:
Pros
* Beautiful
* Stretchy
* Comfortable
Cons
*Material on back may be a bit itchy for some
I purchased the Boudoir princess ruffle panty in size 1X from Fantasy Lingerie.
Fantasy Lingerie Sizing Chart
Bust (in) Waist (in) Hip (in)
One size 6 - 12 36 - 40½ 27½ - 31½ 38½ - 43½
Small 6 - 8 35 - 37 26½ - 28½ 37½ - 39½
Medium 10 - 12 37 - 39 28½ - 30½ 39½ - 42½
Large 14 - 16 39 - 41 30½ - 32½ 42½ - 44½
X Large 16 - 18 41 - 44 32½ - 34½ 44½ - 46½
Queen 18 - 22 45 - 48 35½ - 38½ 48 - 51
1X 18 - 20 44 - 47 34½ - 37½ 46 - 48
2X 20 - 22 47 - 51 37½ - 40½ 49½ - 51½
3X 22 - 26 51 - 54 40½ - 43 51½ - 54½
These fit in the X Large size bracket, in my opinion. I usually wear a size 7 in panties and I wear a 14 in pants. These fit me very well and I'm no where near a size 18-20 like the chart suggests for the 1X size. These panties have ruffles and ruching so that may have helped make these smaller in size. I do like how they fit me and in this case, I'm happy that they fit smaller. I do know that some Fantasy Lingerie clothing items have run small for me in the past so I decided to try the 1X and I'm so glad that I did. They ended up being a perfect fit. You may want to order a size up if you are worried about them running small. My hip size is in the L-XL sizing bracket.
Here are my measurements and sizes:
Pants- 13/14- Depends on brand
Panties- 7
Hips- 42"
Waist- 37"
Height- 5'2"
Panty Measurements
Waist (Unstretched)-17"
Waist (Stretched)-24"
Leg opening circumference- 21"
Top front to top back- 21-1/2"
Cotton crotch lining- 2-1/2"
Front ruching length-2-1/4"
There is a total of 3 ruffled layers on the back. They are 1" above each other. The elastic band on the waist and legs is 3/8" in width.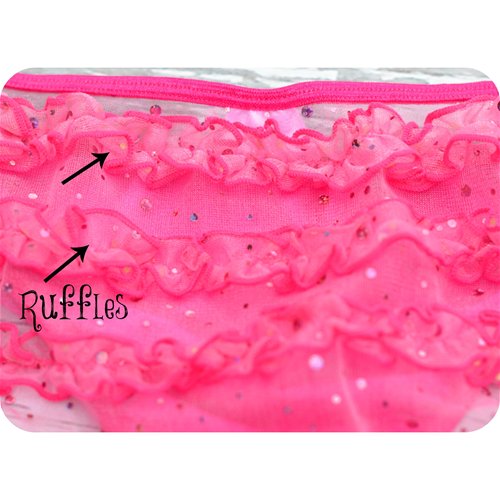 Material
The care tag states that these panties are 100% polyester. The website states that these are made with nylon, polyester and spandex. There are other materials used on this panty but I'm not sure what the sequins and jewels are made from so I can't comment on the materials used for those.
Description
The panties are pink in color. The front of the panties are a solid pink color and the front is opaque, this material feels like a thicker polyester, a little thicker than most panties. The front of the panty has 2 areas that are ruched. These ruching areas sit above the hips. On both of the sides of the ruching, there are tiny rhinestone jewels that look like diamonds and they really bling these panties out, these aren't made into the panties but rather glued on. There are 6-7 on each side of the ruching.
The back of the panties are sheer and they are a thinner material. The back material has sequins made into the fabric. These sequins are all different sized. None are bigger than a small pearl size. When the light hits these, they really glimmer. The same material on the back of the panties is what the ruffles on the back are made from. The elastic band on the legs and waist is a shiny elastic. It fits in well with the bling. The sequins on the back of the panty seem to be glued on as well. I tested out an area of fabric and tried to pull off one of the sequins. It didn't come off with repeated pulling. I'm hoping this is the case when I hand wash them again.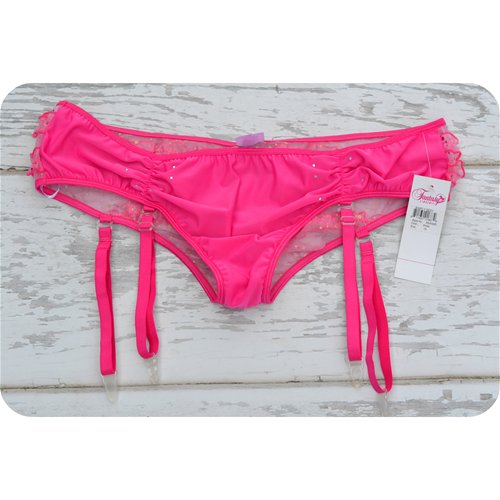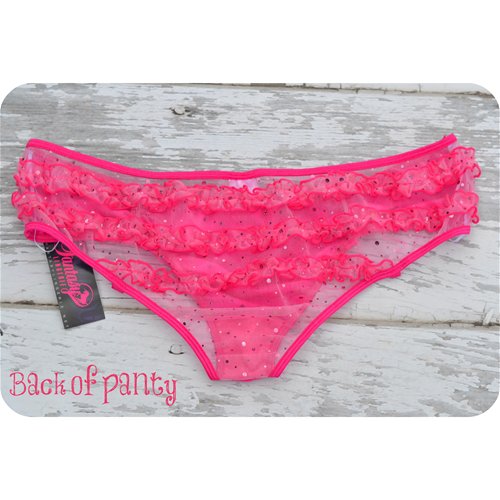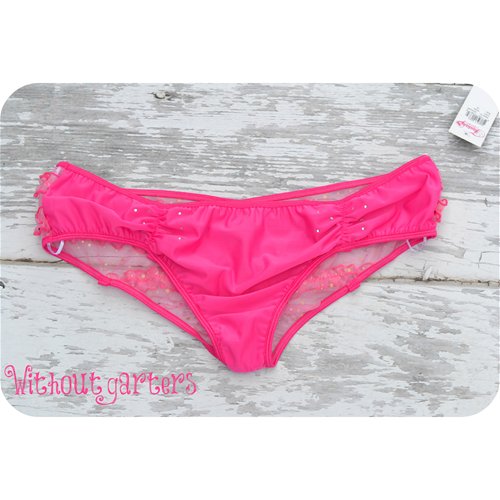 The garters on the panty are removable. I especially like this feature. There are two removable garters on the front and two on the back. Inside the panty, there are 4 small elastic loops sewn in to hold and hook the garters. These seem sturdy and they aren't loose. I don't have any problems with the garters coming off or sliding out while I'm wearing these. The elastic used for the garters is 3/4" in size. They are adjustable and they will fit a wide range of sizes. The leg openings and waist band were loose fitting and did not dig into me.
At the longest length, the garters are- 13-1/4"
At the shortest length, the garters are- 7-3/4"
Clear plastic material is used for the hooks and clips.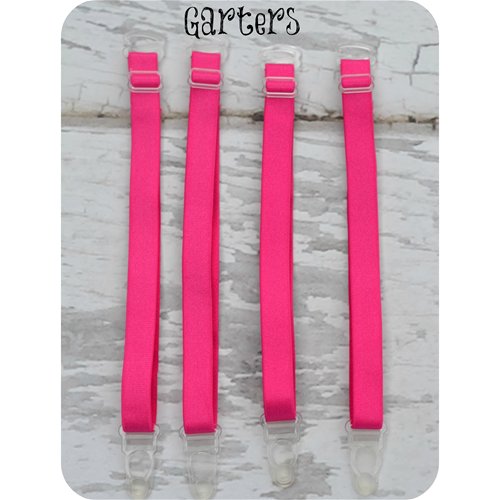 Experience
(Continued)
There are two tags in the back of the panty at the top. They are stacked on top of each each and sewn in. The top tag is the Fantasy Lingerie tag. The bottom tag is a care tag.
The care tag states to Machine wash in warm in a gentle cycle.
Wash dark colors separately.
Tumble dry low.
Remove promptly.
Do not twist or wring.
The panty was made in China.
Before I ever purchased these, I kept coming back to them and wondering if they were prettier than the photo. It took me a while to buy them. These are even more beautiful than the stock photo. I wish that I would've purchased these a lot sooner.
With the sequins on the panties, I worried about them itching me. I'm glad to say that this wasn't a problem for me. The back of the panty wasn't the softest around but it's not something that will bother me.
I like wearing these panties under some of my babydolls and chemises. The ruffles do show up a bit under some of my tighter chemises. It gives a wrinkly appearance under some skirts that are a thinner material. I don't wear the garters much because I like wearing them out under my clothes. I wore them under some jeans and the ruffles weren't visible. The panties fit straight across my waist, they do not slip down or cut into a V-shape. They aren't low rise. They sit like a normal, basic panty.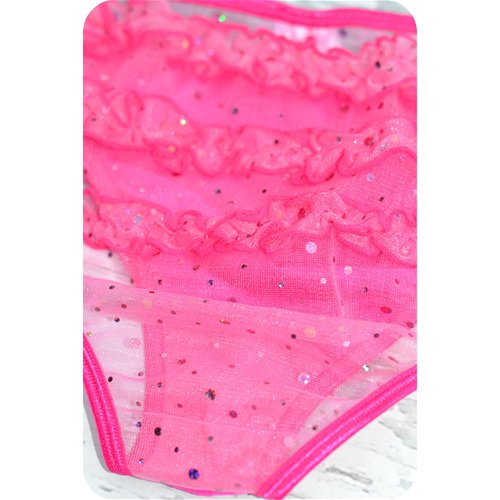 One each side of the panty, there are thin white satin ribbons like you would find in a top or corset. These are made from satin ribbon which is 1/8' in width. These are more of a hassle for me since I don't hang up my panties. I will eventually cut these and the tags out of the panty.
I knew from experience with panties with rhinestone jewels, if you wash in warm or hot water; it can cause the jewels to come off because the glue substance that is used must be put on hot. I also didn't know how the sequins would hold up in a gentle wash and I didn't want sequins all over my front loading washer. I hand washed in cool water with Dreft detergent. I keep a small bottle to use for my delicates. I gently washed and just lightly squeezed the water out. I remembered not to wring or twist the panties, like the tag states. I hung them over a plastic hanger in my shower and they dried with an hour from being in my warm bathroom with heat blowing up onto them. The ruffles and the elastic were softer after the wash.
There were a few threads hanging from the crotch area of the panty but they didn't take anything away from the panty. These were some that seemed to be untrimmed. They didn't come from an actual seam.
These panties can be worn for a special occasion with the garters attached and thigh highs or you can simply remove the garters and wear them under a sexy little skirt or other lingerie piece.
There is a cotton crotch lining on the panties, although it's very small. It does work for me. It's pink in color.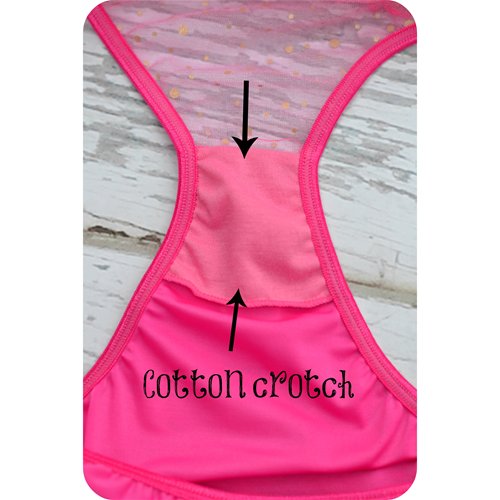 Follow-up commentary
1 month after original review
These are my cute and sexy panties that I go to when I want to feel like a princess or a queen. They make my guy drool and he loves to feel them. I just wish they stayed on longer.
This content is the opinion of the submitting contributor and is not endorsed by EdenFantasys.com
Thank you for viewing
Boudoir princess ruffle panty
– sexy panty review page!