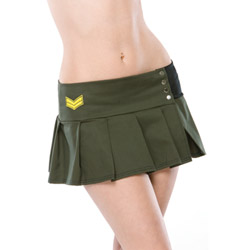 Army mini skirt
Petticoat by Coquette
They Aren't Kidding When They Say "Mini"!
This skirt from Coquette's new line of matching costume bustiers and skirts is really cute, but far from being "one size fits most". They should just call it a medium.
Published:
Pros:
High-quality material and construction, very authentic military feel, great price.
Cons:
Really stupid way of approaching "one size" fitting, only fits a very limited range of sizes.
Even though I'm not a fan camoflauge/military inspired lingerie, when this skirt showed up on EdenFantasys it went straight to my wishlist! The pleated design is so cute and it looks like it can be worn both in the bedroom and out on the town. How does it measure up in reality?
This skirt is only available in "one size fits most", which worried me when I was ordering. Coquette's size chart claims their One Size items will fit sizes 4-14 with 26-32" waist and 36-42" hips. I'm size 11/12 with a 33" waist and 39" hips, so I felt like I'd be cutting it pretty close. Plus, I'm 5'11", so I knew this would most likely be quite short on me!
The first thing I noticed when I opened my box of goodies is that the skirt is MUCH darker green than pictured! When I saw it in the box, I thought "I ordered a black skirt?" It wasn't so dark out of the box, but still, REALLY dark olive green!
The bag the skirt comes in has snaps at the top, so you can use this to store it in your closet, or just keep the skirt folded in a drawer.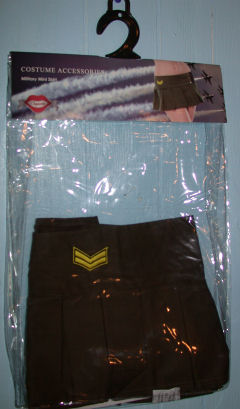 Shipping kind of messed up some of the pleats, so expect that you may need to iron this before wearing!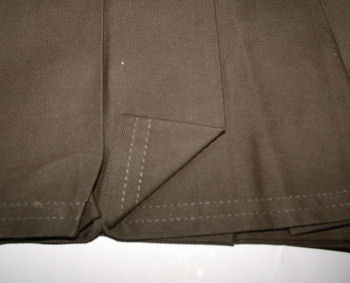 The material is very realistic in terms of being military-inspired. It's thick and crisp, and as a result you're probably going to have to iron this a lot, because it gets rumpled and loses that perfect look really easily. There's a black Coquette tag sewn into the side that says it is 50% cotton, 50% polyester, and that it should be hand washed. There are no drying instructions, but I'd arrange the pleats carefully and then lay it flat.
I was really curious how they would engineer this skirt to make it fit sizes 4-14, one size skirts are hard to do without it being a wrap-type design! This skirt is made with a panel of stretchy, spandexy fabric about 4" on one side, giving it some stretch. It's a really odd way of doing things, and I don't think it's especially effective:
Without being stretched at all, the waist of the skirt measures about 38" around when fastened. The spandex only stretches about an inch, though. Keeping in mind that this is worn low on your hips, there is no way this is going to fit everyone from a 4 to a 14. Some Googling tells me that a size 4 is around 37" at the hips, while 14 is 43". (I'm sure that varries a lot depending on brand and actual body shape, of course.)
Now, given that this measures 38" and has a little stretch, it should be a perfect fit, since my hips are 39", right? Wrong. It *barely* fits. I can't figure out the math there. It's much more comfy if I wear it about an inch above where it should be worn, but then my entire ass hangs out. I'm not kidding. (See Experience section.) The skirt is only 10.5" long, so if you don't wear it *low*, you will be showing the world your "See-You-Next-Tuesday", as Charlotte from Sex & the City would say. Of course, if you're using this in the bedroom, that's awesome, but it totally kills my hopes & dreams of wearing it out of the house.
I worry that the snaps will break easily- when I was first trying to unsnap the skirt to put it on, it felt like the lower two were going to pull from the fabric. Stretchy, spandex-like fabric just isn't the wisest place to put snaps!
Experience
Okay, I love you guys, so I'm going to post some really unflattering photos now.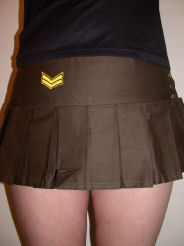 Skirt from the front, worn about an inch higher than it should ideally be. (It's resting maybe 2" above the top of my underwear.) I'm 5'11", size 11/12, so judging by how this fits me, I'd guess that it would work best on someone who's a size 7/8/9, and around 5'8" or less. I don't think it looks *terrible* on, but since it ends at the widest part of my thighs, it accentuates them and makes them look larger.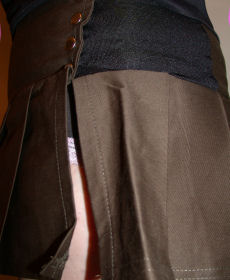 The side is a bit of a problem. I'm not sure if it would still gap like this on someone a bit smaller, but I'd suggest having some safety pins handy if you are taking this out of the bedroom.
I tried to come up with a way to show you all how short this is in the back while still preserving a tiny bit of dignity, so behold my awesome grey shorts: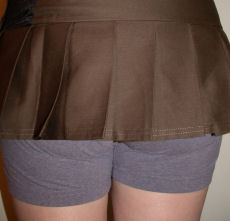 Why yes, those WOULD be my buttcheeks hanging out from below the skirt! And I don't even *have* an ass. If you're curvy in the bootie, this will be even shorter. Again, great for sex, not so great for anything else.
I think what annoys me about this skirt is that they could have done the "one size" thing SO many other ways that would have worked SO much better. Having just one set of snaps is just plain dumb. Even if they had put another stretchy panel on the other hip, it would have helped a lot.
Trying to pick a rating for this skirt was hard. It's REALLY nicely made, great quality material and construction, surprisingly nice quality for a $20 costume piece. On the other hand, maintaining it will take work (Just trying it on a few times got it really wrinkly and started messing up the pleats), and it's only going to look great on a VERY limited range of sizes. If only they had made this in S/M/L/XL/etc instead of just one size, it could have been amazing.
I'm going to have my much smaller friend (who may end up inheriting this) try this on as soon as I can to see how it works on her, so I'll report back with a follow-up once that happens.
This content is the opinion of the submitting contributor and is not endorsed by EdenFantasys.com

Thank you for viewing
Army mini skirt
– petticoat review page!