Thigh-High Corset
For being so cheap, these stockings are amazing. They look good and feel good, as will you when you wear them. They're made of stretchy nylon so even taller people can wear them. They even work with garter belts, despite the lace up top, if you place the garters correctly. Finally, the opaque material can cover up stretch marks, tattoos, or whatever else you want/need to hide. You cannot go wrong with these stockings. They'll make you feel sexier than you ever thought possible!
Published:
Pros:
- Inexpensive
- Comfortable
- Stretchy in both directions
- Sexy and unique
Cons:
- Cheap ribbon lace up
- Awkward, square-looking foot portion
- Doesn't stay up sometimes
I never wore thigh-highs before but I have always been a big fan and wanted to try them. I was trying to find some stockings that would go well with the
Fuchsia Stocks and Bondage Bustier Set
when I found the Opaque Thigh Highs with Lace Up Top. I was not disappointed!
Use
These sexy stockings can be worn in multiple situations. The reason I bought them and perhaps my favorite reason for wearing them is during sexual intercourse. They made my legs look fantastic and my boyfriend loved me in them. He liked running his hands over the material, as well. You could also wear these stockings during masturbation, if that's something you like to do. They really do make you feel sexy. A practical reason for these stockings is to wear them under clothes. They could make any skirt or dress a hit and they'd even be nice under jeans or the like. These stockings are truly multi-functional and can be worn with whatever activity you have in mind.
Material/Care and Maintenance
These stockings were made in Taiwan. They are made out of 100%
nylon
. The lace-up part is made out of what appears to be a simple ribbon. I had a slight problem with this ribbon because it's holding the shape it came in so it doesn't look quite as nice as it could. Also, I had to re-lace the stockings when I got them because they were very uneven. After that, though, and other than the slightly messed-up shape, they look fine overall. The packaging states that they are only to be hand-washed in warm water with non-chlorine bleach when needed. They are supposed to be drip-dried and you cannot iron them. You could possibly get away with washing them in a machine washer if you placed them inside a pillow case or lingerie bag on a gentle cycle. I suppose you could also tumble dry them in a machine dryer but to be safe, I would air-dry them. You can store these stockings anywhere and they would look lovely beside your other delicates in a drawer.
Design/Shape/Size
I loved the design of these stockings the moment I saw them. I knew I had to have them and I knew they'd go with the lingerie I wanted, as well as many others because of the simple, elegant design. Overall, they are simple black nylon stockings with a (semi) see-through floral-patterned top. One thing that sets them apart is that they are opaque. Most stockings that you see are translucent or even "transparent", in the case of fishnets and fence nets. If you have stretch marks, tattoos, or you just want to cover your legs up for one reason or another, these are the stockings for you. They work very well as opaque stockings but if stretched beyond their normal capacity, they will become slightly more translucent. Another thing that makes these stockings special is the lace-up top. This makes the top of the stockings slightly adjustable and it adds something pleasant to look at. The foot portion of the stockings isn't formed so you could wear the lacing in the front or back. I didn't like the look of the foot at first when I put it on because it seemed so square but it didn't bother me after a while. Also, this means that these stockings will fit even wide feet well.
These stockings are one size fits most and are intended for persons between 90-160 pounds. Length-wise, I stretched them out to about 50" from top to bottom but I'm pretty sure they can stretch farther. As such, anyone of any height should be able to wear these stockings. I was able to stretch them to about 9" across so they could accommodate a number of different thigh widths, so long as you're not in the farther side of the plus-size range. I'm a big girl myself, weighing somewhere over 170 pounds. These stockings weren't intended for me but they worked just fine. There was some slight skin-bulging at the top but it wasn't too bad. When worn, the stockings measured from the tip of my foot to the top at 29" (though they may need to be worn higher if I wanted to pair them with a garter belt). The circumference of my thigh at the top of the thigh-highs is 21 1/2".
Packaging
The packaging for these stockings was quite simple. The stockings came folded up with a plastic piece on the top. They were encased on a floral-patterned cardboard sleeve with a woman modelling the stockings on the front. It says "Leg Avenue Opaque Thigh Highs with Corset Lace Up" on the front and it has various information on the back. All of this was enclosed in a plastic bag.
Experience
Performance
These stockings are beyond comfortable. I loved wearing them and I honestly never wanted to take them off. They feel so smooth and cool to the touch. Being that I am slightly beyond the intended range, the tops of these stockings often rolled over onto themselves if worn without a garter belt (and even still slightly with). I'm not sure if this would happen for a smaller woman, though. Also, the lace and floral pattern at the top left marks in my skin after I took them off. I still like them, though, and they held up well throughout use. I kept them up with a garter belt so I didn't have many problems. Because of the lace up top, if you use garter belts also, you will have to clip them to the sides of the front or back (depending on the location of the lace) because the lace makes it impossible to clip it in the middle.
Experience
Overall, I loved these stockings. They are very inexpensive but for the most part, they feel like expensive thigh-highs. The only reason I'm not giving these stockings five stars is because of the slightly messed-up ribbon, the strange-looking foot portion, and the fact that they're not really intended for bigger girls. These were small problems that didn't bother me too much but they were enough to not give the product a perfect grade. But don't worry, these stockings are quality. If you were thinking about getting them and you think you would fit in them, get them. You will not regret it.
(I apologize for the quality of these pictures. I had to use a cellphone to take them.)
Lace Top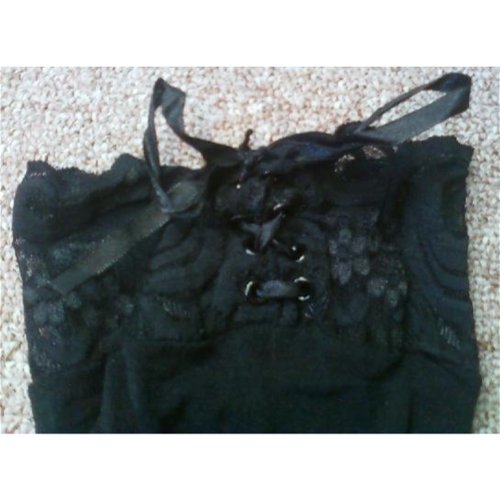 Foot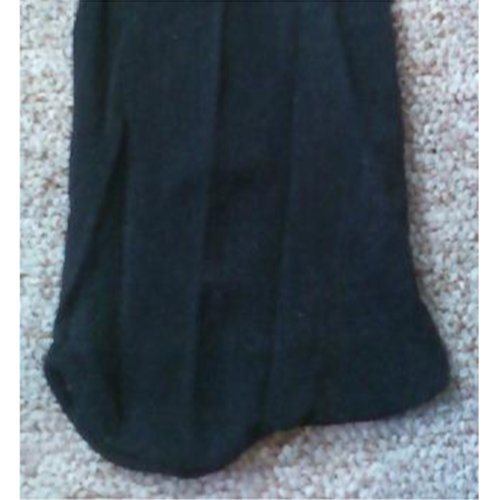 Worn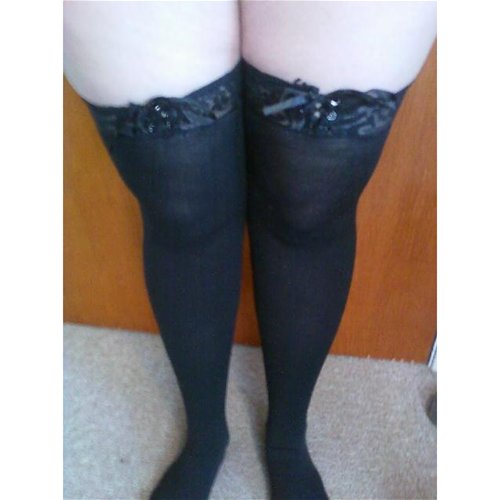 This product was provided at a discounted price in exchange for an unbiased review. This review is in compliance with the FTC guidelines.

Thank you for viewing
Opaque thigh highs with lace up top
– hosiery review page!