This Dress Really Makes Me Hot & Wet.
This dress, as elegant and prettily designed as it is, was a HUGE flop for my figure!! I haven't worn anything this unflattering since I was a bridesmaid at my best friend's wedding. I was pretty hot and sticky in that heavy satin creation she called a dress, too. This dress is wonderful for those who are less curvy and possibly a bit taller than I am, those who do not have to worry as much about flaws as this 42 year old does.
Published:
Pros
Pretty style.
Sexy design.
Stretchy material.
Cons
Unflattering!!
Magnifies/creates flaws.
Hot, sticky, doesn't breathe.
This dress arrived on a simple, black, plastic hanger inside a clear plastic bag. The lace was exquisite and very beautiful and the contrast with the wetlook material was very elegant and classy. I could see me wearing this with my lace heels, hair up and gold hoop earrings. Oh, was I excited!!

I carefully removed the dress from the bag and grabbed my heels to go try it on! I realized in about 3 minutes, this dress was made for a tighter, less curvy person than me. The front area is shiny and clingy, showing every flaw you can imagine-and making up a couple along the way. The side view was, surprisingly the best view of me in this dress, and the back--well, lets just say it gave me a back! A really wide, lumpy, unflattering one that is best left hidden from view!

The sleeves were a bit tight on my biceps, but I do have larger ones for a woman-it comes from manhandling my dirt bike on tough trails. Okay, and picking it up when I go down--not that that happens often, but still. I was shocked at the frumpy, lumpy look this beautiful dress had given my body. And my husband....lets just say there was a decided lack of attention from areas that usually rise to the occasion when I try on my new outfits.

You are unable to wear a bra with this dress. The lace from the sleeves also covers the open back and is very revealing. The material is very stretchy, soft and combined with the design-noticeable. It is also noticeably hot and does not breathe well, creating that dreaded sticky feeling. Nylons will be hard to pull off in this dress since the back is cut down to...well, lets just say it is pretty low. You will need to wear a seamless thong, g-string or pair of booty shorts to avoid panty lines.

I had no problem with the length of the skirt, but I am only 5'2"--there is not a lot of leg for this to ride up. Taller women might want to add a tight, form fitting and longer lace chemise to add to the length and keep the skirt at a comfortable level for public wearing. (Attach small areas of adhesive velcro to the outside of the chemise skirt and inside of the wetlook dress to secure the length.)

The material is a Nylon and Spandex blend, which explains the stretch and the tendency to trap moisture and heat. Hand wash this in lukewarm water, rinsing well. I do add a bit of fabric softener to the wash water to help prevent wrinkles and static. Let this air dry and iron, if necessary, by placing a towel between the dress and the barely warm iron.

This dress NEEDS to be hung in your closet to prevent wrinkles. This material creases and holds the lines and wrinkles until it is washed again or lightly ironed. Do NOT wring dry or place in a dryer, the material will wrinkle, stretch and melt.

The sizing chart is fairly accurate, just remember that if you are a taller person, you may want to go up a size to gain a bit of length on the skirt. This material stretches and clings, so flaws might be magnified and when the light bounces off the material, it will highlight all bulges--even ones you do not normally have.

For me this dress is a bust--it needs a new home. As you can see from my unflattering, frumpy and lumpy pictures, there was no flaw left unturned.
Experience
My Measurements 43D Breast - 30" Waist - 42" Hips - 28" Inseam - 22" Thighs - 5"2" Tall & 150 Lbs.
Size: L
Coquette (Copied from Sizing Chart.)
Cup Bust (in) Waist (in) Hip (in)
Small 4 - 6 B 34 - 36 26 - 28 36 - 38
Sm/Med 6 - 10 B 34 - 38 26 - 30 36 - 40
Medium 8 - 10 B 36 - 38 26 - 30 38 - 40
Med/Lg 10 - 12 C 36 - 40 28 - 32 38 - 42
Large 14 - 12 C 38 - 40 30 - 32 40 - 42
X Large 14 - 16 D 42 - 44 34 - 36 44 - 46
One Size4 - 14 B 34 - 40 26 - 32 36 - 42
1X/2X 18 - 22 D 46 - 50 38 - 42 46 - 52
3X/4X 24 - 28 D 52 - 56 44 - 48 54 - 58
Oueen/
One Size18 - 26 D 46 - 54 38 - 46 48 - 56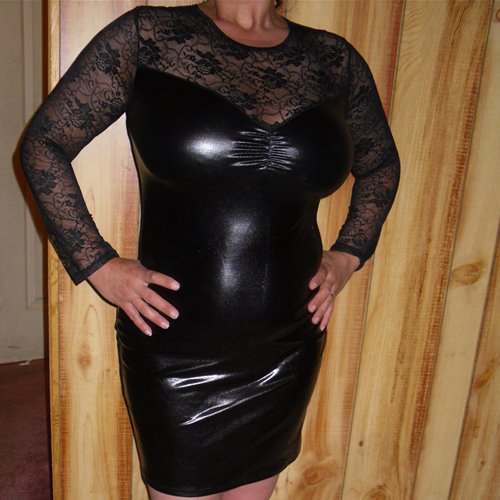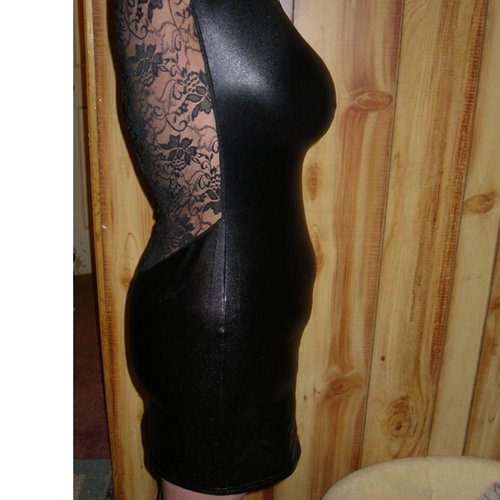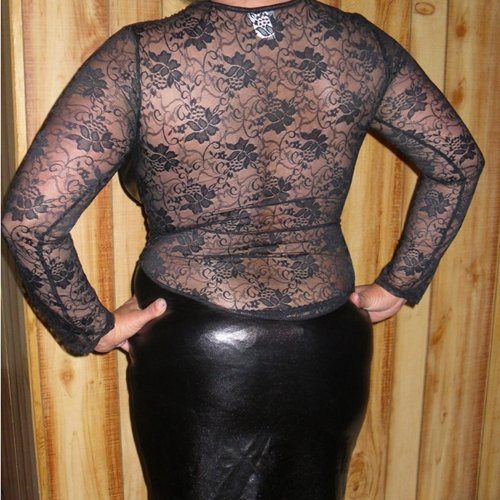 Follow-up commentary
2 months after original review
I cannot like this dress on me. It is in the market for a new home. Someone that has a bit better build will love this dress and look amazing in it. I still love the dress, but just no on me.
This content is the opinion of the submitting contributor and is not endorsed by EdenFantasys.com
Thank you for viewing
Wetlook long sleeve dress
– mini dress review page!