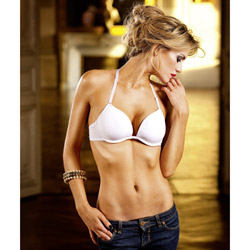 White four-way deep-v push up bra
Bra by Baci
This four-way got my approval!
Baci knew what they were doing when they made the Four-Way Deep V Push Up Bra! There are enough sizes to fit almost everyone. This bra is comfortable to wear and can be an everyday bra. You could also pair it with other lingerie to create a sexy look for your significant other. For 10$ you can't go wrong!
Published:
Pros:
Great fit, Multiple colors and sizes, Price, Comfortable, Great for every day wear.
Cons:
More color options!
I was ecstatic to see that Eden finally added some everyday bras to the lingerie section. I was quick to place my order and am thrilled that I did. The Four-way deep-v push up bra is by Baci. This was my first experience purchasing from this company and I will be placing another order shortly!
Every woman is going to be pleased to know that Baci didn't stick us with a few one size fits most. You can pick from size 32 A to 38 DD. Baci also gave us quite a few colors to pick from as well! There are two animal prints which are a black and white zebra print and a pink leopard print. If animal prints aren't your thing, you can always choose to go with the classic white or black. I decided to go with the white because I really needed a white bra as all of the other ones I own are dark colors. This bra is made of 90% polyester and 10% spandex.
I purchased the bra in size 36 D. The sizing is right on compared to every other 36 D size bra that I have bought. It fit me perfectly and I loved the way it made my breasts look. My fiance enjoyed the view as well! Here are some measurements I took of the bra:
I measured the middle of the bra and got a length of 6 inches.
I measured the side with stitching (bra strap to under wire) and got a length of 4 1/2 inches.
I measured where the bra meets in the middle and got a length of 1 inch.
The band has a width of two inches. The band has a total length of 9 inches. When you have the closure done, the band is a total length of 18 inches. Each cup has a width of about 8 inches which was enough to cover my breasts and still show a bit of skin!
Bra and inside of cup: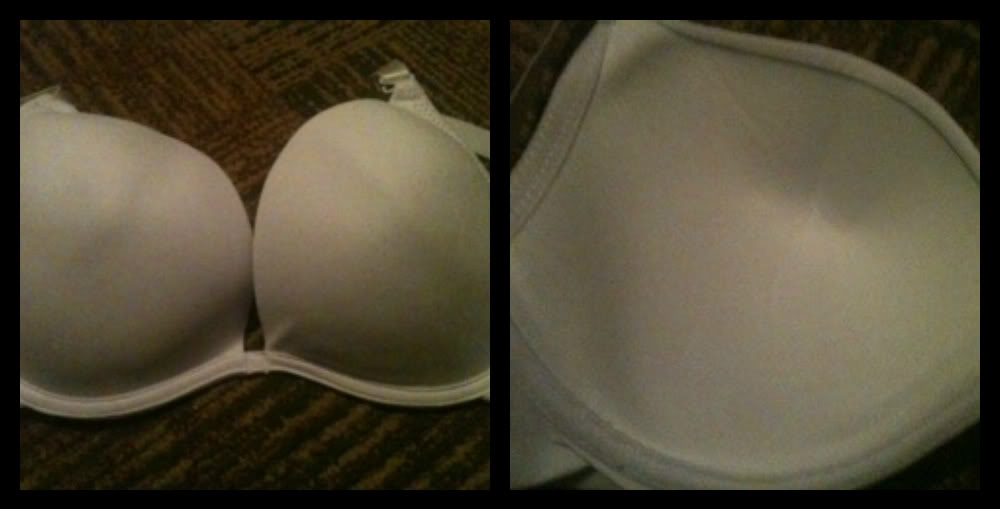 This bra has removable straps. I didn't care for the removable straps because every other bra I have purchased has never been able to give me the breast support I want. I am constantly pulling at my bra to make sure nothing falls out. This bra shocked me by actually staying up on it's own when I removed the straps. The straps are adjustable with a plastic piece. They are easy to adjust and stay at the setting you place them on. I haven't experienced my bra strap slowly slipping down my arm. On it's longest setting the strap has a length of 14 inches. On it's shortest setting it has a length of 8 inches.
You will find that this bra is lightly padded. I measured the width of the cup to get a feel for how much padding this bra actually had and it only had a width of 1/8 of an inch. This bra also has an under wire to help with some extra support. I found the under wire to be unnoticeable while I was wearing it. It does not poke into you at all which only adds to this bra's comfort. I found that this bra was easy to take on and off. It has three rows of three hook and eye closures. The hooks go in without much effort and I didn't find myself fumbling to get them into place. My fiance enjoyed that this bra was easy to remove because like most men, he always has issues with the closure and ends up getting frustrated. I loved that it was easy for him to remove the the clasps did not come undone until we undid them. You won't have to worry about your bra coming undone while your wearing it.
Closure and Stitching: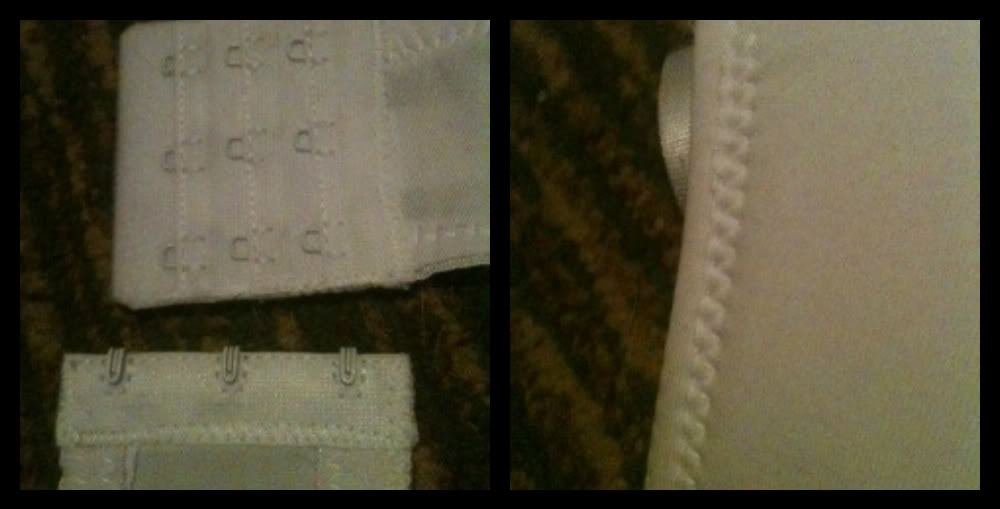 The quality of this bra exceeded my expectations for the price. I was pleased to find no frayed edges or miscellaneous strings. The stitching was done really well don't I do not foresee any strings coming loose anytime soon. You may be wondering, just like I was, how can this bra be any good for the price? Order one and you'll find that this is one of the most comfortable bras, as well as flattering! I am going to be order a few more of these just to have them for every day bras. I wore the bra for almost 20 hours and did not have to adjust it once.
Experience
I wont lie, I laughed when I read "push up" bra. Most bra's that advertise themselves that way do absolutely no pushing up! When I put this on for the first time I was shocked to notice a decent change. Now this isn't going to make your girls look twice as big, but it will give you a decent lift. I noticed that I had a bit more cleavage than normal. Wearing this bra makes me feel good because I know my boobs look damn good! This bra is perfect for everyday use. You could ever pair it with your favorite garter belt and stockings to surprise your significant other.
To clean your bra, the tag says that it should be hand washed in warm water. Do not use bleach and wash colors separately. You should hang this on the line to dry. I personally feel you could throw this bra into a bag for delicates and have a chance at washing it in the washer. Do so at your own risk because I am not sure how it would hold up. I may try eventually and if I do, I'll let you know in my follow up!
The packaging for the bra is pretty but minimal. It comes to you in tissue paper, wrapped in a plastic bag with "Baci Lingerie" plastered in black writing all over the bag. There is a sticker on the bottom of the bag listing what the bra is made of, the size, style, bar code and company's name. There is another small sticker along the top of the bag to keep it sealed. If you wish to keep the bra sealed in the bag for further storage, that would be possible. As for me, I throw my bra right into my lingerie drawer.
Packaging: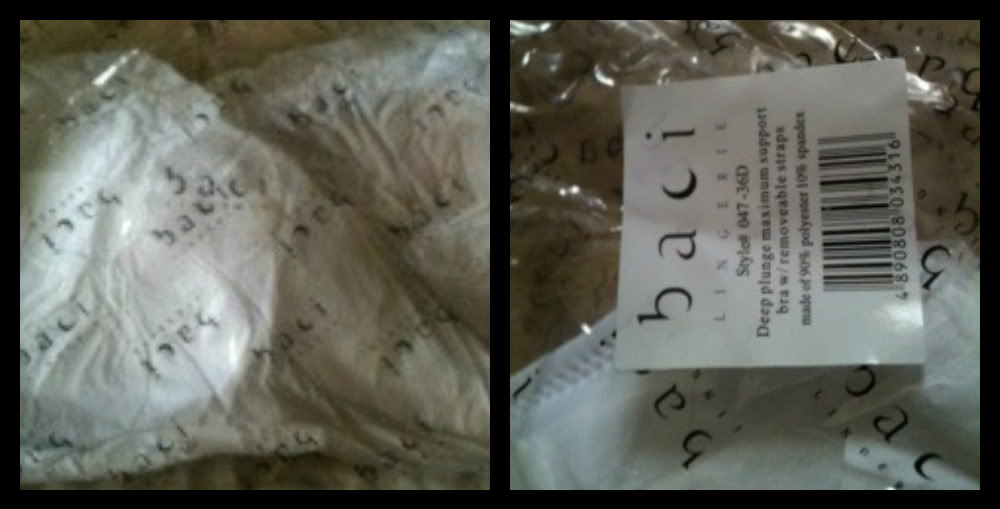 Me wearing the bra :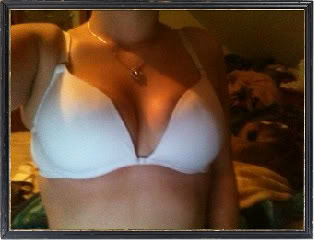 This product was provided at a discounted price in exchange for an unbiased review. This review is in compliance with the FTC guidelines.

Thank you for viewing
White four-way deep-v push up bra
review page!