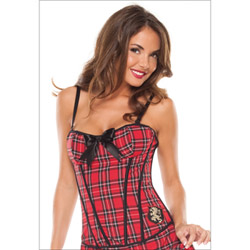 School girl bustier
Bustier by Coquette
This should be the offical cheerleading outfit of the NCAA!
I love the schoolgirl look. This is a nice outfit. The problem is with the sizing. If you are willing to risk this not fitting you, its defiantly worth getting. I will give this 4 stars out of 5. Mainly because of the sizing issue. The quality is there, if only the sizing was also.
Published:
Pros:
schoolgirl look, do I have to say more?
Cons:
sizing is off (IMO)
I ordered this in the small. I knew it would be close to being a tight fit, but I felt the medium would be too loose. I was way off. This came no where close to fitting her. She could not even get the hook and eye closures to come within 2 inches of each other. So I sent it back and exchanged it for the medium. The medium will fit her, but it is a tight fit. Coquette sizing runs on the small size. Keep this in mind when ordering an outfit from them.

This is made from 100% polyester. You can only hand wash this outfit, and hang it up to dry. The only information included with this outfit, is on a small tag attached to the bustier. This is also made in China. It came packaged in a clear plastic bag, with an insert showing a model wearing the bustier. The plastic bag has a plastic hanger attached to it. It woks well for hanging in your closet, if you do not need to worry about being discreet. You can also take out the cardboard insert, making it slightly more discreet. You can also just throw it in your dresser drawer.

This comes with 4 removable garter straps, and 2 removable shoulder straps. The garter straps have small plastic hooks on one side, that slip into small loops sewn into the outfit. They are pretty easy to attach and remove. Same with the shoulder straps. Both the shoulder straps and the garter straps are adjustable in length. This also comes with a bow that is attached between the breasts. I think the bow looks cheap. It has a cheap look to it, like something that would come on a bargain outfit from wal-mart. The bow is removable. It is attached with a safety pin.

The quality is pretty high on this one. I could not find any loose threads or flaws in the fabric. It is designed pretty well. The breast are supported by the fabric alone and not by under-wire. Because this is designed to be fairly tight, the fabric does a fairly decent job of support. My wife only has b-cups, so she does not need as much support as someone with larger breast. I can not comment on how this would support larger breasts. I would think this could be a problem.

The back attaches with hook and eye type closures. The hook and eyes run all the way down the bustier. There are 18 hooks. There are 2 rows of eyes, giving you a little adjustment around your bust and waist. There are 18 eyes in each row. Outfits with hook and eye type closures are difficult to put on yourself. Even harder when they are tight. A looser item can be put on with the back of the outfit in front, so you can secure the closures; and then rotated around so it sits correctly on your body. My wife found that with this one being so tight, she can not attach the hooks to the eyes. I have had to help her with this.
Experience
Size Cup Bust (in) Waist (in) Hip (in)
Small 4 - 6 B 34 - 36 26 - 28 36 - 38
Sm/Med 6 - 10 B 34 - 38 26 - 30 36 - 40
Medium 8 - 10 B 36 - 38 26 - 30 38 - 40
Med/Lg 10 - 12 C 36 - 40 28 - 32 38 - 42
Large 14 - 12 C 38 - 40 30 - 32 40 - 42
X Large 14 - 16 D 42 - 44 34 - 36 44 - 46
One Size 4 - 14 B 34 - 40 26 - 32 36 - 42
1X/2X 18 - 22 D 46 - 50 38 - 42 46 - 52
3X/4X 24 - 28 D 52 - 56 44 - 48 54 - 58
Queen 1 Size 18 - 26 D 46 - 54 38 - 46 48 - 56

Overall, we both like the design and look of this piece. The problem we had with it, was that it is so damn tight. When it comes down to it, a large would be about right for my wife. Even though she does not fall into the sizing specs for a large. This is one outfit that wont get much use. And its sad, because it really is a good looking bustier.
Follow-up commentary
2 months after original review
I still love this, she feels it is too tight. But we already went over the sizing issues with this. I just wish it fit her perfectly, it is a very sexy piece of lingerie. Just remember to go with the next size up when you order yours.
This product was provided free of charge to the reviewer. This review is in compliance with the FTC guidelines.

Thank you for viewing
School girl bustier
review page!