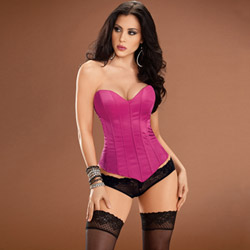 Hot pink Tesa`s sweetheart corset
Corset by Escante
This sweetheart is a little bitter...
Imagine Wet Seal or Wal-Mart making corsets. This is the kind of quality I would expect from them. For a costume piece or bedroom wear this is an OK corset. Nothing spectacular. It has its fair share of flaws and I can't wholeheartedly recommend it for the price. Lack of any support and questionable design really take away from what could have been a decent budget corset.
Published:
Pros:
Nice lacing

Zipper side
Cons:
Poor stitching

Weak boning

Iffy construction.
I love lingerie. I love corsets and bustiers. I love pretty things, sexy things, naughty things. When I saw Tesa's sweetheart corset I instantly fell in love with the design and the zipper side. I knew this was something I would want and I pondered over what color I would like to try out. I already own a few different corsets but none that are hot pink, so I decided that was the color to go for.
That is the first problem. The color.
When the corset arrived I opened the package to see... fuschia. A vibrant fuschia color that in no way resembles hot pink.
Now, I'm not turned off completely by the color... it's just not what I wanted and definitely not what is advertised or shown in the sample images.
So, to anyone thinking of ordering this corset, be aware that it is NOT hot pink.
This makes me question if the other colors are accurate. I look forward to seeing other EF reviewers assessments.
This could be a long and overly detailed review about all of the negative aspects of the corset so I'm going to just lay it out in a few notes and images.
-Cheap polyester fabric
-Zipper side lacks boning, resulting in a strange silhouette and bunching at the waist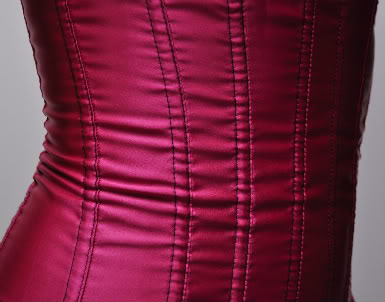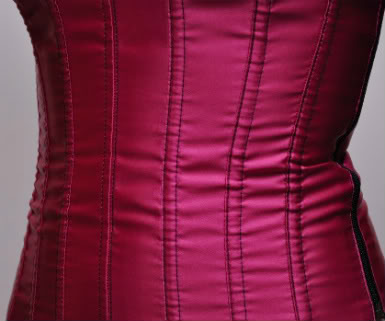 (Opposite sides of the corset. Notice the zipper side folds and looks awkward)
-Very, very sloppy stitching...this probably wouldn't be as noticeable on a darker colored fabric, or one without contrast stitching.
-Wrinkled, but the instructions indicate that ironing is not an advisable course of action.
-Uneven construction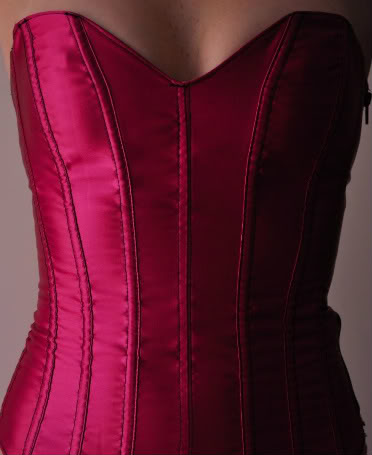 (most obvious at neckline where one side comes higher than the other and is shaped slightly different)
-VERY flexible boning, not particularly good for support.
When they say soft boning, they mean it!
-The center boning channel contains no boning and has really poor seam work.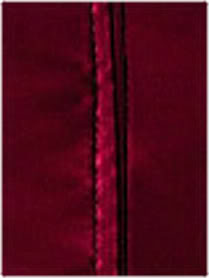 (An example of some of the poor stitching that is all over the corset)
Not everything about the corset is bad. There are a few positive notes.
-Quality lacing (almost shoestring thick and pretty resilient)
-Properly laced straight from the package (a definite plus)
For this review I want to note that my dimensions are:
Bust-32
Waist-24
Hips-31
I am five feet tall and I have a hard time finding tops that dont go much lower on me than intended (I have a pretty short torso). The corset sits on me about as well as the model in the sample images, so it may be a little high on someone significantly taller.
The measurements given for the
S (32) size
seem fairly accurate, but taking into account how the item fits me and how it rests on my body I would not advise buying this corset unless you are in the lower end of the measurements given for this size. Now, there is plenty of lacing and a nice modesty panel for the back to allow for adjustment, but for the corset to look as nice and be well-fitting as possible I give this recommendation.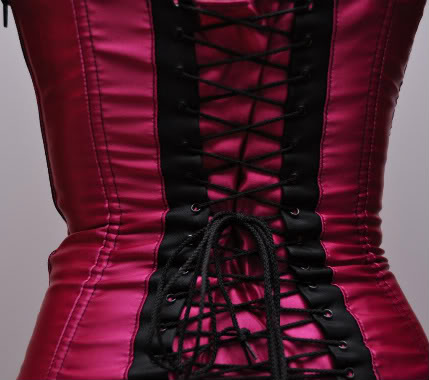 The modesty panel is a wonderful idea but does have a tendency to get bunched up from movement and can be hard to wrangle when putting the corset on alone. If it becomes too annoying or a hassle, it could be cut out if you so desired, or tucked to the other side and out of view.
The corset is good for women with narrow hips. Most corsets in this price range don't offer this particular range of hip sizing. This corset could also be a good choice for trans men or crossdress/roleplay situations as men tend to have a smaller waist/hip ratio than women.
Also, since this corset does very little to actually cinch the waist or give any support it should mainly be for decorative purposes as well, as it gives little more shaping than perhaps a standard bustier. Waist trainers and those who are experienced with higher quality corsets shouldn't bother.
The packaging was simple. Just a plain plastic bag with a sticker that had the item number. No frills.
I only give the corset three stars because I can't give it two and a half. That would be more accurate. I am going to use it again and it isn't the worst piece of lingerie I have ever owned, but for the price this isn't up to par. Perhaps it would be worth a purchase for cosplay, performances or general wear but only at a discount/on sale.
Experience
As I mentioned in a previous
review
, I am a performer. On the weekends I like to dress up before taking the stage and I am fond of cinches and corsets as they add emphasis to all of the right spots and look incredibly sexy at the same time. This corset performed well on stage and I suffered no negative affects other than noted in my review already. I will wear it again and it will become a part of my wardrobe for performing, but it will not be something I go to for wearing with some of my nicer clothes or for the bedroom.
Caring for the item...well, the instructions go like this: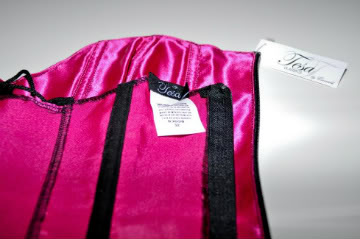 Hand wash cold water, Wash separately.
Do not use Chlorine, use mild soap.
Do not wring or twist, drip in shade.
Do not iron, Do not dry clean.
Considering the look and feel of the fabric I would recommend your hand washing to be gentle and the soap should be extra gentle.
Follow-up commentary
2 months after original review
As a piece that I occasionally wear to perform or just to accent an outfit, it works fairly well. I still can't completely recommend this corset as it has quite a number of flaws. I will say that it has held up well and I haven't had any issues with seams coming loose, boning getting damaged or popping out, however I just can't get over the odd silhouette it gives due to the lack of boning on the zipper side. If you're looking for a reasonably cute bustier then this may be for you, but for the seasoned corset wearer this is not going to cut it.
This product was provided free of charge to the reviewer. This review is in compliance with the FTC guidelines.

Thank you for viewing
Hot pink Tesa`s sweetheart corset
review page!