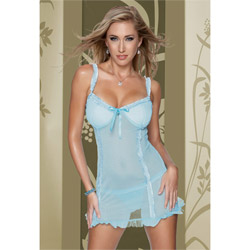 Mesh ruffled chemise with g-string
Chemise and panty set by Coquette
To get or not to get ruffled?
This is an outfit that makes you think about whether it's right for you or not, kind of like a guy. Before you make that hard decision, about the garment, NOT THE GUY, read my review to see if it helps with your choice.
Published:
Pros:
The outfit is sexy and flirty with underwire and padding.
Cons:
Sized smaller than labeled, needs to be hand washed, and bust doesn't support as well as I'd like.
The Coquette Mesh Ruffled Chemise with g-string looks very pretty in the photos on the Edenfantasys.com, however it didn't look anything close to that good on me. I ordered a Large, which I based on the size chart according to my measurements. I was extremely excited about receiving this lingerie in the mail. According to the photo it looked cute, flirty yet sexy at the same time, not to mention it came in to my favorite color blue.

Even the packaging impressed me. It came in a cute black box with a window on the front, along with a photo of the outfit being modeled. I liked this since I figured that would be a great way to keep it from getting damaged in between wears. But once I put it on my smile turned into a frown.

This super cute Coquette Mesh Ruffled Chemise with g-string has ruffles at the base and along the torso, that made this outfit cute and flirty while the style and length made it sexy. Unfortunately it wasn't made with my body style in mind.

But, before I give you the impression that this is a horrible piece of lingerie, I want to tell you a little about my body type. I think it is extremely important to share this with you since there are MANY different types of body types out there. And some pieces look better on some than others. I am a curvier woman. I wear a size 14 US pants and a 38 C bra. I have hips and a large butt which can be nice, but the muffin top, or spare tire as others may call it, isn't as nice. My boobs also aren't as perky as I'd like them, which leaves me needing some support.

It was tight over my stomach, which enhanced my curves (more than I wanted). It showed ALL my dimples and muffin top, which lead me to thinking two things: either it was too small, or it was made to fit that way. The bust is padded and contains an under wire. This was GREAT! But no matter how much I bent the wire, to form better to my breast, it didn't support them enough. It felt like my boob was going to fall out under the wire into my outfit. Also under the bust the outfit kept gathering at the wire and wouldn't lay flat. The gathering isn't that noticeable to others looking at you in the garment, but as the person wearing it, it is very noticeable. For me this outfit was all WRONG!! My husband never even seen me in it.

However, I wanted a second opinion on this Coquette Mesh Ruffled Chemise with g-sting, since I had such high hopes for it in the very beginning. So I had a close friend try it on to see how it fit on her body. She has a 38 D bra size and a size 11 US pants with no hips or butt. She loves the outfit, and so does her husband. She agrees that the bottom fit's a little snug on her stomach area, but it wasn't so snug that she wouldn't wear it. She also had the same problem with the top not wanting to form to her breast, but it didn't seem to agitated her as much as it did me.

Overall she says she's happy with the lingerie. She says she would be welling to pay the $22.99 for it, but I disagree. With it still fitting snug on my friend, who has no hips or butt, I feel even if I was to get an XL, which they don't carry in this garment, I still would have the same complaints about the enhancements of features I don't want enhanced on my body.

But for those who may feel that this sassy Mesh Ruffled Chemise with g-string will suit their body, maintenance is simple. You just hand wash in lukewarm water, don't use scouring powder, and let air dry. But if you're thinking of throwing it in the washing machine, or into the dryer, DON'T, it will ruin the garment.

It is hard for me to pick a number of stars on this particular piece, with me being unhappy and my friend being rather happy with minor drawbacks. So to be fair I will combine our opinions on this garment and give it 3 stars.
This product was provided free of charge to the reviewer. This review is in compliance with the FTC guidelines.

Thank you for viewing
Mesh ruffled chemise with g-string
– chemise and panty set review page!