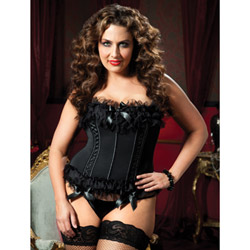 Black license to thrill bustier
Bustier by Seven 'til Midnight
Too Flimsy to Thrill me
The License to Thrill Bustier in black is a cute, adorable little bustier that comes in a wide range of sizes. Unfortunately, women who want to buy this hoping it would give them a nicer, curvier figure should look elsewhere. The material is flimsy and a little bit translucent, and is much too stretchy to complement my figure. It's a pass for me.
Published:
Pros:
Cute, covered in ruffles
Cons:
Flimsy material, does not provide support, does not hide problem areas
When I first saw the License to Thrill Bustier, I had visions of burlesque and can-can dancers and a whole assortment of frilly, frivolous things. The bustier was cute, came in black, and has a lot of cute little ribbon details and gratuitous ruffles. I had hoped to impress my partner by wearing something playful and hopefully flattering...
Sadly, when I received the bustier, I was severely disappointed. First off, it looked like this:
I noticed how cheap the materials felt and how flimsy the boning was. The material was actually not as opaque as it was in the product shots, but is actually quite thin and somewhat translucent when held against the light. I typically buy bustiers because I'm a big girl and need something to hide my problem areas. I want something to make me look slimmer and a bit of curve to my body, but this bustier did absolutely nothing for my form!
Materials:
The bustier is made of polyester and spandex. It is extremely stretchy but also rather thin and frail, which is not something I look for when shopping for shapewear lingerie. The ruffles are made of some kind of a soft mesh material which thankfully does not unravel. However, I find that the edges on it seemed rather rough, which is not quite to my liking.
The ribbon accents are made of soft satin ribbon, and there are three bows on the bustier: one at the top of the bust line and two others along the bottom. These looked quite cute in my opinion, and the ribbons were soft enough to not form a lot of creases.
The boning is made of something which I believe is plastic. It is EXTREMELY flexible and provides absolutely no support whatsoever. The back is made of standard three rows of hooks and eyes:
Fit and sizing:
I received this particular item in size 3x/4x. I found that the size should fit most big girls like myself just fine. The whole bustier measures about 37 inches long at the center, so it should fit anyone who has a waist line around that range. Please note that the material is VERY stretchy, so it will be able to accommodate a fairly large range of women. As for the bust, it was a little loose around me and provided no support whatsoever. I have a bust line of about 48 inches all around and still, the bustier let me breasts bounce around like nobody's business!
Here are some pics of the front and side of the bustier along with a standard 1 foot ruler:
One issue I have with this bustier is that it seems a tad bit short for my stature. I have a rather long torso so it doesnt quite reach all the way down to my pubic area like I want it to.
As for the thong, the thong is just a plain t-back made of the same stretchy material as the main part of the bustier. It is also quite stretchy and comfortable to wear
Cleaning and Maintenance:
Since the material is spandex, it actually does not need too much special care. You should only wash it in tepid water with just a bit of detergent. You must never iron it because it will only damage the material-- Spandex and nylon is cannot stand any form of heat. You should not boil or bleach it at all!
Since it has a lot of boning, handwash is recommended. Line dry or air dry.
Experience
My experience with this bustier was rather frustrating. I do find it extremely comfortable, but once I have put it on, I only feel silly. It does nothing for me because it does not shape me in anyway, despite the fact that it has numerous boning all over its length.

I also find that since the boning is so soft and flexible, the bustier actually rides up, which has never happened to me before when wearing my other bustiers! It really is a flimsy, flimsy thing!

When I showed it to my partner, he had me lie back on my chair with my legs spread, leaving me in that position for several minutes. Sadly, I found that since the bustier was riding up, I found that I had accidentaly bent the boning out of shape for staying in that position for so long. It was kind of difficult trying to get the original shape back by bending it into shape.

Overall, I am glad that I received this for free as a review item because I would have been very disappointed with it. If you need a bustier that actually shapes you up, you should look elsewhere.
Follow-up commentary
1 month after original review
Now, this flimsy thing is not worn very often but I do wear it when I dont care much for shaping up. I like the thong that comes with this because it doesnt ride down though.

One great thing about this particular bustier is that for some reason, the boning is still staying put! While it is bent out of shape and bunching up at the back, thankfully it doesnt seem to come apart quickly.

That's a but of a plus, but I still do not like it much.
This product was provided free of charge to the reviewer. This review is in compliance with the FTC guidelines.

Thank you for viewing
Black license to thrill bustier
review page!