(3x/4x) Classic, Elegant, Stretchy & Comfortable? I'm Thrilled!
What can I say? Currently priced at under $30, this bustier makes me feel both sexy and comfortable. I love how stretchy the fabric is because it feels like a second skin when I wear it.

If I could give this 10 stars, I would, but I'll settle for five.

The more I get plus size pieces from Seven 'Till Midnight, the more I enjoy their products.
Published:
Pros:
Comfortable material
Classic design
Very stretchy
Cons:
Hand wash in cold water, line dry
This review is written based upon the 3x/4x size. However, next week I am returning this piece to Eden Fantasys and requesting it in a 1x/2x size instead. Of course, my family is having to pry it out of my hands in order to return it, but I know that in the end I will be happier with an item that fits me better. At least that is what they are telling me.
What it is … how to wear it
This is a bustier and thong set. You can wear it in the bedroom or dress it up and wear it out. I really love this piece and hope to find some way that I can dress it up and wear it with a shrug or jacket.
This item is currently available at Eden Fantasys in both black and a pink/black version. Both are available in sizes S,M,L,XL,1x/2x and 3x/4x.
Packaging
This came in a clear package that is designed to hang. The thong was attached to the bustier with a plastic tag.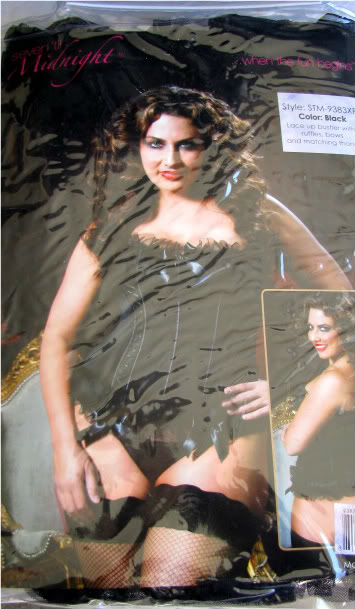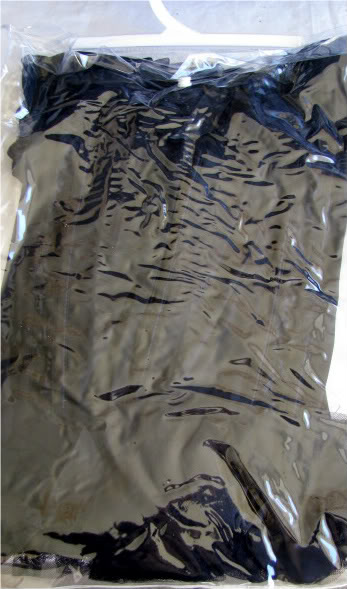 Material & Care
The material is 90% nylon and 10% spandex. The tag states that you should hand wash this in cold water and hang to dry. Do not bleach it or iron it. I would follow those instructions although I do think you could toss the thong in the washer on the delicate cycle if you were washing other lingerie items. I like to use a lingerie bag.
Design, Sizing & Fit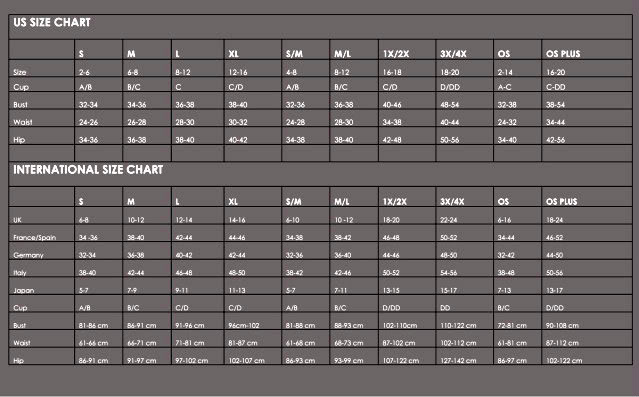 According to the sizing chart, my bra should be 48-54D or DD, my waist 40-44" and my hips 50"-56". I am currently 265 pounds, wear 18-24 tops, wear 44D bra, with a waist of 49", hips of 57" and a torso of 18-19" long.
Based on these measurements this item should be tight in the waist and fit about ok in the hips and be loose in the bust. However, that is not the case with this piece. It's loose both in the bust and in the hips and the waist fits fine.
Specific Measurements
center top of front to hem
15"
top of cup to hem
a little over 16"
width of front
18" wide unstretched
cup width & length
There are no defined cups
garter length
adjustable to 8" long plus 5" ribbons
G-string/thong description
The triangle is almost 7" wide at the top and 7" long with a 3" long crotch liner. It is 18" wide unstretched and 26" long stretched (front of the thong).
Close-up photos
Many of the close-up photos were taken outside in the sun to try and get better pictures but the black does not look as rich as it really is in person. It is not washed out like it appears in these photos:
The lace at the bottom of the corset which is almost 5" long when fully stretched out: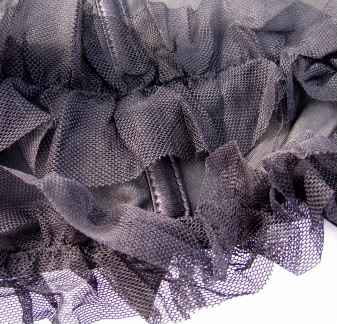 Showing the inside lining - that is where the breasts are (where you see the seam)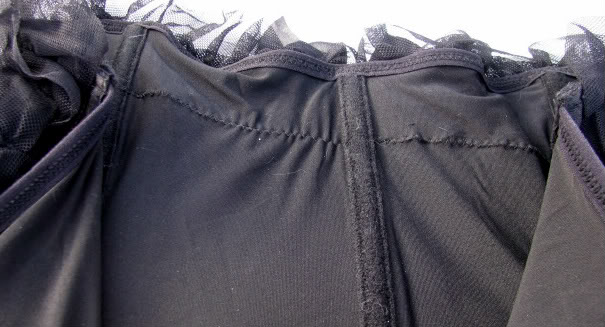 Showing the back of the item stretched out: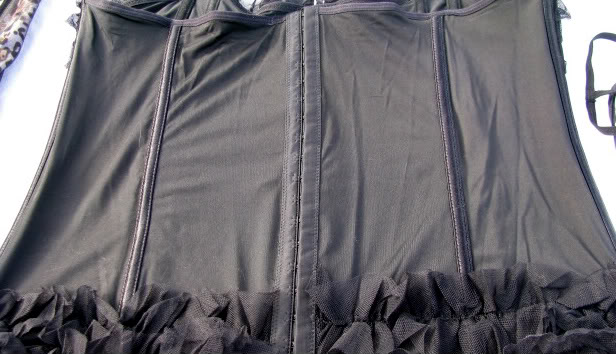 Showing the front of the item stretched out: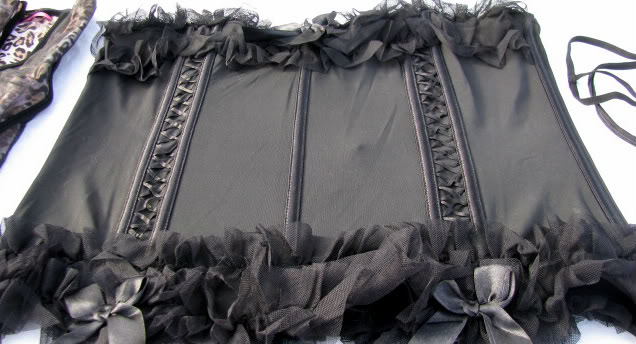 Close-up of the design:

Close-up of the bows which are about 3" long and 3" wide: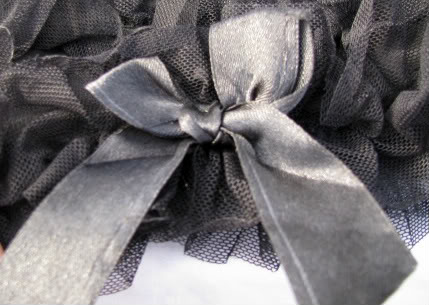 The thong: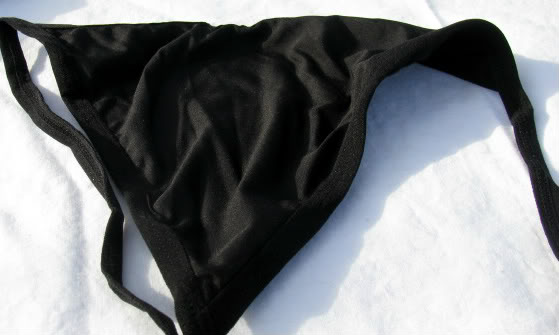 A close-up of the design while wearing it - but also showing how it stretches:
Modeling the Garment
As usual, I am doing a front, side, back and view of the breast support. In this case, I am also adding some photos to show how much I can stretch it out (which is why I am exchanging it for a smaller size).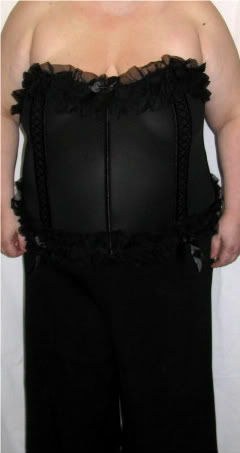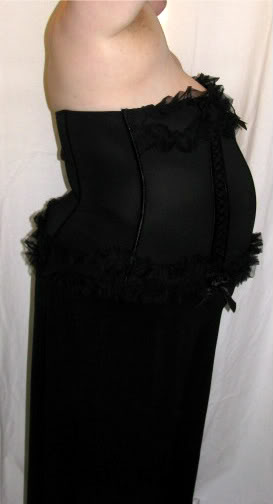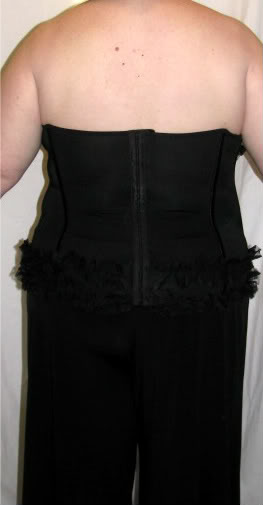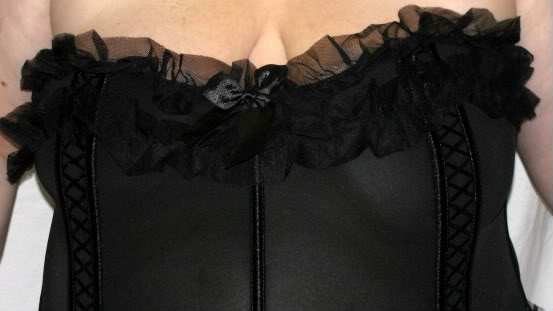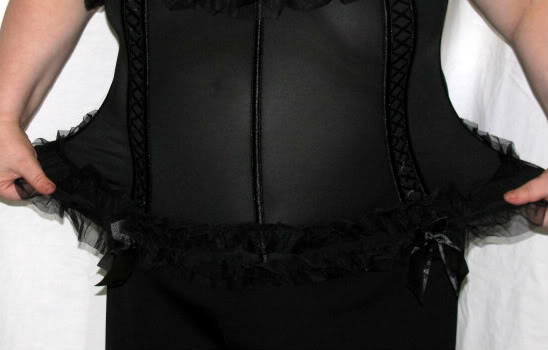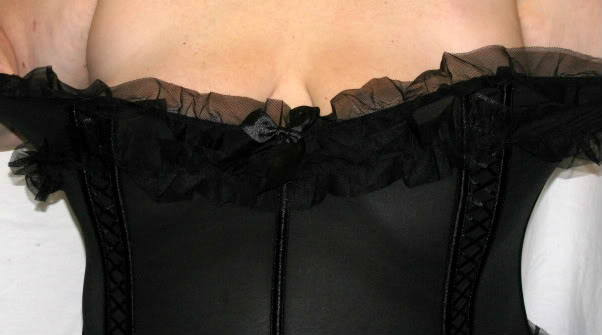 Experience
Comfort
This is one of the most comfortable pieces of lingerie that I own. I usually rate items from 1 to 5 with 5 being the most comfortable. I'm simply going to say that this was so comfortable, it was like a second skin to me.
I love this piece but I want to say that it is probably not for everyone. It is really hard to me to say that but I really need to be honest with you.
Whenever I think of corsets or a bustier, I think of the Coquette
polka-dot mesh corset
which I reviewed a couple of weeks ago. They're supposed to work with you to give you curves and they're supposed to tighten around you to hold you in.
This "bustier" is far too comfortable to do that. It will look good on you and cling to you because of the spandex but it isn't going to force your body to create curves that may not quite be there.
I'm going to put pictures of this bustier side by side with the Coquette piece to show what I mean.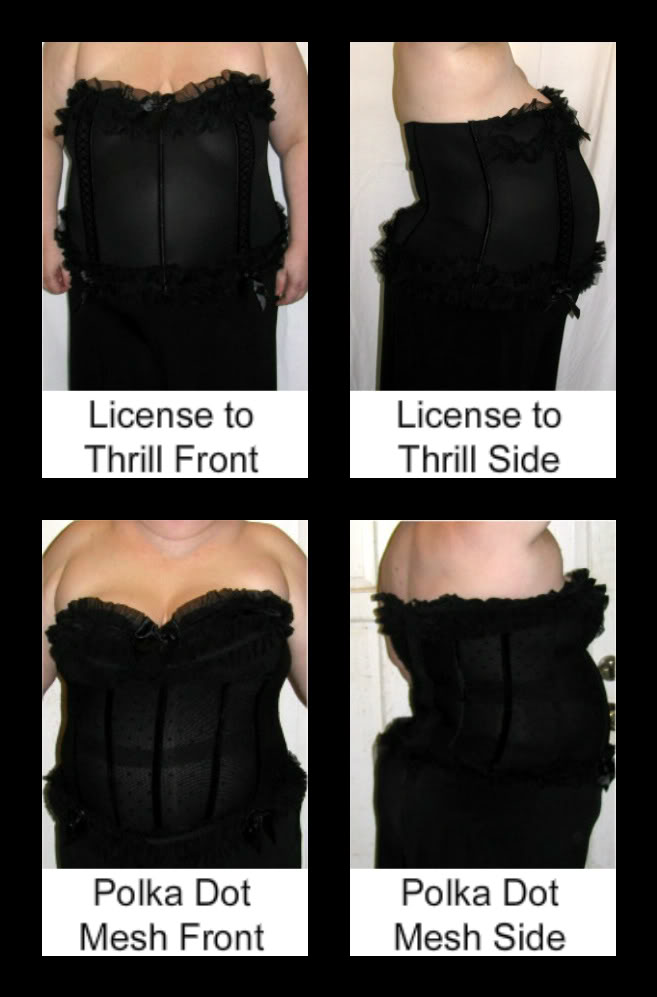 Coquette's Polka Dot Mesh has more boning in it to hold you in. However, I do not find it as comfortable to wear.
I guess what I'm trying to say is that if you're a hard-core corset fan who likes the tight feeling of corsets, this might not be for you. However, if you want the "look" of a corset with a lot of comfort thrown in, then I recommend you check this product out.
However, please remember that it is very stretchy and you may need to wind up going down a size like I will have to do. I based my order on my waist and hips and it is stretchy enough to work for them, so I should have gone down a size for the sake of my breasts.
This content is the opinion of the submitting contributor and is not endorsed by EdenFantasys.com

Thank you for viewing
Black license to thrill bustier
review page!