(1x/2x) One we both love - if he'd let me keep it on!
I'm giving it a four because it is strapless and I like the extra support for my breasts. It is mostly very comfortable to wear and I feel like it is slimming to my figure.

But its not one of my favorite pieces. Perhaps when I lose 20 pounds, I'll love it more.

With that said - HE loves it a lot. I think you will too.
Published:
Pros:
Very slimming
Mostly comfortable to wear
Cons:
Must be hand washed
No straps
I almost titled this review, "I Stole It!" because I got such a great deal on this corset from
Buttercup Green
on the Eden Classifieds site. She sold it to me for $20 and with a price like that - how could I resist?
I love the way this corset looks on me and my husband loves it also. I made the mistake of joking around and saying to him, "Now if I can learn to breathe in it" and the next thing I knew he was unfastening the back. I was like, "No - I'm just joking". His response was along the lines of "I love it on you - but I love it even better off you...wanna go play?"
Since coming to Eden Fantasys and adding lingerie to our life, I think he's developed a second childhood because "play" is always on his mind.
Oh well - we're in our 50's and having more sex than we had in our 30's. So I guess I have Eden - and corsets like this - to thank for that.
What it is … how to wear it
Corsets are designed to help enhance a woman's curves. They are often worn by those in the transgender community to help have a more feminine look and folks who are into BDSM because they are constricting and can be a sign of dominance (for the one who is NOT wearing them). They are often used for dressing up for special occasions like weddings or class reunions. You could even wear them when you go clubbing.
I guess if you can't find any other reason or place to wear this- you could always just greet him at the door with this on and a sexy pair of underwear to entice him to the bedroom.
The only limits for how to wear this are your creativity.
This item is currently available at Eden Fantasys in: S,M,L,XL and 1x/2x. Another version of it is available in red and black and is called the "Bow Mesh Corset".
Packaging
I bought this used off Eden Classifieds but from my experience with the Bow Mesh Corset, this comes in a plastic bag and is on a hanger.
Material & Care
The material is 82% nylon and 18% spandex. According to the tag, you need to wash this by hand and hang to dry. I often wash my lingerie in the washer anyway, using a lingerie bag and a cool setting and delicate cycle. However, I will follow the company's instructions on this piece and do not recommend washing it in a machine.
Design, Sizing & Fit
According to Coquette, I should wear clothes that are sizes 18-22, have a bra size of 46-50D, have a waist of 38"-42" and hips that are 46"-52".
I wear clothes that are 18/20 and 22/24, have a bra size of 44D, have a waist of 49" and a hip of 57".
We can know right from that this is going to be VERY TIGHT in the waist if I can wear it at all.
However, I am trying to lose weight - I decided to try it anyway hoping that with a loss of 20 pounds or so I'll see significant difference in a few months.
When you look at me modeling it, please note that my torso is 18-19" and this item is 17" long. It is going to ride up a bit since I'm larger in the waist and hips.
Specific Measurements
center top of front to hem
17"
top of cup to hem
18" (because the hem rises up a bit)
width of front
19" unstretched
cup width & length
10" wide by 7" long
garter length
up to 6" long - stretchy elastic with METAL clips
There are 18 hook and eye closures down the back with two settings which gives you 1/2" for adjusting.
Close-up photos
Laying out on the table: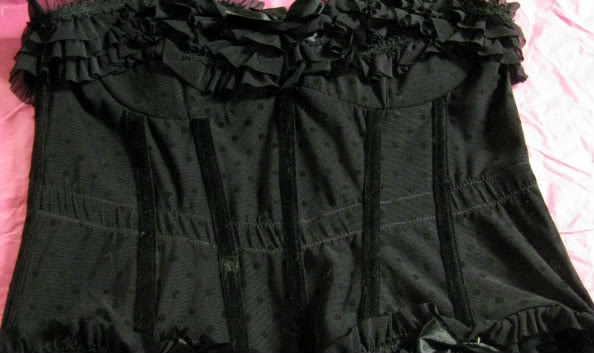 Because the measurements are the same as the Bow Mesh Corset (and they show better here):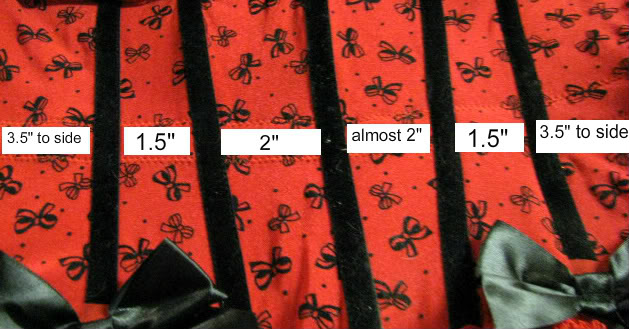 A close-up of the bow: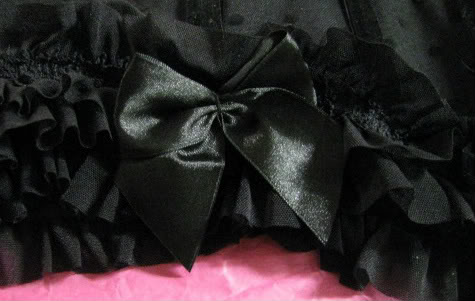 A close-up of the cups: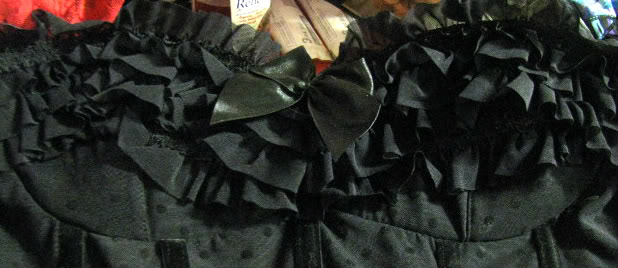 The cups and the elastic waist: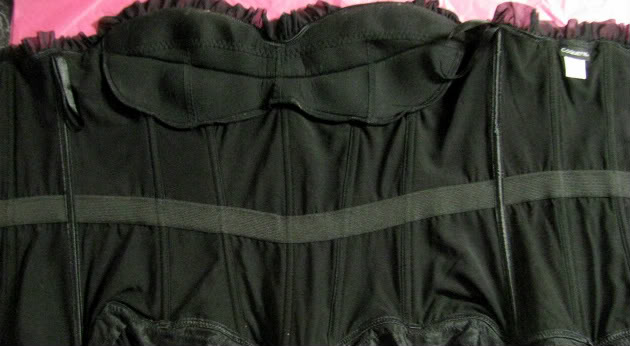 A better close-up of the cups:

A close-up of the ruffles: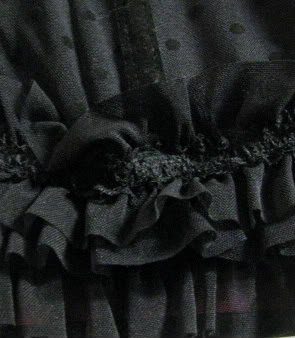 Modeling the Garment
You're going to get a couple of extra shots here thanks to my "darling" daughter
TheBadHobbit
who insisted on a couple of extra poses.
Front: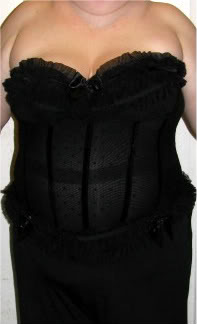 Side: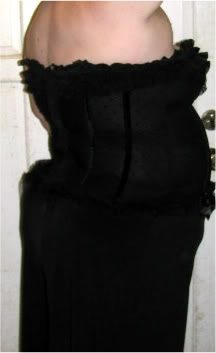 Back: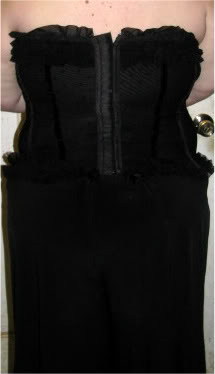 Breast support: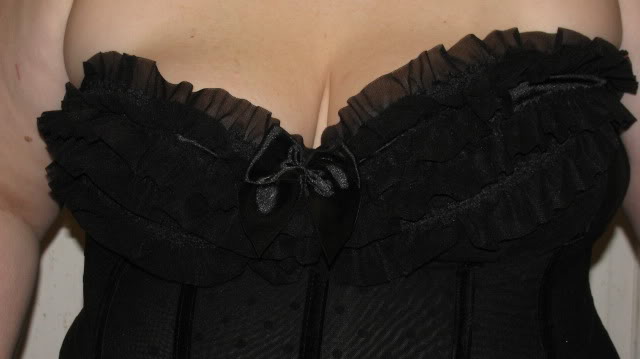 Without the pants (to see where it ends on the body):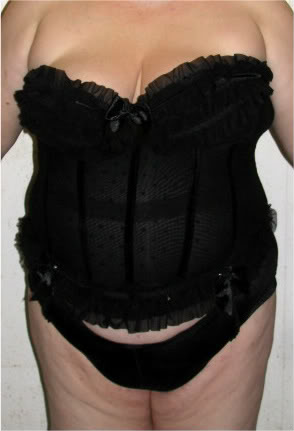 and because she INSISTED it should "show more boob mom!"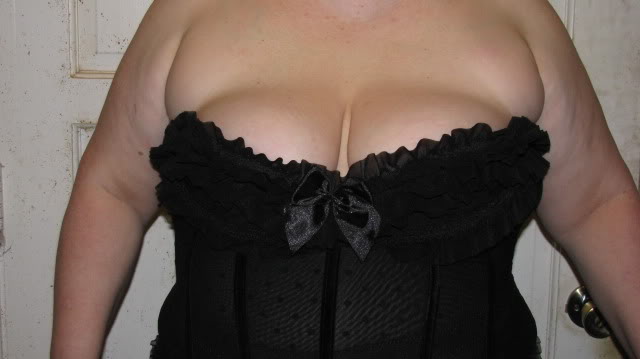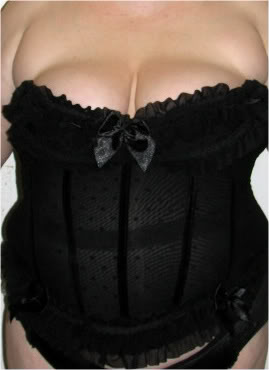 Experience
Comfort

On a scale of 1 to 5 with 5 being, "I love to wear it" and "it feels so great on"...this is a 4. It's not great but it's a lot more comfortable than many other items I own. The red and black version of this (bow mesh corset) is more of a 3 on the comfort scale and I think this is lined with slightly different fabric.

I do really like the way it makes me look and I think that as I lose weight, I'll grow to love this more.

The only thing is that I don't feel comfortable wearing it as it is. Both my husband and my daughter say I could wear it over another top but I have NO IDEA what type of top to wear it over.
This content is the opinion of the submitting contributor and is not endorsed by EdenFantasys.com
Thank you for viewing
Polka dot mesh corset black
review page!