Back in the box.
Say that I was to pretend my body was a little different, and that my torso was the perfect length for this corset. What would I be telling you right now?

I would be telling you- GO for it baby! This is one HOT corset. Go make your man wild and crazy. Go make your lover want to get this corset off of you as soon as possible so that you can start making love. Go for it, go for it, go for it!
Published:
Pros:
Sexy.

Burlesque.

High quality.

Cute bow and ruffle detailing.
Cons:
Expensive.

Didn't work on my body.
While this corset looked AMAZING online, I found that it didn't quite do it for me once it arrived. I waited patiently for my package to get to me(Next day air my lollypop) Sure UPS, sure. Once it finally arrived I looked through my things until I finally found the corset. Instantly I grabbed it, unwrapped it, and tried it on.
This was actually a more difficult task then you may have thought!
Once it was on, I looked in the mirror with my hopes as high as the west Virginia Mountains… and then suddenly something happened, an aching feeling took over me as my stomach dropped to the depths of the ocean.
Apparently this corset just did NOT flatter me the same way that it did the model.
I wish I could say I loved this corset, but I simply didn't. In-fact when UPS comes to bring me my next order, this one is going back, because the price of this corset was WAY to much for what this corset looked like on me.
Sure if you have the right body, I'm sure this would be really sexy and a must have piece, after all the craftsmanship is great and the design is super cute. But if your body is like mine, I'm not so sure that I would recommend this product.
Size / Fit
I ordered this in the size small .
My personal dimensions are
My Dimensions
My weight
110
My cup size
B
My bust
34-36
My hips
34"
My torso
9" inches
This measurement was taken from right under my bust, to the bottom of my hips.
As you see my torso length is pretty long, I imagine it is longer then most.
If this corset was just an 1-1 ½" longer it would have flattered me MUCH, much more. But the size small just didn't work for me as far as the length went.
and I would suspect that if your torso length matches mine at all, that it just wouldn't work for you either, and I would recommend that you pass this corset up.
On the other hand, say your torso is a little smaller then mine, then I would definitely recommend this corset to you, since everything else about it fit me SPLENDIDLY! And I found the overall quality of this product to be very pleasing.
So if this is the case, I just recommend that you follow the sizing chart, since in this particular instance it is very accurate.
Coquette Sizing Chart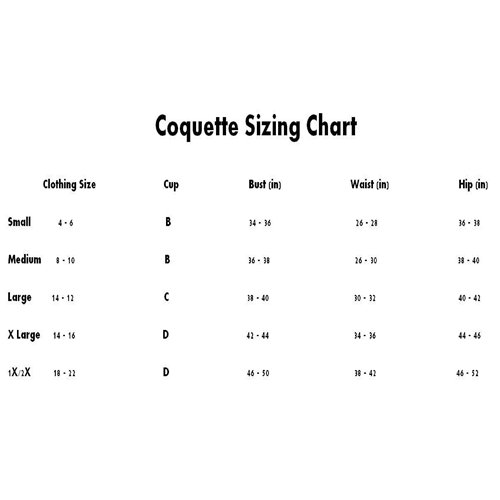 Just for reference I would like to add that the corset is 15" inches from top to bottom
(this includes the bust area)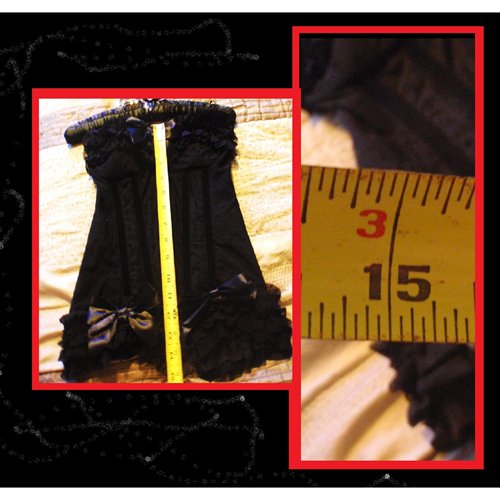 Design / Craftsmanship / Material
This corset is made out of
82% nylon
18% spandex
So the material is semi-stretchy and can form to the body a little bit.
This corset is closed by hook and eye closures. Personally I found that this corset was VERY difficult to get on and off by myself and I didn't find that the hook and eye closures really slimmed my body at all. So this "corset" really seemed more like a bustier to me, and I wasn't really satisfied with it as far as that went.
However, as far as craftsmanship, this was definitely top-notch!
The seams and stitching where perfect! And the ruffle and bow detailing was amazing!
I was very impressed by the over-all quality of this item. And I thought the whole
"Polka Dot " thing was very cute.
Care and Maintenance
On the tag this corset clearly says "Hand wash" -- "Air dry" ONLY.
So that is definitely what I would recommend.
As far as storage, you can simply keep this with the rest of your lingerie in a drawer or chest.
Packaging
This corset came on a hanger and it was wrapped in a plastic bag to keep it safe during shipping.
As an added benefit you can keep the plastic bag for storing purposes, but keep in mind that it can really only be RESEALED a hand full of times before its bottom is not sticky anymore.
Pinned onto the corset there is a picture of one of the coquette models wearing this corset talking on an old-fashioned phone.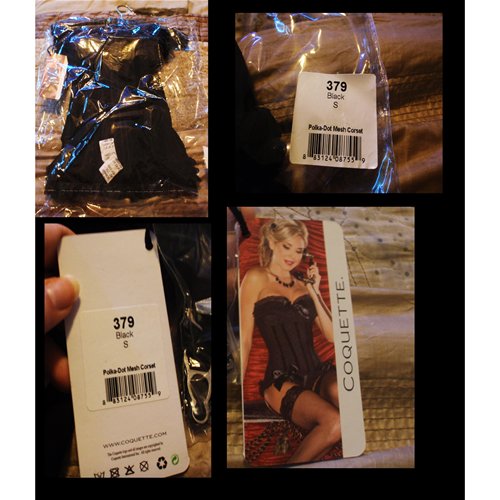 Experience
My experience with this corset hasn't been that great. Usually I am very, very impressed with Coquettes stuff and it usually fits me amazingly well. But that was not the case this time. I guess I will have to just use my refund money to buy a whole bunch of glass dildo's instead. I have been wanting to start building a glass toy collection after all ;)
I would say that if you have the right body, this corset is definitely very sexy and burlesque. After all this looked great on the model. Heck, it even looked good on the mannequin! It just wasn't right for me. But if it would have fit me better, I definitely would have given it a MUCH higher rating.
But hey, I guess not EVERYTHING that I order is going to fit me perfectly. Try, try again! Right?
This content is the opinion of the submitting contributor and is not endorsed by EdenFantasys.com

Thank you for viewing
Polka dot mesh corset black
review page!