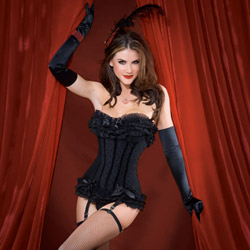 Polka dot mesh corset black
Corset
by Coquette
Delightfully Dark
The Polka-dot mesh corset is a delightfully dark and sexy piece of lingerie that integrates beautiful, feminine details like soft ruffles and satin bows. It is a high-quality piece that I will be using over and over again.
Published:
Pros:
High quality
Beautiful mixture of fabrics
Soft, non-itchy ruffles
Holds a flattering shape
Cons:
No underwire in cups
Saying that I was excited about purchasing this corset would be a huge understatement! So, naturally when it arrived I ripped open the box to uncover my new, prized possession. The corset came wrapped in cellophane. For the money, I spent. I was expecting it to come on a nice hanger as well, like the other reviews said, but it did not. That is not a huge deal seeing that I can not wear the hanger, but still, I was a little disappointed about that... until I unwrapped the cellophane and picked up the corset.
As soon as I held the corset, it screamed quality. The subtle velvet polka-dots, satin bows, and soft, full ruffles instantly brought a smile to my face. I then noticed the velvet covered boning, and I was on my way to try it on!
After reading other reviews, I decided the best way to go about getting the corset on would be to fasten the hook and eye closures backwards and then wiggle the corset around. No, such thing happened. Once, the corset was on it was NOT moving! So I had to wait for my friend to get off work to help me get the corset on. Here, was the result: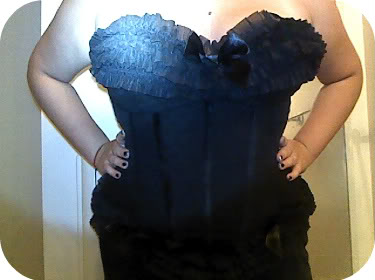 The wait was more than worth it. I now had a beautiful figure and felt really sexy *rawr*. I seriously wanted to strut my stuff with this thing on! The fact that I can not turn the corset around on my body is a good thing in my opinion. To me this says the corset is doing its job and is functioning as a corset rather than a bustier. This corset is, of course, extremely form fitting but being made of 82% nylon and 12% spandex. The fabric is stretchy and has some give. The shape is firm and holds very well with extended wear. With all of that being said, I am most impressed with how comfortable the corset is. You are not going to be slouching while you are wearing this corset, but you can most certainly sit down and more importantly, breathe while wearing it.
This corset is constructed of plastic boning (11 of them) nine of which are covered in velvet on the outside (the two on the sides are not covered in velvet) they are all lined with satin on the inside. The corset closes with 18 hook and eye clasps down the back. Included are four metal and elastic garters.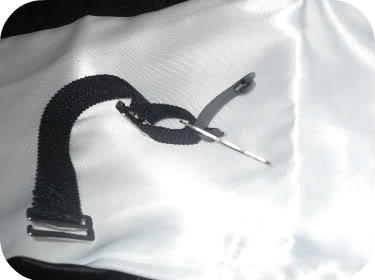 This is where my most prominent problem lies. The garter's closure is metal with a rubber piece that is supposed to hold into the metal. I found that this rubber backing does not secure into the metal very well. Luckily they are removable, and I was able to use a different set. Problem fixed.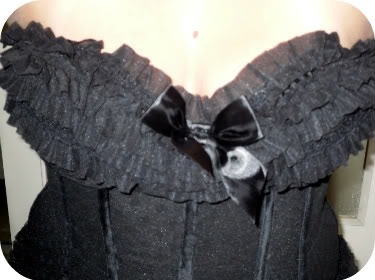 As you can see, the corset is lined with a triple layer of ruffles. I thought they would be stiff and itchy, but these ruffles are plush and oh-so-soft... not irritating at ALL! The corset is adorned with three satin bows, one in the middle of the cups and one on each hip. These bows are sewn in, and you will need a stitch ripper if you wish to remove them. The polka-dot print is velvet and just slightly darker than the mesh material. This is really what sets this piece off for me.
So let's compare the measurements.
Suggested sizing by Coquette:
Bust: 46"-50"
Waist: 38"-42"
Hip: 46"-52"
Polka-dot mesh corset:
Bust: 37"
Waist: 35"
Hip: 39"
(All of these measurements can stretch about 10". So this corset can accommodate a range of sizes and body shapes, as you can tell from my body measurements.)
Length: 17"
My Measurements:
Bust: 41"
Waist: 38 1/2"
Hip: 48"
Coquette's sizing chart is surprisingly accurate. The only place I have some room is in the cups, and I'm a full C cup. One thing I'd like to mention here is that if my breasts were any larger I would have an issue with lack of support, so that is something to keep in mind. I also wish the cups had some under-wire to make the bust area more defined.
I would recommend washing this corset either by hand in cold water, or in a lingerie bag on a delicate cycle, again in cold water with a mild detergent to avoid washing out the beautiful black color.
Experience
The next time I wanted to wear the corset I didn't have anyone to help me put it on. After thinking about it, I decided to try clasping the corset and stepping into it. IT WORKED!! I was able to step into it and shimmy it all the way up, so try this if you're having trouble getting it on.
This product was provided at a discounted price in exchange for an unbiased review. This review is in compliance with the FTC guidelines.
Thank you for viewing
Polka dot mesh corset black
review page!