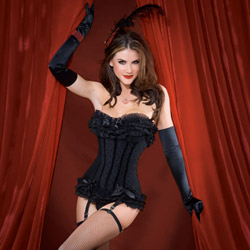 Polka dot mesh corset black
Corset
by Coquette
Just What Every Succubus Needs
They say that beauty is in the eye of the beholder. Well behold the Polka-Dot Mesh Corset from Coquette, a corset that will turn heads, get you compliments from even your worst enemies, and make you want to touch yourself repeatedly.
Published:
Pros
Extremely well made. An attention grabber that will leave your fans panting at your feet.
Cons
Definitely more of a bustier than a corset. Boxy shape and doesn't offer much support in the bust.
I was looking for a corset to wear with my costume for Halloween. Although I was stuck between costumes, the one definite was that I need a black corset that would be versatile enough to wear to work and for a naughty night out on the town.
I instantly fell in love with the
Polka-dot Mesh Corset
by
Coquette
however I was a bit hesitant because I read several reviews that said that the breast portion offered no support and constantly slipped down during wear. There was also mention of a sewn-in elastic waistband that some felt took away from the product. But I decided to give it a try anyway.
The corset is very flexible and not what I am use to with my other corsets. However it is very well made and the quality is apparent from the moment you take it out of the the cellophane bag it comes in. The material feels thick and heavy, however it is not like a coat of armor and is very comfortable to wear for extended periods of time.
There is 4" of lace that is sewn along the top of the corset all the way across. The boning is a bit on the flexible side and I wouldn't look for it to shape you like the boning in a traditional corset. I found that the bending will create creases in it if you do not store it correctly but it didn't not bend drastically to my shape and when I took it off there weren't heavy creases in it. The polka-dot material is see-through when you hold it up to the light but it isn't highly noticeable when you where it. (I also have dark skin and wore it with a lot of black, so this may be why I couldn't see my "goodies" through it)The material is stretchy and will not hold you in like a traditional corset would. But it makes for comfort and flexibility.The band that is sewn in and runs the length of the mid section and in my opinion, was put there for added support and no-one noticed it when I wore it. Along the bottom of the corset is another layer of lace and two black satin bows. The bows are not removable but you could remove them if you chose. The garters seem to be made of a spandex like material. I removed them the several times I wore it but they seem to offer enough give and pull to be secure and comfortable enough to hook to thigh highs. There are two rows of hook-eye closures on the back so at least you can tighten it a bit when you where it. But because of this type of closure and the boxy shape of the corset, it is clear that it really is a bustier.
As far as the breast portion goes; no it won't give you torpedo breast, but it isn't terribly no-supportive. I am a 42D and my breast are always a concern when buying any top. My suggestion is to wear a push-up bra or pair it with some type of halter bra if you need extra support. My boobs didn't plop out all over the place and I didn't find myself checking on them constantly to make sure that I didn't flash anyone.
The size does run a smidgen big. I got the 1x/2x, but I could have easily gone down a size. However I didn't have to deal with any twisting or severe movement from the corset. It is very breathable and moves with you regardless if you are dancing seductive, seducing your mate, or running around trying to keep a party together.
To clean my corset I simply hand wash it and lay it flat to dry. I wanted to do my best to preserve the integrity of the garment and so far it still looks as good as new. I suggest hanging it on a lingerie hanger so that it won't bend or leave ugly creases in it.
The biggest concern with everyone seems to be the fit, the lack of support in the breast area, and the fact that it isn't a true corset. No, it won't take the breath out of you but it still makes for a nice shape when wearing it and it is a good corset for a larger sized woman. Pair it with an undergarment for extra support or wear it with a dress or dress shirt for a sexy steam-punk or Gothic look.
Experience
The first night I wore my corset I paired it with
Kleid Dress
. The corset created a very seductive look despite the low cinching power in the waist. But I will say that when I tried it on for my partner I had to beat her off of me. I added my favorite pair of 6" knee-high stiletto boots, fishnet elbow length gloves that were topped with a skull and red roses, and my black see-through high collar cape. The "boys" loved it and I found myself surrounded with several "worshipers" literally sitting at my feet telling me how beautiful I was. That was my succubus costume.
For work, I matched it with a bustle skirt, a black gothic mad hatter hat, and a black short sleeved see through shirt. I ended up winning my company costume contest and made a a big hit amongst my co-workers.
I love the versatility of the corset. Despite that it is more of a bustier than a corset wasn't a biggy and it opened my eyes to other ways that it can be worn.
My one biggest gripe with the corset is that it isn't a corset. I'm a wide girl but I have a small waist and I have always loved how a corset is able to cinch my waist giving me that seductive Victorian look. I have learned over time to never let let a garment wear me and so I was determined to pull off the complete assemble despite.
This product was provided at a discounted price in exchange for an unbiased review. This review is in compliance with the FTC guidelines.
Thank you for viewing
Polka dot mesh corset black
review page!