What a Mesh!
While I lusted after this one for ages, I just don't find it to really be worth all the money. While it is well-made, this corset had visible stitching throughout the entire waistline due to an elastic band. I thought this was a corset, but it was clearly more of a bustier. To top it off, the breast area was simply unacceptable for me. My boobs felt lost and lonely, not sexy and supported!
Published:
Pros:
soft, easy to wear, removable bows
Cons:
too stretchy, disaster of a bust area, horribly visible elastic waist band
Presentation
I was very excited to get this corset by Coquette, especially since it was on sale at the time. I tried not to idealize in my head how perfect it would be, but by the time my package arrived I was ready to tear that sucker open.
You see, this corset has been on my wish list since I first perused EdenFantasys oh so long ago. I let it fade into the background, as cheaper items and newer items jumped out at me. I finally bit the bullet and hastily added it to my cart with a sense of satisfaction.
It came simply enough, in a plastic bag to keep it protected inside the box.
It didn't come with a lingerie hanger.
Materials and Craftsmanship
The corset is made from 82% Nylon and 18% Spandex. It is extremely flexible, and I'd consider it pretty soft for mesh. It is definitely not what I'd consider a "corset" by any means, but perhaps I should have gone down a size instead of airing on the side of caution. I felt that there was too much stretch in the material to define my silhouette, even with the boning and bizarre sewn-in elastic waistband. It barely did my silhouette justice and wouldn't have really "held" me in if I needed it to.
The bust of this piece is very frilly, with a bow attached in the center of the breast. The body of the mesh corset is just barely sheer enough to see through, so slight that I feel 100% comfortable wearing this out at night. It has subtle polka dots throughout. The boning is covered in a softer velvety material (on the outside). The bottom is also done up with lots of frills as well, with two satin safety-pinned bows for each hip.
I was initially worried that this would be too over the top for me and make my hips look bulky. While the frills and bows don't
hide
my hips any, they don't make me feel overly self-conscious either. I think what bugged me was the lack of support my love handles got with this "corset."
As far as craftsmanship, the corset is immaculate. I couldn't find one thing specifically wrong with it. Everything was sewn properly, as far as I could tell.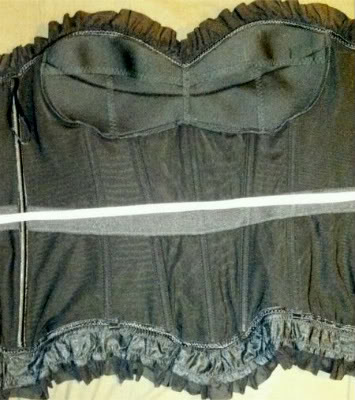 Design
The Polka Dot Mesh Corset is easily put on and taken off by two rows of black metal hook-and-eye closures found in the center of the back.
There are 18 total, and give you about an inch of adjustment room for sizing.
As for being smack dab in the center of the back of the corset... I actually found it relatively easy to take this garment on and off. I merely hooked it up in the front and then spun it around to face the proper way.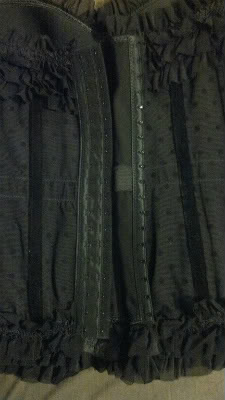 The four adjustable garters included are made of elasticy-rubber(?) and metal, it seems. To be honest, I am not too picky about my garters at the moment. They seemed fine and sturdy to me, but I have read reviews about the backing to the garters popping out easily.
There is no underwire for this bustier. In fact, there is just plainly
NO support
for the breasts with this bustier. My boobs felt lost in frills and excess fabric, and I will not suggest wearing this without an additional bra. I actually do not know what breasts will look good in this bustier, really. Small breasts will drown in frills, while large breasts will be spread outward in the awkward, wide "cup" area.
The corset has plastic boning, of which there are 11 pieces total. I felt the boning was nice support, but lacked importance due to the extremely forgiving fabric. There is also a type of elastic band that goes around the middle of the waist to give an extra cinching effect without actually.. cinching at all. It is very visible through the outside of the bustier, and the more I wear it the more I notice and despise it. You clearly can see the stitching through the front! I just found it tacky, and not at all useful unless you purchased a size 2" smaller than your actual waist measurement. If not placed directly at the smallest part of your waist, you will likely get a fold of extra fabric flapping at the side of your waist. Perhaps if you are more curvy than I am, you won't experience this... But if you are thin, or flat-stomached, and either rather short or rather tall (like I am), you will notice that you have to actual fiddle with that elastic waist band area. For me, being tall, it had me adjusting the bustier so that the cups of the garment felt too low and even less supportive.
Experience
Care and Maintenance
I would recommend washing this beautiful garment in cold water, and doing so by hand. I feel that it would be easily destroyed if you put it in the washer with your other clothes! Perhaps those daring enough will be able to get away with this if they are using a lingerie garment bag.
Do not put this in the dryer or attempt to iron it. The boning is plastic, and material is nylon... Let this one hang dry, deal with the wait.
Sizing and Fit
Now, as I have experienced multiple times now, lingerie bought online tends to run smaller than what their sizing chart suggests. I have been dying-- uhm, waiting-- for this corset for ages and I did not want to cry if it did not fit, with the uncertainty of it coming back in stock in the right size...
So I ordered up (XL).
I am currently wondering if that decision was just a bit too cautious... But, first things first.
Coquette's Size Chart
Sizes 14-16
Cup D
Bust 42-44"
Waist 34-36"
Hip 44-46"
Me..
Sizes 10-12
Cup full C, small D
Bust 38.5"
Waist 30"
Hip 40"
It seems that there is a bit of a jump from L to XL for Coquette's sizing... But anyway, the last corset I got from Coquette seemed a bit too small for me. I figured this was a good bet.
The results?
Garment
Bust 31-32"
Waist 31-32"
Hip (Bottom) 31-32"
What? I kid you not. What happened, Coquette? I thought this was a "corset!" As you can see, the bustier looks like a box from the start.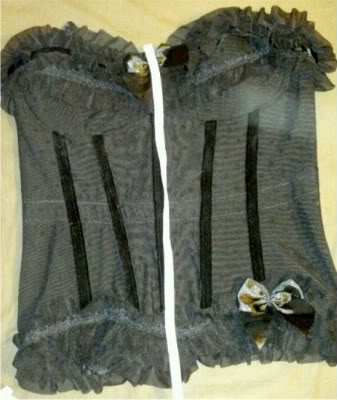 Well, this definitely fits me. But it airs on the side of too big, though it lacks the cinching ability to take in my wider love handle area.
My breasts are totally lost in this one. As for height, the garment measures about 16" long, from center of bust to the bottom.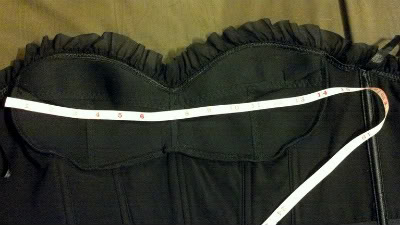 The odd support-less cup area of the bustier measures 14" across and the center is about 4" long, with the cups being about 6" long at their longest.
My breasts were completely lost. While they don't need much support, they didn't know where to go! Because I had to pull the corset down to rest at my true waist, my boobs ended up at the top of the bra part because I am still perky. This made me feel precarious, because I felt the corset might slip down and expose a bit too much.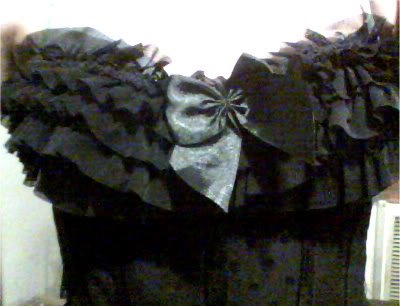 Overall
The more I wear this, the less satisfied I am with it. I want something to hold me together beautifully while still being comfortable. This mesh bustier is certainly soft and comfortable, but it does not hold me in at all.
I was considering wearing this to a Halloween theme park event in a few weeks, but the obvious elastic waistband and the dangerous boob-coverage leave me second guessing and reaching for my purple Coquette corset instead. Perhaps if this one had straps to it, I'd feel safer about wearing it out.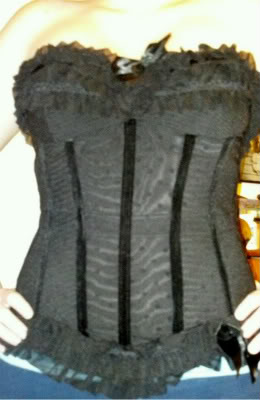 (Above picture, I had removed one of the bows on the hip to decide whether or not I liked it better with or without. I think with, actually.)
Follow-up commentary
3 months after original review
This corset just doesn't have what it takes. It's definitely a bustier, and I am not comfortable wearing it because of how it highlights my hips. It makes them look bulky. No one likes that.
That is why this bustier just totally fails for me. Maybe if I had gotten a size or two smaller, it would hold me in instead of adding layers to my body.
This content is the opinion of the submitting contributor and is not endorsed by EdenFantasys.com

Thank you for viewing
Polka dot mesh corset black
review page!