Easy A+
Coquette's Polka Dot Mesh Corset is sure to make you feel sexy! It balances feminine details with a color everyone looks good in and a body-shaping silhouette! You can even get away with wearing it out of the bedroom, but you may need to add a bra.
Published:
Pros:
Beautifully made with a flattering fit and removable garters
Cons:
No underwire or straps, no support for large breasts, tricky sizing
Lets get it out of the way- yes, this is totally the corset that Olive wears in Easy A. It may be a sign that you spend too much time on EdenFantasys when you start recognizing the lingerie in movies, but when that scene came on, I couldn't help yelling out "HEY! That's Coquette!" My corset is totally a movie star.

This corset is so nice I bought it twice! I've had the 1X size for a few months, but it has always been a little large. I finally decided to order another one in XL, but keep the old one around just in case. That means you get the size info for 2 different sizes in one handy review! Oooh, ahh! We'll get back to the sizing in a moment, but first a quick description of the corset so the size info will make sense!

This corset is made out of 82% nylon and 12% spandex. There is a little bit of give in the fabric, but it is nowhere near as stretchy as other Coquette corsets like the Stretch Lace or Lace Taffeta. The interior is lined with plain black mesh nylon. I wouldn't really call it soft, the texture of the mesh is a little rough, but it is totally comfortable against the skin. The inside also features a band of black elastic just over an inch wide that runs around the waist to help define your waistline.

Built into the corset are 11 pieces of plastic boning- 5 in the front, one down each side under your arms and two on each side in the back. These are covered by soft nylon similar to swimsuit material inside the corset, and black velvety material on the outside.

The exterior of the corset is covered in soft black mesh accented with velvety black polka dots. A lot of Coquette's corsets go so overboard with the pink and the frills and ribbons and bows, its nice to have one that is solid black and a little tame in comparison. Keeping all of this corset's trim black means that even with the three bows (one between the breasts, two along the bottom hem), velvety polka dots and stripes on the boning, and layers of ruffles decorating both the bust line and bottom hem, you still don't feel like this is super girly and frilly.

The back of the corset closes with 18 hook and eye pairs, just like what your bra closes with. There are two settings, so you have about an inch difference in fit depending on which row of eyes you insert the hooks into.

I have almost every corset and bustier Coquette makes (see other reviews), and this one seems to run quite a bit smaller than the rest. All of my others are XL, and I can comfortably put them on sideways to do up the hooks and then spin them around so the hooks are in the back. I can still do that with this one, but just *barely*. It takes a LOT of squirming and wiggling and inching it around, compared to the others where I just suck in and spin. I've actually been considering ordering some of the others in Large instead for a more snug fit, but with this design, the XL is a tight fit. If you are on the fence about which size to order, I'd suggest going a size up with this one!

The bust area does not feature an underwire, which can be either a pro or a con depending on your preferences. The ruffles on the outside of the cups will add a lot of volume to smaller busts, and the cups themselves are large enough to accommodate larger boobs. I wouldn't quite call the cups padded, but they are quite thick and hold their shape pretty well.

One interesting note: The bows on most of Coquette's other corsets and bustiers are attached via safety pin, and are therefore easy to remove or move around. The bows on this corset are sewn on, so you will need a seam ripper if you want them off. This is kind of a shame, since I'd love to use these black bows on my other corsets, or use the pink or red bows from the others on this.

This corset also does not come with straps like many of the others do. I love the extra support straps offer, so I may see if I can find a way to sew loops inside so I can use the straps from another corset. Removable, adjustable garters are included though. There are also ribbon loops sewn in to hang the corset on a hanger.

Best care for this piece is to hand wash and lay out flat to dry.
Experience
Let's start out reviewing the size info: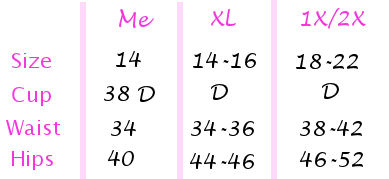 I'm just a little under 5'11", 160 lbs, pretty full D cup. Both the XL and the 1X fit me, but neither is really a good fit right now. I think that if I was about 5lbs smaller, the XL would be *perfect*. It gives me a great silhouette, but its a little too small in the bust and although the tightness gives me a great shape, it makes it too uncomfortable to wear for more than about 10 minutes comfortably. There's no way I could currently wear the XL during sex. The 1X/2X on the other hand is super comfortable, but borders on baggy. It fit me much better when I weighed about 175. So as much as I love this corset, I either need to gain or lose at least 5lbs for it to work.
I have to disagree with the size chart a little. The XL *barely* fits my waist, so there is no way a 36" waist will fit. I'd change that to 30-34". Since the corset ends quite a bit above your hips (unless you are quite short), you hip measurement probably isn't going to matter much unless it is significantly more than the size chart. I would also change the size chart to 12-14 for XL, 14-16 for 1X. A C-cup is going to be much better in the XL than D.
Here's a comparison of how the XL and 1X/2X measure up!
Both sizes measure 13 inches down the back, where they hook up.
The XL measures about 16" down the middle front, 1X/2X (hereafter refered to 1X, since I'm lazy) measures about 17". These measurements include the fluffy ruffles at the top and bottom.
A note- the center boning piece on my XL is a little crooked. The boning on the 1X comes right up to the center seam of the bust area, but the boning on the XL veers off to one side, ending up half an inch off center. Hopefully the makers were just sloppy with this one piece, but I feel like its worth mentioning.
If I measure along the elastic waistband inside the corset, the XL measures 31" and the 1X is 37". I'm actually a little surprised that there is THAT much difference in sizes!
The bra cups on the XL measure 5 1/2" up the center seam, or 6 1/2 including the top ruffle. On the 1X/2X, they're 6 inches, 7 with the ruffle. I have a full D cup, and they fit great in the 1X, but pop out of the XL more than I'd like.
I wish I could give this 4 and a half stars, but I'll go with 4. This is an awesome corset, although I do wish it came with straps and the bows were removable! Also the XL is too tight for me to wear a bra with, but I can't wear it out without one because there's almost zero bust support.
My camera is missing in action, so no photos now, but I will try to add some when I do the follow-up.
This product was provided at a discounted price in exchange for an unbiased review. This review is in compliance with the FTC guidelines.

Thank you for viewing
Polka dot mesh corset black
review page!