Something Blue chemise
Chemise
by Coquette
Totally Bridal
This piece would be ideal for a bride - bridal gift, bridal shower, bachelorette party. Though it looks blue in the product images, it is actually white and baby blue - it even is marked as such on the tags attached to the chemise. This isn't my favorite chemise, but it's not bad. I'm not sure I will get much wear out of this one though.
Published:
Pros:
Would be great for brides, metal hardware on straps, underwire cups
Cons:
Very see-through, garters not removable, white and blue (product pics are misleading), no padding
This chemise came packaged in a clear plastic sleeve with the Coquette logo printed all over in silver.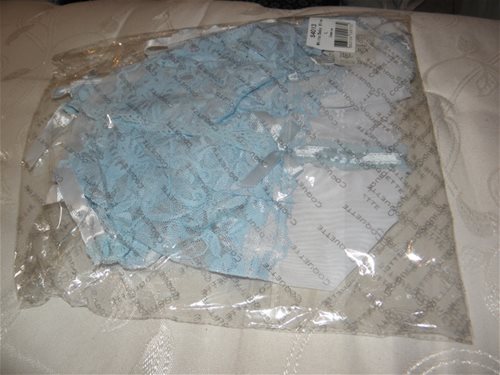 The garters are not removable, and they are 7" long, only 3" of that comes down past the bottom of the chemise. The garters are soft, seemingly durable, blue lace that can stretch several inches. There is a light blue ribbon at the top of each garter strap. What I don't like about pieces that have garters that are not removable, is that it looks weird if you wear it without stockings. With pieces like this it just looks unfinished if you don't wear it with stockings, because you otherwise have these straps dangling if they are not connected to anything. The garters could be cut off if this is particularly bothersome, and the ribbons where the garters are attached would pretty much cover up any lace pieces left behind. One thing I do like about these garters is that the clips on them are white metal, not plastic. Metal hardware on garters is ideal, in my opinion, as it is less likely to snap or break in any way. The shoulder straps also have white metal hardware.
The cups have no padding - they are thin blue lace, and breasts are visible through the lace when worn. The cups do have an underwire, so they have some support. It would be nice if the cups had more support, but the cups are not unflattering; I am just partial to push-up cups. I wear a 38 C/D and this fits me well, without feeling like I'm spilling out. There is a blue ribbon at the top of both cups, right where the strap is stitched on. The straps are white and satiny-looking. The body of this piece is mesh white fabric. There is a panel of white lace in the middle on the front of this piece, which is framed on either side by a strip of blue lace with satiny blue ribbon in the center of the lace ribbon. This chemise is VERY bridal - though it is shown in the product images as looking like two shades of blue, the chemise is actually white and baby blue. The sticker on the package that this came in even said white and blue on it. I think the product images are misleading because of that, but this is a pretty chemise nonetheless. Still, white and blue in lingerie typically looks particularly bridal and wedding-related.
This chemise does have a hook and eye closure at the back; the top part of this chemise is pretty much set up like a blue lace bra. There is a standard bra type of closure on the back, located exactly where it would be on a bra, set up very much the same way. Beneath this closure, there is a sort of keyhole cut-out, trimmed with satiny white fabric. There is a seam down the middle of the back, from the keyhole detail all the way down. This seam is not uncomfortable or overly noticeable when wearing.
The chemise is 82% nylon, 18% spandex. According to the care tag it is handwash only, hang to dry. I would stick to handwashing with this, since it is all mesh and lace; very delicate. This chemise, overall, is very see through (hence, my lack of pictures of me wearing it). The white and blue lace, and the white mesh, do not exactly hide anything beneath. If you are not comfortable wearing things that show a lot of skin or leave little to the imagination, this is not the chemise for you. Also, it is very form fitting, so you won't be able to cover up any areas you are modest about. This chemise fits true to size; I generally wear a large in pretty much anything, and this fits me in the large size. This comes down just below my butt, and it is 22" inch from the top of the cup to the bottom hem.
Experience
FRONT:
BACK: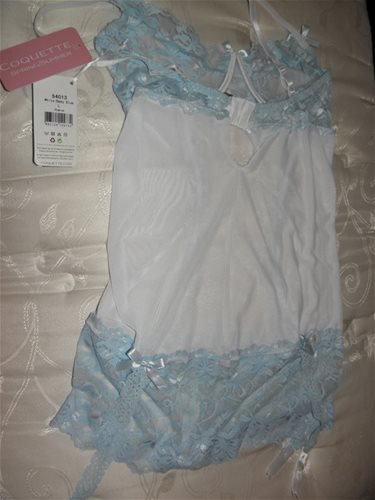 To give an idea of how see-through the fabric is: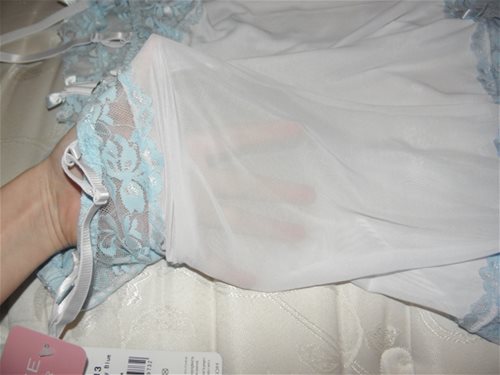 This product was provided at a discounted price in exchange for an unbiased review. This review is in compliance with the FTC guidelines.
Thank you for viewing
Something Blue chemise
review page!