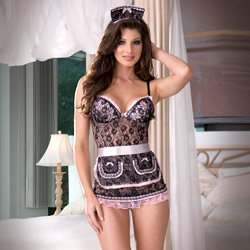 Naughty in Paris lace babydoll
Costume by DreamGirl
Trampy, Trashy, and Hot as Hell
This is a very cute little trashy little maid's uniform. What it lacks in quality of materials it makes up for in sexiness, by effectively conveying "maid"ness. Both my girlfriend and I had an excellent time with this little number and I hope you will too.
Published:
Pros:
Sexy, flattering, easy to get off, and makes it very clear what one is dressed up as.
Cons:
Cheap material, Itchy, and does not make the wearer a better house keeper.
So, this arrived today and I put it on for my girlfriend. She and I both think it's very cute. It consists of:
- A little pink lace nightie with underwired cups, (it's not super supportive. I wouldn't recommend this for very busty ladies, but it works nicely for small to medium boobs) and a ribbon back closure
- A matching apron with ribbon ties
- A little lace maid's cap, which also attaches with ribbon (it can be a bit difficult to tie it tight enough)
- A pair of tiny tiny panties (basically, if you want to wear this and not see hair, I'd recommend going for a Brazilian wax before you wear this)

It's quite flattering on me and I like it a lot. It makes a great outfit for a "naughty maid" roleplay, and it's trashy in a fun cute way. However the materials are distinctly cheap, the ribbon is polyester and is stiff and a bit plasticy, and the lace is itchy. Basically, it's a trashy sexy little maid's outfit, and it's not being terribly comfortable doesn't matter that much as, really, who are you kidding, it'll be off in five minutes.

One caveat my girlfriend would like to mention is that despite being very cute, and having a very clear "maid" gestalt, this outfit will not make your partner a better house keeper. After wearing it for her, I am still prone to leaving a pair of shoes separated by the entire apartment and leaving my underwear tucked absentmindedly onto the book case... however, generally, I really like this maid's uniform, especially the effect it has on my girlfriend. She's very fond of costumes in general, and maid is the one standard sexy costume we didn't have till now, and I have to say, she and I are both terribly pleased with this little outfit.

It really is very flattering and I suspect it would be flattering to many women of varying body types, and very aesthetically pleasing, the color choices are nice (and look very much like the picture, although the ribbons are significantly pinker than they appear). The cut is nice, the fit is nice, and the materials although cheap, do look very sexy. It's also important to remember that this is a maid's costume, and that it really conveys the idea of "maid" very clearly without being too cliche. Another strong point is that it's incredibly easy to remove, meaning that the fun won't be interrupted by unhooking a million tiny hooks, or fussing with endless buttons, or stuck zippers.

All in all, it's an attractive, sexy spin on the classic "maid" outfit.
Follow-up commentary
1 month after original review
This outfit is still going strong, and my girlfriend and I have had loads of fun times with it. It's held up really well for a sexy costume, and still looks really good. I'm very pleased with this item. The color is the same, there's no fraying, nothing has come off, or changed shape, or gotten "pill-y" of course, I hand wash this little number, so that probably has some effect. But, really hand washing delicate is not difficult at all.
This product was provided free of charge to the reviewer. This review is in compliance with the FTC guidelines.

Thank you for viewing
Naughty in Paris lace babydoll
– sexy costume review page!