Translucent Does Not = Opaque! (OS)
Ladies, the packaging lies to you here. Shocker, I know. Contrary to the packaging and the product page, this piece is more translucent than opaque, although it's far from sheer as well. The gauze-like polka dot body is comfortable and breathes well, but the lace is itchy. It's also not going to fit a wide variety of sizes. However, it's still not a horrible piece, and if you don't mind a little bit of itching it'd be nice to wear out over a tank top.
Published:
Pros:
Body is comfortable, Material breathes nicely, Can keep on during sex
Cons:
Lace is itchy, Won't fit many sizes, Not actually opaque
This came in a simple cardboard package with a picture of the model on the front and the back. The back also mentions sizing, material, and care. Well, it shows a picture of how to care it which seems to indicate that you should hand wash and hang to dry your 100% Nylon piece. You'd probably be fine in the washer and dryer, but do so at your own risk.
This comes as a one size piece, which to Music Legs means that I should be between a size 6-11, with a 32-38" bust, 23-29" waist, 34-40" hips, with a B-C cup. I'm about 5'2, I weigh about 120, around my bust measures 32" and underneath measures about 28 1/2". I wear about a size 6 in jeans, I've got about a 29" waist and measure about 34" around the top of my hips and 38" around my butt and wear a good solid B cup. This fit me much like a glove would, and I wouldn't try to be any bigger and wear it.
All you get here is the single chemise, which contrary to the packaging is
not
actually opaque. It's not completely see through either, but it's definitely not opaque. The majority of it is a pink fabric that fees a lot like a gauze skirt I used to have, and is speckled with white polka dots. This part is fairly comfortable to wear, but it's the lace trim and halter ties that get me the most because they're actually a fair bit itchy. The trim around the bottom doesn't bother me as much since I can easily flip the bottom up and have that part be off my skin, but even after just a few minutes the trim that goes along the cups, around the neck, and under the arms gets pretty darn itchy. There's a slim bow about 6" wide in between where the "cups" meet. I say "cups" because there aren't actually any specifically designated cups in this piece, nor is there any breast support for anybody who might want any. Here's an image that has all of the measurements drawn out on it: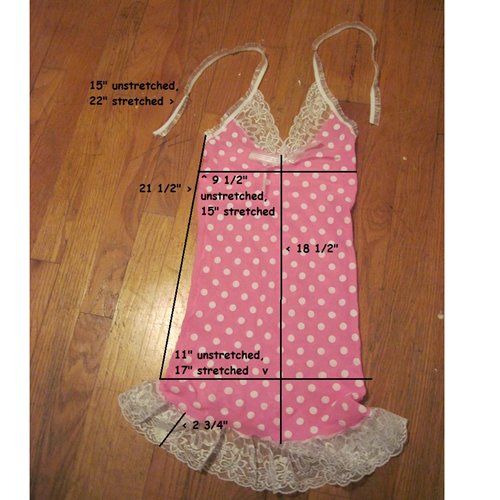 Aside from the itchy lace, the overall craftsmanship doesn't seem to be too horrible. I don't really see any loose or fraying threads, although I don't think it would take too much work to ruin this. You don't have to be super careful, but you shouldn't be super rough with it either. The lack of overall breast support for those who may need it will probably be more of a deal breaker than the craftsmanship.
For being in the bedroom, the translucentness isn't a big deal, but if you're like me at all you're going to want to wear it out. If that's the case, you should probably wear a long cami underneath. Or just a bra if you're feeling daring or it's really hot out. In my pictures below, I just have a bra on. You could pair it with cute black cropped sweater if you wanted too. It is pretty form fitting, and if you're wearing it over something that cuts in at all, it'll show in the way that this clings.
Experience
As a bedroom piece, it's not horrible, although the lace gets me scratching within minutes every time. My husband likes how see through it is, and can't keep himself from pawing. It's not the greatest for sleeping in, although it's not the worst thing ever either. It's mostly the halter ties and the itchy lace that keep it from being really comfortable. The slightly scratchy gauze like material is surprisingly comfortable. Not soft and silky, but breathes well all the same. Because of that, it's high on the list of things I might be wearing this summer when we get into "lingerie as clothing" weather.
This content is the opinion of the submitting contributor and is not endorsed by EdenFantasys.com

Thank you for viewing
Opaque polka dot mini dress
– chemise review page!