Tres Sexy Indeed! (Large)
The Tres Sexy Corset is a great plastic boned corset, despite its flaws. It has loose rhinestones and is difficult to fasten. However, if these issues can be overlooked, it's a lovely corset that will flatter all body types.
Published:
Pros:
Fits well, lovely red satin material, comfortable for long-term wear
Cons:
Difficult busk closures, loose rhinestones, boning warps
Description
The Tres Sexy Corset is a plastic-boned corset from Oh La La Cheri. I originally ordered this corset in both red and black in size medium. Instead I received the red in a large and the black in a medium. I was too apathetic to go through the hassle of a return since the large fit fine.This review is of red large corset. It came packaged in a plastic lingerie bag and hanging on a cheap plastic hanger. Neither of these are worth keeping for long term storage.

The Tres Sexy corset is a bright, satiny red. It is made of cotton, spandex, and polyester. The front features numerous rhinestones that are glued in place, but only barely. They fall off really easy. It doesn't take much to snag a rhinestone and have it fall off your corset. Some rhinestones leave behind glue stains, some don't. Along the top and the bottom of the corset is a sort of pleated trim that is made of the same red, satiny material.
The corset is made up of two panels with 7 pieces of boning each. There is boning under the front closure and next to the lace in the back. The boning is flexible and warps after repeated wear. The plastic boning will not provide any level of extreme shaping but it will provide mild to moderate shaping along your waistline.
This corset has a lace-up back and six busk closures in the front. The busk closures can be a huge pain the ass to close. When I try and put this on by fastening the busk closures, I'll get one or two fastened and then they'll come undone when I'm fastening the rest. I find it easier to loosen the corset a LOT and slide this on over my head with the busk closures already fastened. Then I'll have my partner tighten the laces until it fits perfectly. The laces are a thin, satin ribbon. The ribbon does feel like it could rip easily but, fortunately, it's easy to replace the lacing on a corset. However, this lacing has not ripped for me yet over months of wear.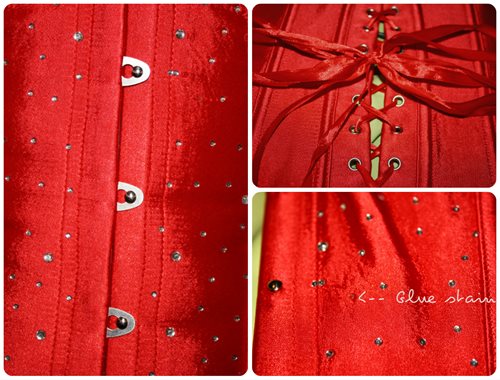 Included with this corset is a matching red g-string. The g-string is made of the same thick material the corset is. The back is simply a satin string that is attached to the side strings. It's a really uncomfortable g-string that I never wear. For this reason, it found its way into a bag of rarely-worn lingerie that I seem to have misplaced during my recent move. If I can locate it soon, I will add more information about the g-string.
Measurements
Width along chest: 32.5"
Width along waist: 29.5"
Length down center: 16.5"
Length down back: 11.75"
Length down armpit: 15"
Length of trim: 1"
Craftsmanship
Corsets and bustiers often have the problem of boning ripping out. Fortunately, the boning of this corset is sealed in with a strong zig-zag stitch on top of the regular straight stitch that attaches the trim to the edges of the corset. I've had this corset for a few months now and I have not had any problems with the boning popping out. There are a few loose strings inside the corset. On the outside, it appears to have strong, sturdy craftsmanship...loose rhinestones aside. All of the edges are finished.
Experience
Cleaning and Storage
The Tres Sexy corset should be hand washed with a mild detergent or a specific lingerie wash. The rhinestones are much too loose and delicate to withstand a washing machine, even in a lingerie bag. After washing it, it should be laid flat to dry. Be sure not to wring this corset or you can warp or break the boning.
This corset does have two hanger straps, making it very easy to store it in your closet. I hang mine on a plastic hanger with the rest of my lingerie. It can also be laid flat in a drawer if you prefer to fold your lingerie. Take care to make sure that you do not fold the corset along the boning. The boning should remain straight during storage.
Fit
My measurements:
Bust: 36C or 34D depending on the bra
Waist: 28"
Hips: 39"
Dress size: 10
EdenFantasys does not have the Oh La La Cheri size chart so I went hunting for one. After some research I found the size chart for a large.
Oh La La Cheri Size Chart:
Bust: 36 B-DD
Waist: 28-32"
Hips: 39-42"
Dress size: 10-14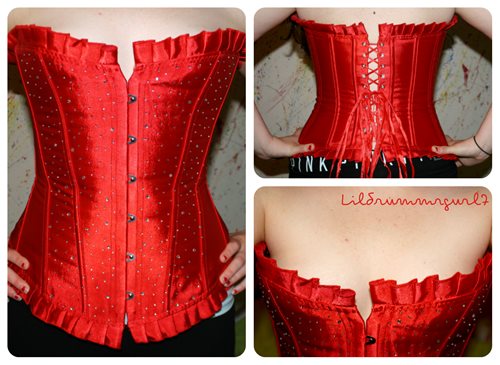 As you can see, I'm on the smaller end of the size chart for the large, which is why I originally ordered a medium. After I lose more weight, I won't be able to fit into this corset. This corset fit me well at my current weight when it was laced pretty tight. It was still too loose on my chest, as every corset I've owned has been. My chest may sound like it's large but trust me, it's on the smaller side. The only way I get cleavage in this corset is if I lift my chest up so my nipples are barely covered and my breasts are resting on the top of the boning. Other than the fact that I can't get it laced tight enough to fit my chest, it fits exceptionally well everywhere else. It's comfortable for long term wear, at least as far as a corset can be comfortable. The trim at the top can be annoying as it does rub along my armpits. With the large, the gap between the lacing is very small so I feel comfortable wearing this out in public despite the fact that it does not have a privacy panel. I like to wear this corset with a pair of jeans and a black cardigan. I really like this corset despite its flaws. Unfortunately, it's been discontinued.
This content is the opinion of the submitting contributor and is not endorsed by EdenFantasys.com

Thank you for viewing
Wrong Product - Do Not Activate Until Fixed
– corset review page!