Unique And Comfortable (2X)
These panties are wonderful and I'm so glad I decided to purchase them! They are sexy, cover up some of my biggest flaws, and are super comfortable to wear. The ease of care is just another thing that makes the panties so wonderful! They are uniquely styled while remaining simple to pair with other items you have at home. Though the string between my cheeks became stretched by the end of the day, it was a small thing considering how much I love the look and feel of these panties!
Published:
Pros:
- Sexy
- Comfortable
- Easy To Care For
Cons:
- G-String Can Become Stretched During Wear
Introduction
The Bedroom Bordello Ruffle G-string from Fantasy Lingerie, is an attractive looking panty that's unique in design, and comfortable in use. This attractive piece is available in sizes Small through 3X and will work well for a variety of body types.
It first arrives on a white plastic hanger that's surrounded by a thin plastic bag. It has a tag attached to it that only shows the company name and the size you ordered. The tag is easily removed and there's no reason in keeping it.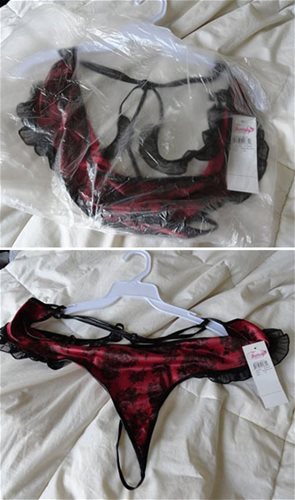 Design / Look
This G-string is far from simple in design. The front features a deep red background with an attractive black floral pattern over it. The pattern, though floral, isn't extremely girly, but other qualities of the panty make it nice and feminine. This area has a bit of a shiny appearance to it that makes it look very luxurious. The trim around the entire piece is black and also has a shine to it. Along the trim in the front are some black mesh ruffles that extend around the side and close to the center in the back. These ruffles are a simple, but beautiful touch that make the whole piece look that much more attractive.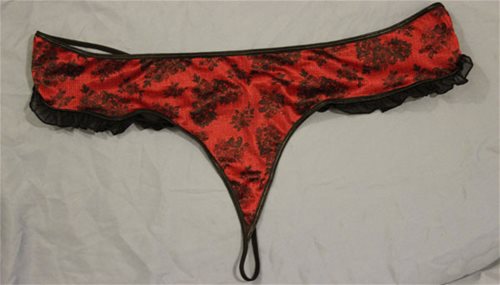 The back of this piece is what really sets it apart from other G-strings. While you have your typical string that goes between your cheeks, you also have three strips that make up the waist band. The bottom strip has the ruffles on it, but the top two are simple in appearance. They all start in the center of the back and extend around the piece where they are then sewn to trim on the side of the front patterned area. Though they are stitched close together in the back, they are attached 2" apart on the sides. This makes the bands separate more while you're wearing it instead of them getting squished together.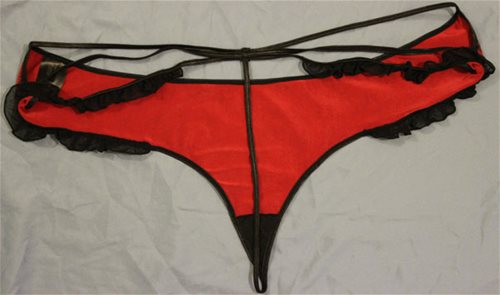 The inside of the piece is plain red and has a small triangular crotch panel. While it's nice they included one, it's quite small and could have been made a little larger.
When you hold the material up to the light, you can slightly see through it, but when you're wearing it you can't see anything that's underneath the panties. The front of the piece keeps things a little more mysterious, while the back of the piece exposes much more. It's a great mix between being modest and revealing, and is sure to drive your partner wild!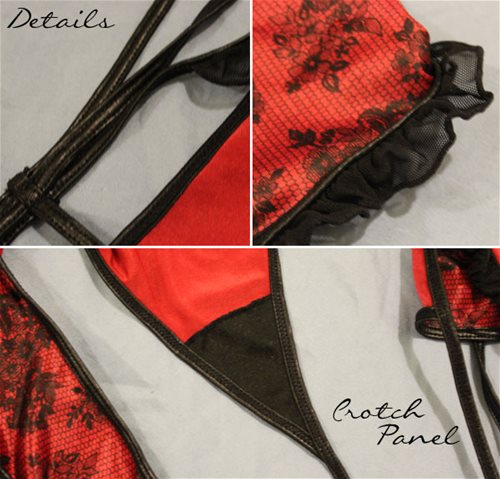 Feel / Quality Check
The front of this piece is silky smooth to the touch and feels just as lovely on the inside as it does on the outside. The feeling truly seems to just beg you to touch it, and hopefully your partner will feel the same way. Nothing about this panty is itchy or rough, and the ruffles details don't tickle your skin. On top of feeling so lovely, it's also nice and stretchy. The front of the piece and the bands themselves stretch with ease and will should comfortably accommodate all of your sexy curves.
The material there panties are made from is very breathable and feels light and comfortable to wear, even during the hot summer months; but don't let that be an excuse to not have your partner peel these off from you! The ruffles are soft and are easily concealed underneath a pair of jeans, but would be obvious underneath a thinner skirt or pants. Comfortable to wear in and out of the bedroom, making these a real winner in my book!
Checking the piece over, I didn't notice any quality issues, no loose or broken threads, or poor stitching concerns. The piece seems to be very well made and has remained in excellent condition even after being washed and dried many times.
Material / Care
These panties are made from 92% polyester and 8% spandex,
exclusive of decoration
. The care instructions are displayed on the black tag in the right side of the piece. It says that it should be machine washed in warm water on the gentle cycle with other dark colored clothing. Separately tumble dry on low and remove promptly once it's dry to avoid wrinkles. It doesn't state that it can be ironed, so I would avoid doing that.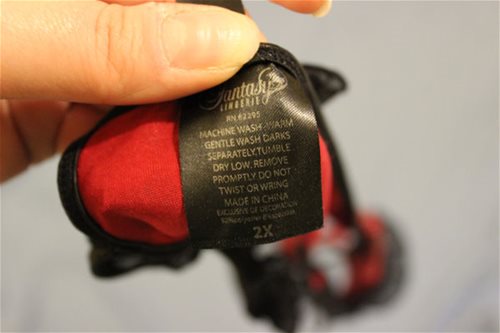 Experience
(continued..)
Honestly, I toss these panties in the washing machine and dryer with all my other items. I don't wash these with my delicate items and I keep my washer setting on 'normal'. Additionally, I wash with cold water and don't dry on low. Though I haven't been following the care instructions, there's no obvious wear to my panties and they look like they're brand new. I have washed these at least 8 to 10 times and they have come out looking perfect after each washing. While that's worked fine for me, do so at your own risk.
The only real concern with the material of this piece is making sure the fabric doesn't catch on anything and snag. While a little run wouldn't ruin the look of the entire piece, it would be really unfortunate to have something happen to it. You can fold these and store them in your panty drawer or with your other lingerie items.
Sizing / Fit
I ordered this panty in a size 2X, because the 3X was out of stock. I was a little concerned that they would be too small since so many companies make their pieces much smaller than stated, but was pleasantly surprised! Here is the Fantasy Lingerie size chart to give you an idea of how they size their pieces: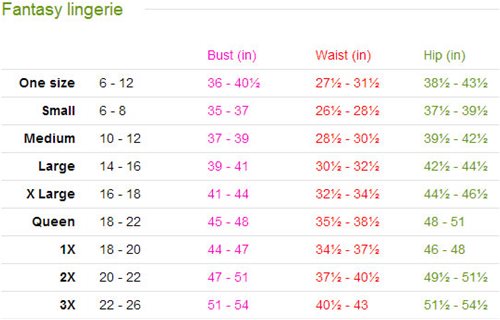 My measurements are:
Waist - 39"
Hips - 51"
Height - 5'9"
Weight - 268 lbs
Pant Size - 22/24
Lingerie Measurements (laying flat):
Length Across Front: 22 1/2"
Width Of Band In Front (excluding ruffles): 3 1/4"
Length From Band To End Of Crotch: 9"
Width Of Trim And Strips: 1/4"
Additional measurements can be taken upon request.
As you can tell, I fit nicely within the 2X sizing according to their size chart. That being said, I probably could have gotten a 1X. Surprising even to me, this piece seems to run a little larger than a lot. It's fine in general, but after wearing the panties all day, the strip that goes between your cheeks begins to sag a little. Nothing screams sexy like a saggy string between your cheeks! This might be an issues only I have, but I thought it was worth mentioning.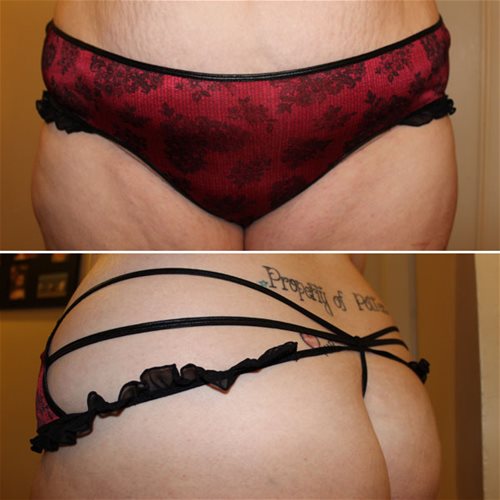 Overall Thoughts
I was so excited to receive this piece, and was so pleased that I fit into the 2X without having to worry about waiting to wear it until I lost more weight. The material is soft and silky against the skin and it's so comfortable to wear! What I appreciate so much about this piece is that it's easy to pair it with a simple black bra to give it a matching look. You don't need any of the other Bedroom Bordello pieces to make this look great. I love how this piece looks and fits and wish more G-strings were designed in a similar way. The front covers the bottom part of my stomach easily (which is something that I'm quite insecure about) while accentuating my best
ass
et in the back.
This content is the opinion of the submitting contributor and is not endorsed by EdenFantasys.com

Thank you for viewing
Bedroom bordello ruffle g-string
– sexy panty review page!