White Tiger Breeding is NOT that Cool
The Bedroom Bordello G-string is a great option for someone looking for a different profile from behind. Just be sure to go a size down for the most flattering fit.
Published:
Pros:
Pretty, unique
Cons:
Big
The tigers may look cute, but a lot of failed cubs are born to get some functional ones. White tigers are a product of inbreeding.These tigers are less likely to thrive. The are also more likely to be cross-eyed, have clubbed feet, kidney problems and be less intelligent. Why am I giving this information in a lingerie review? I had no witty title, and when I do not have a witty title I like to give fun facts as an apology to my audience.
Enough Jabber, Tell me about the Lingerie
The Bedroom Bordello Ruffle G-string has a few characteristics that makes it different from your average g-string. It has multiple strings by the waist on the back that gives a pretty cool effect when worn. The G-string is made well and cane flatter many a lady, just be sire to order the right size, these panties tend to run on the larger side.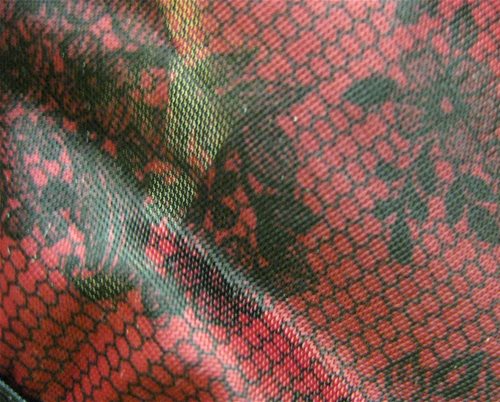 The panty is a dark red color with a netted, black design on it. Along with that there is a flora pattern. It may sound like a lot, but it is pleasing to the eye. It is also pretty nice since the closer you get to the panty the more detail you can see. The material is smooth and soft to the touch. The material on the front generally feels a bit cool to the touch and has a bit of a sheen to it. Most of the panty is made of polyester. It is not the most breathable, but then again, it's worn to be taken off. Here's a picture of the front of the panty.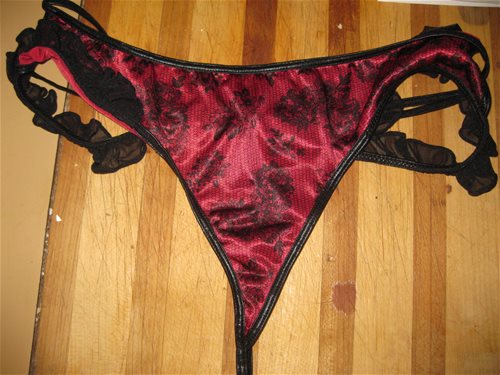 The sides of the panty stem out to three strongs on each side. These are primarily made of spandex. There are black. If you lay the the panty so it is flat and the back is facing you, you'll see a pretty cute design. The strands/strings almost look like a dragon fly. The top string has a transparent, black ruffle on it. It has a netted pattern on it.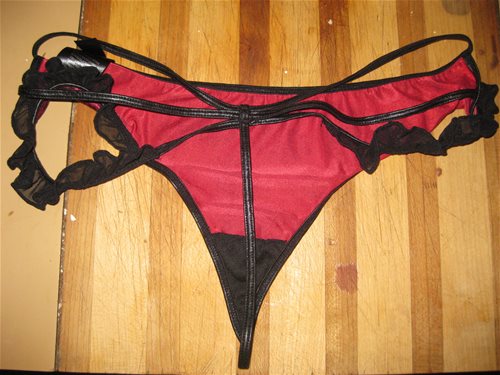 There are no loose ends or signs of shoddy craftsmanship. The tag is located on the top left corner of the panty if you are wearing it. The tag isn't uncomfortable, but it can stick out of the panty. It can be easily cut away with some scissors.
How did it fit?
I decided to buy a small panty. I usually am medium underwear at most retail stores. I am 135 pounds, 5 feet, four inches and have a hispanic behind. I figured since it was a G-string I didn't have to worry about the back of the panty fitting since there isn't a back like normal cotton underwear. I found the panty to be too big to be flattering, and my buns are nowhere near a size small, I assure you. I understand that the makers didn't want wearers to feel uncomfortable the the stretching strings, but now it's a bit loose. I think it is more than safe to go a size down. If not, the panty may droop around your hips or bunch toward the crotch.
Is it utterly horrible? No, but it's not as fitting as I would have liked. It also won't shrink because it is polyester.
How do I take care of it?
Compared to other lingerie, this panty is low maintenance. It can be washed with like colors and then tumble-dried on low heat. Do not twist or wring the panty dry. It seems to hold well through washes. It had not seemed to fade or degrade in any noticeable ways.
Experience
I think it got this panty around the Black Friday sale for a killer deal. I find it a bit harder to get lingerie more recently, and I went back into my lingerie drawer and found this panty lodged in the back and unworn. I decided to give it a shot. It really is a size issue. It's not as flattering as it would have been if it fit me better. I can't fault it in terms of design.
This content is the opinion of the submitting contributor and is not endorsed by EdenFantasys.com

Thank you for viewing
Bedroom bordello ruffle g-string
– sexy panty review page!