Versatile Mini Jacket, Poor Chemise
The Chemise Thong and Jacket set from DreamGirl is a classy and elegant set. It's got three matching pieces that can be used with regular clothes and worn out. I bought it for the super cute and well fitting jacket, but it's a great all around set as long as the sequins trim stays on!
Published:
Pros:
3 pieces, Cute jacket, Versatile, Fairly true to size
Cons:
Sequin trim broke when tag removed, Waist a bit big, For some: no stretch, Shorter than expected
I have more than enough lingerie for an army of Victoria Secret models. So lately, I've been shopping for lingerie that can be worn out or in. I was drawn to the cute lace mini-jacket in this set. I have a few similar designs that are not lingerie, and thought this lace one was gorgeous. It is, but the rest of the set needs some work in the quality compartment since it broke before I even got to show it to my boyfriend. I'll get to that in a few. But first, I'll get to the basics, as always.
*Contents/overview:
Three pieces
*Chemise
*Thong
*Mini-Jacket
This set from DreamGirl comes with three pieces, a spaghetti strap chemise, matching thong, and mini dress. The pieces can be mixed and matched. Worn over or under other items, this can be worn out. The set is see through lace. The chemise which might be more of a cami on taller people or longer torsos has a trim of black sequins. It is currently offered in only black and in sizes S, M, and L.
*Material:
Really nice
The set is made of 100% nylon exclusive of trim which is the sequins. The entire set has the same lace pattern. It is floral with petals, leaves, and some stems. There are also some swirls which are my favorite part of the pattern. The lace is of average quality. It only stretches due to the pattern and doesn't stretch a lot. It can feel scratchy at times near the ruffles, but for the most part is soft enough to be comfortable for long periods of time. The material is thin but not delicate or easily snagged.
*Design/craftsmanship:
Decent, Poor in spots
The main part of this set is the lace chemise. It is shaped like a tank top and has a tunic length. Depending on your height, this might look more like a tank or cami than a chemise. The top has a v neck with stretchy spaghetti straps. They adjust in the back like bra straps typically do. The neck line has a scalloping overlay created by a string of sequins. There are no specific breast cups. There is not even a seam line showing where the end of cups would be. For the large it measures about 17" across from arm pit to arm pit. The back cuts straight across.
The chemise flares out at the bottom and has two layers of lace ruffles. The top one is shorter than the other and overall all looks a little shorter than the one the model is wearing, but it is not a glaring difference. From the top of a cup to the very bottom of the chemise it is about 22".
The jacket is mini-jacket at most. It doesn't even come close to closing and basically just adds short sleeves. The sleeves are a bit longer than that of a girl style T. They cover most of my upper arm. The end of the sleeve measure 6" across. They should accommodate a fair amount of arm sizes. Around the rest of the mini jacket is a single layer of ruffles.
The thong is a normal sized thong with no pantie liner. It has strap sides and a triangle back.
Everything but the sequins is sold well. There is a tag attached to where the sequins ends. This is poor placement because I gently removed the tag and the sequins immediately started to unravel from the bust line!
The damage...
*Cleaning/care/storage:
Dry clean only
This set came on a black plastic hanger and in a plastic bag. The tag says to dry clean only. Maybe they say this because of the poor stitching on the sequins. I think hand washing will be fine. The hanger can be reused for storing.
Experience
Another image I found
*Sizing/fit:
Runs true to size - for large
Since I wanted this to be a set I could wear out in some ways, I wanted the jacket to be able to fit over a shirt or tank, so I got the large. DreamGirl can sometimes run a little small too. This set runs very close to the chart. It's only small on the hips for the thong. The large says it should fit dress size 10-14, cup C-D, 36-38" band, 28-32" waist, 38-40" hip, and 140-150 lbs. I am a size 8 in jeans, 8 or 10 in dresses depending on the bust space. I have size 34/36 D breasts. My waist is about 30" and hips 38.5".
This runs a little big on my waist and a tad small on the hips in the thong, but fits perfectly everywhere else. I'd say it runs pretty true to size, but will be tight on the higher end of the chart. please keep in mind that there is no bust support at all. I am 5'6" and this is more of a cami on me than a chemise. I'm a bit dissapointed by this, but it is still cute. The thong is a good fit for me, but is smaller than the sizing chart suggests it should be. I would totally wear it out under jeans.
My Re-done chart:
For the large
Dress: 8-12
Cup: large C-D
Band: 34-37"
Waist: 30-33"
Hips: 37-39"
*Possible accessories: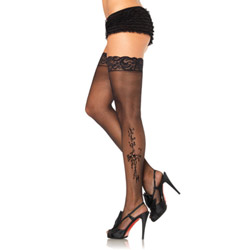 I would go with a solid nylon thigh high that has a black lace top. I recommend the
Sheer Lace Top Stockings
because they have a rhinestone detailing on the side.
Because this set has a little bit of a vintage look to it, I'm thinking 1930's glam, I would go with a simple close toed or peep to stiletto in a vinyl finish so it matches the shine from the sequence. A great choice is the pair I am wearing in the review linked above. Those are by Jessica Simpson.
You can totally wear it over other things. The above shirt is a thick fabric.
*Conclusion:
4 stars ★★★★
I am giving this set 4 stars. If it weren't for the broken seam, it would get a 5 star rating. The price is fair for a three piece set that can be worn out over something. It does fit over certain tanks as well. Since I did buy this for the jacket and I am very pleased with that, I'm happy with this. I will be returning it for a new one since it broke the first time I tried it on. I'll be even more careful with the tag next time!
Show stopper!
This content is the opinion of the submitting contributor and is not endorsed by EdenFantasys.com

Thank you for viewing
Chemise thong and jacket
– chemise and panty set review page!