Stunted Velvet Elegance
These stockings can give you a gorgeous and elegant look with their velvet calf decoration. The stockings are thin and comfortable, but can run easily. My biggest problem with them is their height. They seem a bit short and the band was a tid bit too big for me where they fell on my thigh. This caused them to want to fall down a bit. Wearing them with garters fixes this though.
Published:
Pros:
Gorgeous detailing, Can be paired with evening attire, Comfortable, Didn't roll on me
Cons:
Short!, Fall down a bit, Run easily
Want to have a traditional feel with a non-traditional look? These gorgeously detailed stockings from Leg Avenue are just that. I found that these stockings are best for shorter women. They kept falling down on me, but work well with garters. The velvet bow and flower detail is really pretty too.

*Overview:

This pair of stockings from Leg Avenue are solid nylons. They feature a velvet detail with rhinestone or the side and have a closed toe with no back seam. They are meant to be used without garters due to the thick lace band, but since they are shorter than most, they may require garters, especially for those who are not short. They are one size fits most and come in black or white.

*Material: Fine and delicate

These stockings are made of 100% nylon which is exclusive of the trim. The trim includes the lace top, velvet decal, and rhinestone accent. The nylon material is very thin, stretchy to a point, and easily gets runs. The lace band is like most from Leg Avenue with a small flower and large swirl pattern. I was hoping that there would be a different lace pattern to go along with the detailing, but alas, I was let down. These stockings also don't have any reinforcement in terms of adhesive strips to help keep the stockings up. I really wish they did because it would help make up for the lack of length.

*Design/craftsmanship: Good for the price

The lace band is about 3 1/4" tall, at the top of the scalloped edge. There is a large, noticeable seem in the middle of the band. The scallop width is about 1 1/2". The seam that connects the lace top to the nylon is very nicely done. It is not at all irritating either. The nylon is semi see through and feels good against the skin, but it runs easily.

The decoration is printed in velvet on the stocking. It is soft and looks lovely. The pattern is mostly swirls, small flowers, and dots. The center part of the design is a bow. In the middle of the bow is a single white rhinestone. It's secured well onto the stocking. I don't think it was easily fall off. I've had no issues with it. Depends on how tall you are, the length of the design will change, but it should stretch for the majority of the length of your calf.

There were a few random seams that were a bit too long, but they were no biggie and went unnoticed while being worn.

The toes are closed and not reinforced. I found them to be very comfortable.


*Cleaning/care/storage: Hand wash

The package says to hand wash these in warm water. I would not take any chances putting these through the wash under any circumstances due to the detailing. Let them hang dry. Store inside out and folded in on each other like socks.

They come molded onto a small cardboard insert. The insert slides into a flat bi-fold with pictures of a model wearing the stockings on the front and back. All of this slides into a plastic wrapper. If you are careful, you can keep it for storage.

They are made in Taiwan.
Experience
*Sizing/Application: Better for shorter women, fit medium/large thighs
As with most Leg Avenue stockings, these are "one size fits most". The suggested weight range for these stockings is 90-160 pounds. Since they are shorter than most Leg Avenue stockings I own, I would cut the weight down a bit to more like 150 as the max. I'm 5'6", ~142 pounds and I had a hard time keeping these up. They wanted to stay on my low thigh and not stretch to the length I wanted. The best height for these is probably a max of about 5'4" if you want to wear them on the mid to upper thigh. If you are taller than me by more than an inch, I'd say that you should pass on these. They work fine on me, but I'm not used to wearing stockings of this style that low on my thigh. They don't stay up AS well. Due to the shortness, it's hard to gauge how big the thigh can be. My thigh is about 21" wear these are being worn. They don't cut in at all, but are snug enough to stay up. Any snugger, the band will probably roll.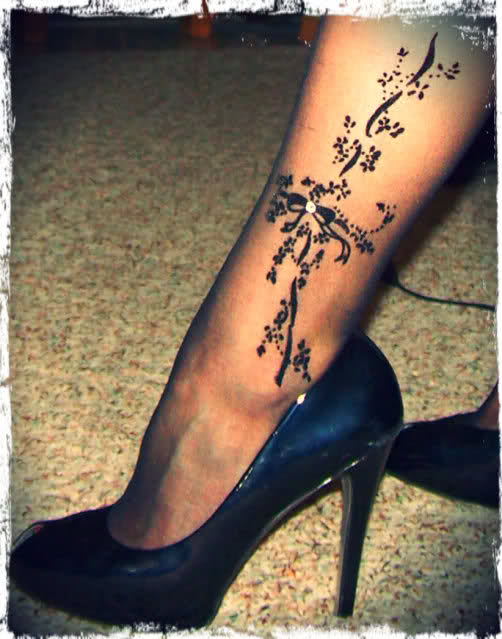 *BEST Fit Chart:
Pounds: 100-150
Height: 5'1"-5'4" (If you want to wear them on the upper thigh)
Thigh circumference: ~19"-23"
*Conclusion:
I would give these stockings a 3.5 if I could. I am dissapointed that they are so short, but I'll get used to it. I don't want to pull on them too much because, as you can see in the picture, I put a run in them just putting them on! The detail on the side is very pretty though and for that I think these deserve more than a 4 since they are unique and the they do fit, just not where I would like them to. My boyfriend thinks they are pretty, which is also a plus and I like to wear them with my little black dress instead of in the bedroom.
Follow-up commentary
1 month after original review
The detailing on these stockings is holding up and looks untouched. I love them so much despite their short stature that I am going to purchase them in white as well. If you don't mind wearing a garter belt, don't let their short height deter you!
This content is the opinion of the submitting contributor and is not endorsed by EdenFantasys.com

Thank you for viewing
Sheer lace top stockings with woven floral and bow pattern
review page!