Waskly Wabbit
Wanna show your partner that you are in the mood to hump like bunnies? If you like to dress in skimpy little costumes and let it all hang out, this is for you. A sexy addition to any costume collection and a decent price.
Published:
Pros:
• Sexy
• Affordable
• Stretchy
• True to size
Cons:
• Cheaply Made
• No breast support
When I saw the Sweet Bunny costume from Espiral Lingerie I was psyched! Who doesn't need at least one super-hot bunny suit? When I saw the fairly low price tag on it, I just had to try it. As soon as I received it I had to immediately try it on. It was so sexy! Now, everyone has a curve here or there that they would rather not show off, I know I do, and this pretty much showed it all. But it was still, overall, a great experience.
I ordered the medium size. My measurements are 36"/26"/26" and I am 5'5" weighing in at about 130 lbs. The medium fit me amazingly well. I would definitely agree that the sizing is true. At least for the medium. The sizing chart for the manufacturer is as follows:
Bust (in) Waist (in) Hip (in)
Small - 34 - 25 - 34
Medium - 36 - 27 - 36
Large - 38 - 29 - 38
XLarge - 40 - 31 - 40
The costume material is a mixture of
Polyester
and
Spandex
. Polyester is the material that has low absorbency. It is combustible but due to its thermoplastic nature, it tends to shrink away from the flame source and often self-extinguishes. Spandex is very strong and durable material, able to be stretched repetitively and still recover original length. It is resistant to body oils, perspiration, lotions, and detergents with no static or pilling problems.
The costume comes with four pieces. Here is the breakdown of each one.
• Top
The top was actually quite flashy. It is a halter top type that ties at the neck and has 2 buttons in the front. I absolutely love this top because it is made to look like part of a tux. The top sits a little higher on your chest than most lingerie pieces. It forms nicely around your breasts. It also sits high over the stomach in true belly shirt form.
• Bottom w/ Suspenders
The underwear portion of these feel just like you are wearing a bathing suit. With the polyester/spandex material, it is soft, stretchy and conforms nicely to your body. And like the rest of the costume, this piece doesn't leave much to the imagination. The suspenders connect to the bottoms and there is a fluffy little rabbit tail on the rear. Quite adorable but not very strongly put together. I was almost afraid to sneeze in fear that my tail would fall off. I do not recommend lounging around it this because chances are you would find your tail somewhere between the couch cushions. But then again if you just buy this costume to hang around the house in, you have far more issues to deal with other than just finding your bunny tail.
• Wrist Cuffs
The cuffs are cute in addition to the costume, but really seemed just like a distraction to me. They are held closed by velcro and strings start to come undone the first couple times you use it. By the time I was done modeling for the camera, I realized that I would probably never wear these again.
• Neck Piece
The collar is totally freakin' adorable. I love it. It is a cheesy black and white bow tie that ties together the entire costume. Like the bunny ears, this costume just wouldn't be complete without it! The strings that tie it together are about 18 inches long total and will leave you with some extra slack in the back. Realistically, these could have been a lot shorter, but all you need to do is tie it in a pretty little bow and you are all set.
• Bunny Ears
The bunny ears, of course, are what make the whole costume. In all actuality it is just an extremely cheap headband that has ears attached. Now this will more than likely break randomly after a couple of uses, due to the fact that it is so cheap and cheesy. But it is still pretty bad ass to have a set of bunny ears. But then I have been amused by far less amusing things.
As for care instructions. You want to be careful with the feather piece and probably hand wash that part, other than that, you can throw it in the wash and dry on delicate.
Experience
I absolutely loved this costume and so did my cam customers. It's not only totally sexy, but it's festive and adorable as well. It's not of the best quality, which is why I am giving it 3 stars even though I love it so much. I know it won't last very long, but I will love every minute that I spend wearing it!
Here are some goofy bunny pictures for you to check out. And just to be clear,
I am neither confirming, nor denying whether I may be wearing a push up bra under the costume.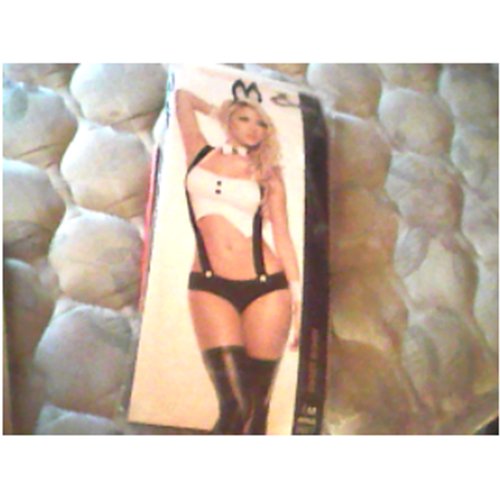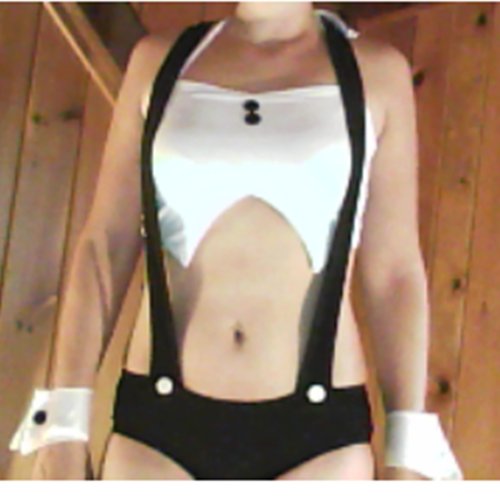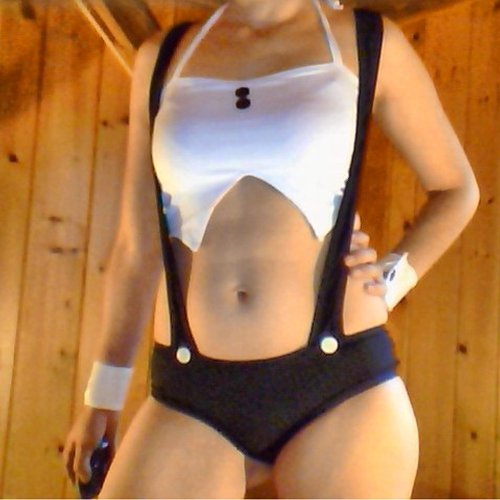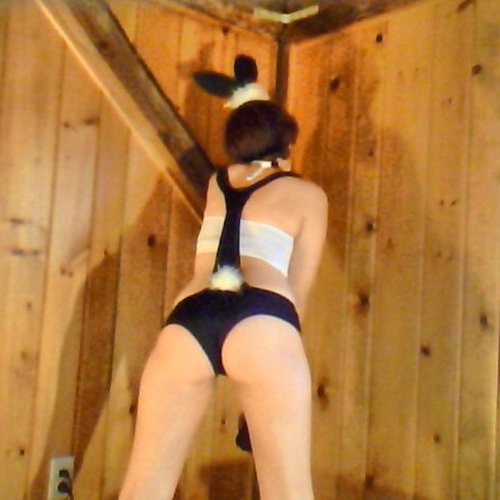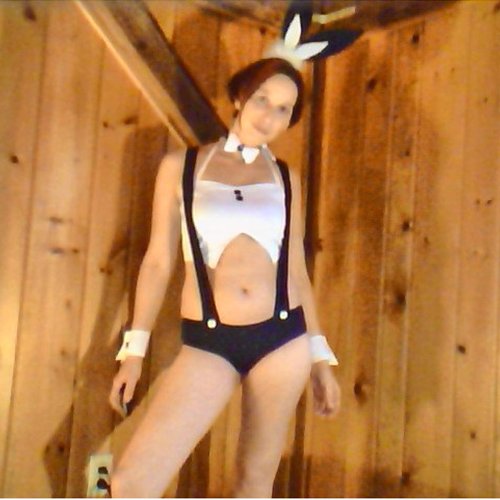 Ok, whatever, so I am wearing a push-up. My tits aren't what they used to be. Gimme' a break!
Follow-up commentary
3 months after original review
I love this outfit. In fact, I wore the top a couple days ago over a tank top that I had. It was adorable. I don't see myself wearing the ears to often in public, but I love how I can mix it up and use parts of it for everyday wear. I still think its pretty hot.
This content is the opinion of the submitting contributor and is not endorsed by EdenFantasys.com

Thank you for viewing
Sweet bunny
– costume review page!