Well, I'll Look At It On The Hanger
I loved this when I saw it, but unfortunately I think I'll be loving it by looking at it on the hanger. It doesn't fit very well in the bust and it's way shorter on me that what it looks like it would be in the picture. The material is also all kinds of itchy and I couldn't wear this for longer than 15 minutes before I needed to get it off of me. However, the detailing is beautiful and the color really pops.
Published:
Pros:
Pretty colors
Nice detailing
Underwire
Cons:
Very itchy material
Will need to go up on size chart
Limited availability in sizes
The Dream Girl Carried Away Chemise looked like a sure thing. It's hot pink and black, my two favorite colors, and had all sorts of nice detailing. Sadly, some fit and material issues made this chemise a not-so-wonderful purchase.
The packaging of this is simply a plastic wrapping and a hanger. This is nice for storage, since you can keep it hung up and wrinkle free.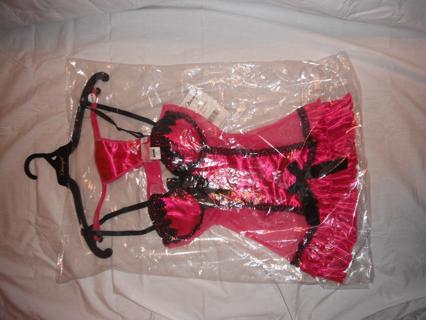 You can buy this chemise in sizes S-L. Dream Girl's size chart confuses me because I fall in all three categories. I wear a size 4/6/8 (90% of my clothes are a 6). According to my dress size, I should order a small. I have a 28 inch waist, which means I should order a medium. I have a 39 inch waist, which says I should order a large. I wear a 34DD/36D bra, which also falls in a large or a 1X. I have
another
Dream Girl outfit in a medium that fits perfectly, so I went with that.
The medium in this chemise is 17 inches long. Underneath the cups is 11 inches wide. The bottom is 14 inches wide. The cups are 4.5 inches long. The straps are adjustable and the back is a hook closure for further sizing adjustability. The cups are underwire, so the fit of the bust will be important lest it dig into your breasts. The medium thong is 13.5 inches wide. It is 7 inches long. It has a 4 inch long liner inside of it.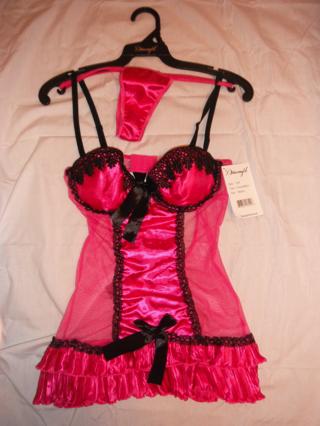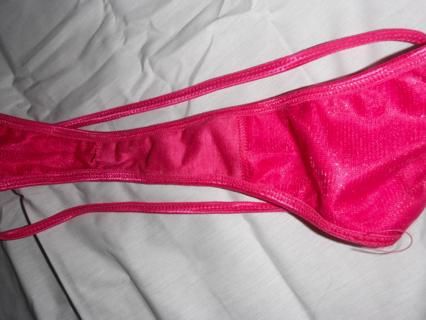 This...just didn't fit in many places. It fit my waist, but that's about it. It was way shorter on me than it is in the picture. It fit my hips okay, but that's probably because it ended up sitting on top of them instead of actually wrapping around them. The bust, well, was a disaster. The cups were way too small and I was popping out all over. The width of the area below the bust was tight and the material runched up underneath it, likely some of the reason this didn't make it all the way down to my hips. If you're going to buy this, order up a size, even if you haven't had to on previous Dream Girl outfits. Here you can see the material runch issue: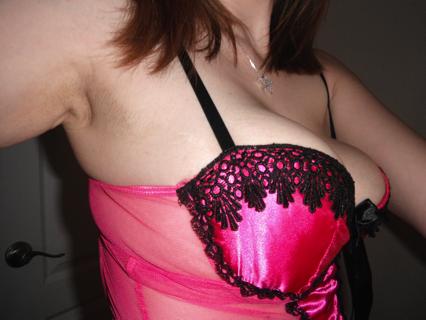 The material is 90% polyester and 10% spandex. It should be hand washed in cold water and line dried. You should not iron this. This material is all sorts of uncomfortable. It's itchier than any material I have ever had in a lingerie piece before. I've worn this twice and I can barely keep it on longer than 15 minutes before I need to take it off because I feel like I have a rash all over where this touches. The itchy material isn't everywhere. It's in the middle panel underneath what looks to be a silk material (but I'm guessing isn't real silk), in the thong, and in the seaming of the bra cup. So basically, my stomach, my girl parts, and my breasts were itching to death. How fun and sexy.
Here's the material in the panel: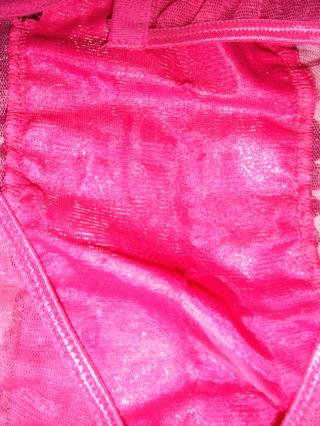 Here it is in the thong: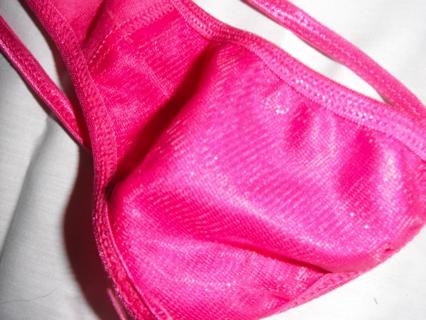 And here is the cup seaming: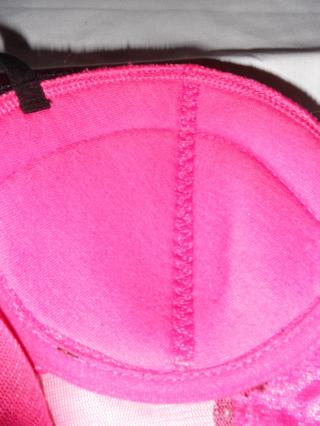 I have no idea what this material is, but it seems like it was made as a torture device of some type. This was the most awful clothes experience, not just lingerie, ever. I was twitching and crawling in my skin. I guess it's the polyester, but I don't know enough about materials to say for sure.
Seaming-wise, for the most part this seems to be fairly high quality. If you look closely in a few of those pictures you can see a loose thread or two. There were some of these to be found in the outfit, but nothing I would consider a fray. The threading seems to come out a little only at the seams, not at any random part of the outfit. Otherwise, the seams look well done.
This outfit has lots of nice details. The cups have an embroidered lace on top of them, a bow in the middle, and a regular lace on the bottom. I think this looks really pretty and the laces don't clash at all.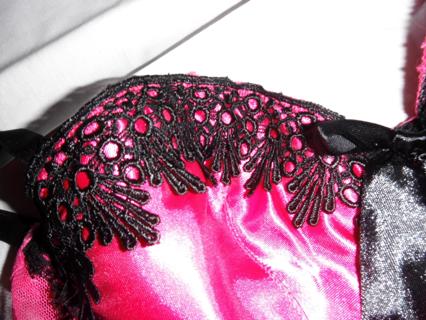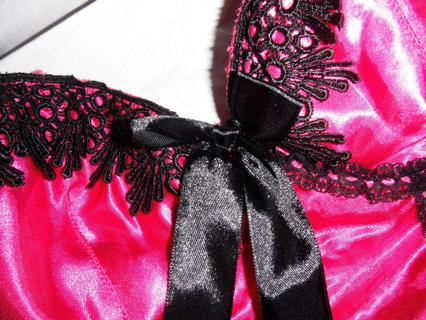 The middle is made of the mesh on the sides and then a silk-like material that runs down the middle. These are separated with the same lacing as is under the cups of the bra.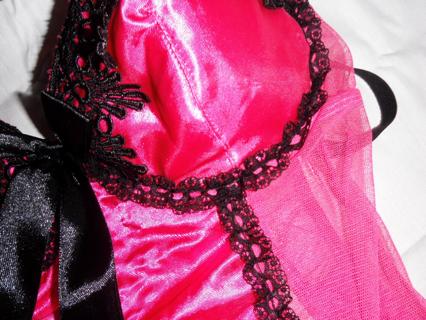 Experience
CONTINUED...
The bottom has a bow and then the silk material in a pleated detail. If it fit, I assume this would have a nice little sway to it. As it stands, it doesn't really do much of anything on me.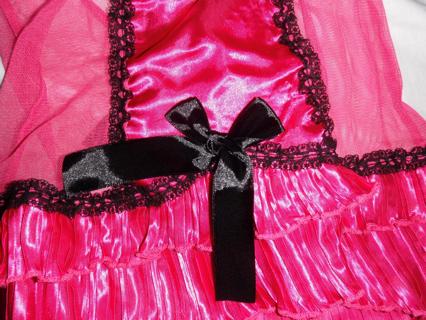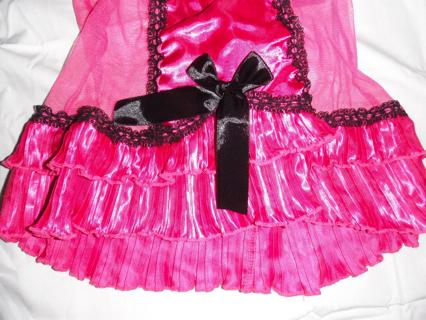 The back is all mesh with a bow on it and only the silk pleated detail at the bottom.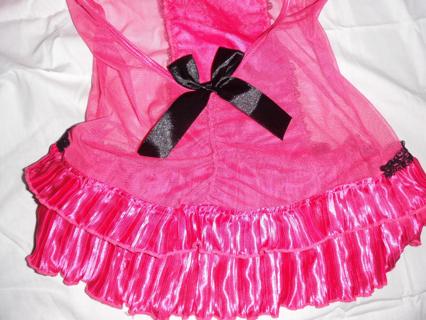 All the little details on this are really nice and come together to make an outfit that looks really beautiful on the hanger. I just wish it looked half as nice on me!
EXPERIENCE:
Well, it doesn't fit and makes me feel like a thousand ants crawled on me and bit me up. So, my experience was not wonderful. My husband says he would put this at a three in looks, but he didn't have to feel the itch. This might have looked okay if it were a little longer, or maybe fit right and then was longer because of that. As it stands, it comes right above my hips. If you've read my reviews, you'll know my hips are my least favorite area of my body as that's where all my weight seems to go. Generally, I like when lingerie hides this area, not flaunts it off. Between this landing right above them and a slightly too small thong cutting into my skin, my hips looked pretty awful. The too small cups had my boobs popping out in all directions, which I thought looked silly, but my husband seemed to think was great. He doesn't care if things look like they fit if it makes my boobs look even bigger, it seems. Here's a few pictures. I wore this chemise with some pants because I didn't want to put up porn of just me in a thong. Sorry!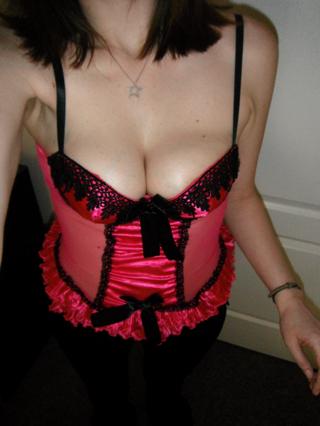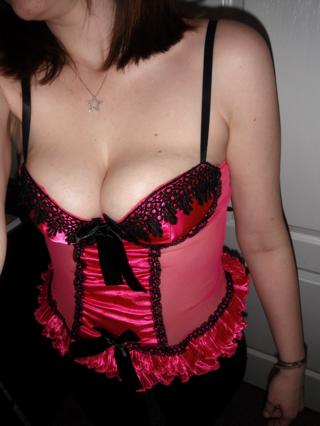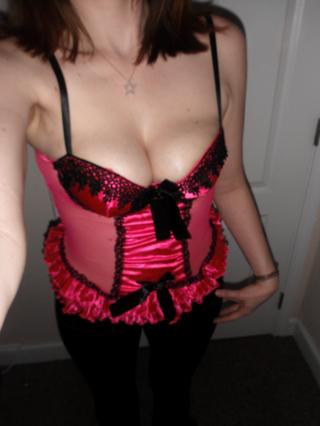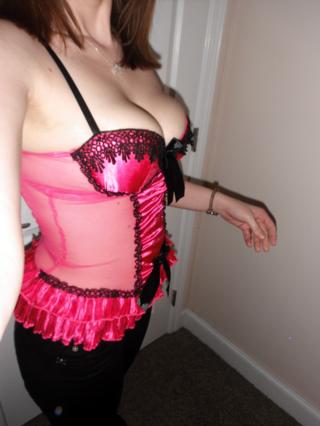 Overall, I'm giving this a two. I could give it a one, but I really like the color and it doesn't look SO awful that I'm willing to give it the lowest possible ranking. Plus the quality is pretty good. I think if I had this in the large, I would have liked it better, though that would have done nothing to help the insane amount of itchiness this material causes.
This content is the opinion of the submitting contributor and is not endorsed by EdenFantasys.com

Thank you for viewing
Carried away chemise with thong
review page!