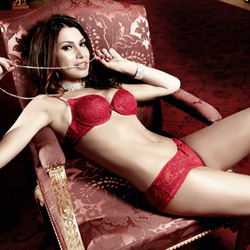 Flower lace boyshort
Shorts
by Baci
What's With The Sizing, Baci?!
This is a cute piece, but you should probably assume that the sizes run small. Unfortunately, the odd sizing limits the bodies that this will fit well, but if you're one of those, I'm sure you'll enjoy the attention to detail and cheeky design of these panties.
Published:
Pros:
Pretty, stretchy, lined crotch, feminine, doesn't bleed when washed
Cons:
Delicate, no matching bra on EF, odd sizing, could create panty lines
I bought this lace boyshort at the same time I purchased the Beauty Boutique from Oh La Cherie. I had my eye on a number of Baci panties, but hadn't purchased them for fear that they wouldn't fit with their sizing. So, I ordered the ML in this boyshort to test the waters.
This pair arrived in a simple cardboard box. It was minimal. I don't need a giant package for my lingerie, and this would actually fit in a padded envelope. I've never seen EF mail lingerie like that, but I like it. Once out of the package, I compared my new Baci panties with my new OLC panties in a size large. You can see that these are a bit narrower at the waist but, more importantly, they're cut much higher in the rear.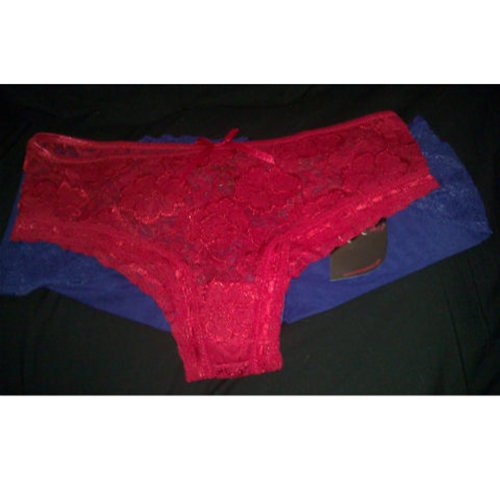 I hadn't realized I'd ordered patriotic undies until I took this picture, too. ;)
It's no surprise that these were cut more scantily. Even the model is showing some cheek, and she doesn't have an ass.
My pictures show the color much better than the model pictures. There's something of a sepia tone applied to the ones with the model, so they red appears more burgundy, but it's not. It's a bright, true red.
Unlike the other boyshorts, these are floral lace throughout there entire piece. There a bit of scalloped lace detail around the leg holes, and weaved through this is sort of an elastic ribbon that gives it stretch but also holds it in place. If it's a little tight on you, it has the possibility of creating more panty lines, but it's not the plastic-y elastic that I've seen sewn into the inside of panties. In fact, the way it's done is attractive.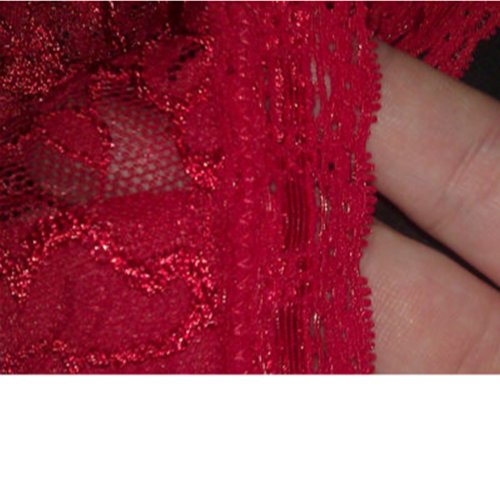 What you can also see from the image is that individual flowers are "bordered" with a much thicker stitch. I'm not positive that's the best way to describe it, as I don't make lace, but it gives a much more tactile texture on the outside of the panties. You can see this pretty well in the promo pictures, too. The interior is a les "busy" texture, though.
There is a cotton lining in the crotch of these panties. It's sewn only on the sides. Although it seems secure, I prefer a fully-sewn liner. Additionally, there's a large-ish ribbon bow on the front center of the panties. It's attractively and securely sewn but the loose ends are a bit long. I suppose you could cut them, if they got in your way.
I hand-washed these, before I wore them, and they didn't bleed a bit. I also tossed them in the washer with a lingerie bag, after I wore them to no ill effects. They're going to be delicate, but they're far higher quality, it would seem, than other panties I've purchased here. -cough-Temptation Hipster-coughsplutterdie-
So, the real test was the fit and, I'm not sure if these passed muster. I vary between a medium and large. I'm wearing a medium right now, from VS, but others are too small. I bought the OLC boyshorts in large and they fit well. This combination size juuuust fits. I find myself feeling a little self conscious because of how low it sits in back. I want to pull it up a bit higher, so I guess I'll just make sure to wear long tops when I wear these under jeans where they might peak out from.
As you can guess, these are SUPER cheeky. I don't mind it, but I definitely would have felt a little more comfortable with a slightly larger size. An inch in any given area, for example. They fit my 41" hips, but a looser cut would be more flattering, I think.
This was a risk I knew I was taking, but I think it's helpful, because of the weird sizing, for others to know about the fit. As of now, I'm torn about other Baci panties that I have had an eye on. I really wish the company would just go with true sizing. Otherwise, I don't have any complaints. Perhaps my butt will shrink in the time being.
This product was provided free of charge to the reviewer. This review is in compliance with the FTC guidelines.
Thank you for viewing
Flower lace boyshort
– shorts review page!