Who Are You and What Have You Done to My Wife?
I'm really pleased with this purchase. The garment is easy to care for, comes with its own hanger and looks amazing on my body! With this and the other great purchases I've received lately, I'm going to have a wardrobe dilemma on my hands! And for once it's not going to be about having nothing to wear, it's going to be about having everything to wear and not being able to choose!
Published:
Pros:
Construction, Material, Style
Cons:
Might Highlight Trouble Areas for Some Women
The garment arrived on a plastic hanger in a plastic garment bag with two silica gel packs to prevent mold. Most garments these days have chemicals on them to prevent wrinkling, so the very first thing you must do is wash this. This is a hand wash only garment and you should hang it to dry over the tub. It is 80% nylon and 20% spandex.

The black is very rich and deep and when I first washed it, a little bit of the color came off, but not very much. Again, use vinegar to keep your blacks black and your brights bright. A second soak with a teaspoon of liquid fabric softener gives the garment an added softness. It doesn't take long to dry at all, I think this was completely dry in an hour and I hit the straps with a hair dryer on high to make sure they were really dry.

The center panels are really slick and give a slimming appearance to the torso. The mesh is very much like that of the Long Mesh Gown that Eden offers. It's soft against the skin and hugs curves very tightly. This is partly due to the four bands of nylon on each side that kind of reign in the garment near the hips and waist.

The straps are fully adjustable. They are very sturdy and sewn into the garment quite nicely. They stitching is nice and tight with no evidence of fraying or damage of any kind. There are no rips or tears from the sewing machine near any of the seams.

The two strings that drape across the neckline are simple elastic bands that no-pull hair ties are made out of for ponytail hair-styles. They are sewn into the straps of the garment and threaded through an elastic loop in the center. They are a slightly softer black than the chemise itself, but you can really only tell if you get up close or are taking pictures of the garment.

The cups are slightly padded with a very thin foam like an A/B cup bra would be. The underwire feels like plastic and has a bit of a give to it to completely cup the underside of the breasts. This comes in handy if your breasts are set a little farther apart than a more well-endowed woman. The back of the cup is soft against the skin and did not irritate my nipples. Though, I found I had to pull the straps taught in order to feel like I was placed adequately in the cups themselves. This also positions the two draping strings at the top and center of my breast, giving the illusion of a fuller cup size.

If you're in between sizes, then I suggest ordering up because there is a little bit of stretch to the garment but not too much. It's not skin tight exactly, but it might as well be! The overall quality of this garment is really nice and I love the mix of textures when I run my hands over it. The mesh makes me feel a little bit naughty while the center panels lend an air of elegance and sophistication.

You could wear this under dresses and the like if you get rid of the strings across the neckline, otherwise they'll show texture underneath the garment or stick out of the top altogether.

The product images are spot on, once again!
Experience
The very first thing my husband said to me when I showed him the product images for this chemise from Coquette was: "Those strings have got to go!"; I emphatically agreed with this declaration.
I cut off bows, collars, sleeves (and even the bases of dildos) on a whim and I had no qualms about doing the same with those if they so much as dared to irritate me in even the slightest manner.
Well, once I had it on we both were singing a different tune. This chemise is hotter than hell and I felt so incredibly sexy in it. It hugged me in all of the right places and rides up my hips a little bit as I walk around the house. This is especially sexy when I lean over to get something out of the fridge. He couldn't keep his eyes or his hands off of me. Score! Another point for Coquette!
I ordered a size small and the garment measures:
12" Wide
24" Long from the top of the cup to the bottom hem
16" Max/10" min Strap length
5" Wide at the top of the cups and 3" wide at the bottom of the cups
My measurements:
Dress Size: 0/2/4 depending on the style of the dress, translates to "Small"
Cup: 32B
Waist: 26 inches
Hips: 29 inches
Height: 5 feet 1 inch
Coquettes Size Chart: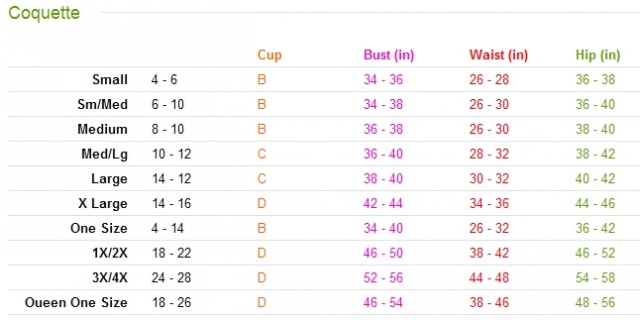 The chemise hits me about mid-thigh and likes to ride up when I walk as I mentioned before. But this doesn't bother me at all and I quite like the overall style and feeling of the material against my skin. I definitely will be wearing this a lot.
After two weeks of wearing this, the underwire really started to bug me. Because the underwire is nestled in nylon, it was really easy to poke through the material---it being metal and all. The cups feel so much better on the underside of my breasts than before and I think it was an excellent decision.
You might be scared to put holes into the nylon, but they are so minimal that it won't damage the garment. A gentle, yet determined, push is all it takes; no scissors required.
Follow-up commentary
3 months after original review
After I ditched the underwire in this outfit it was much more comfortable to wear and fit the shape of my breasts better without it. I still wear it, just not as often as some of my other pieces. This one is a little more modest compared to the stuff I usually wear.
This product was provided at a discounted price in exchange for an unbiased review. This review is in compliance with the FTC guidelines.

Thank you for viewing
Chemise
review page!