Whoa Look At My Boobs!
The lovely detailing around the bust line and the empire waistline work together to make this one of the sexiest pieces of lingerie I have ever worn. It highlightes the breasts and draws the eyes away from my other lumps and bumps. while I do not feel comfortable with g-strings the one included with this set doesn't have scratchy lace and is pretty basic, it will go with anything else you might want to wear it with.
Published:
Pros:
Empire waistline is flattering to a larger body, Bustline creates a lovely effect, soft, silky
Cons:
Lace is scratchy before washing, G-string is a bit uncomfortable for ladies with 'baby belly'
I love soft flowing fabrics, and this particular babydoll is everything I love in a piece of lingerie! The Sheer babydoll and G-string by Coquette is a very simple piece that has a high waist which draws all attention to the breast area, which is perfect for me!
The Babydoll arrives on it's own unique Coquette embossed, clear plastic hanger. The hanger is pretty amazing offering several different ways of hanging the babydoll and g-string. Talk about spoiling me! I love Coquette for the fit of their products but also because they have such lovely and useful hangers. Take note other lingerie companies, hangers are a small business expense but mean so much to the customer.
The babydoll and g-string are composed of 82%nylon and 18% spandex. So it has some good weight to it and flows over the body evenly and smoothly rather than bunching up or flaring out adding visual bulk to the body. This is a very simple babydoll with all the visual detail being across the bust line. It has lightly padded and molded cups as well as an underwire. It should fit a D sized chest and it does a good job with my D sized breast but I have body dismorphia (one breast significantly larger than the other) and the larger breast is a DD. This means that the cup doesn't quite fit that breast and the underwire doesn't sit flush against my ribcage. This doesn't really affect the look of the babydoll but it does make it feel awkward and I find myself adjusting my breasts more often than I would like. It's a small price to pay, though, because it does make my chest look very nice!
The straps of the babydoll are thin but are fashioned like a bra in that you can adjust their length to provide some extra support for your breasts. While it won't help ladies larger than a DD support their breasts they are comfortable for smaller busted ladies. They don't cut into the shoulders and are firmly sewed to the garment.
Across the topline of the bust is a layer of black lace and a brilliant fuchsia ribbon. The ribbon is tied in the center between the breasts in a bow. Visually it is a treat! The cups of the babydoll are lightly lined and the seam is very visible but far from detracting from the look it helps to emphasize the breasts drawing the eye upward.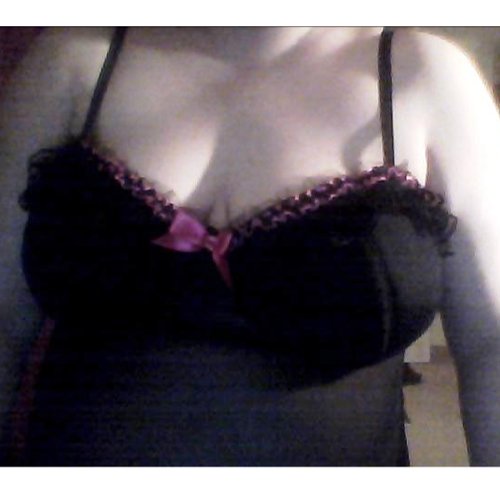 The back of the bra hooks like a regular bra with a two hook clasp. It lays evenly across my back without causing a 'back cleavage' effect but doesn't really provide much support to the breasts as the material is too soft and stretchy. It does provide a pretty nice look though.
Just under the cups of the babydoll is a gathered seam that serves as an empire waistline and it is from this waistline that the skirt of the piece flows. Now most of us shorter women know that an empire waistline is amazing as it elongates the torso and creats a flow that is flattering for ladies who are more Rubenesque than is generally considered optimal. (How's that for politically correct?) In short the high waistline creats a smooth silhouette that makes my particular body look amazing, even to my hyper critical eyes.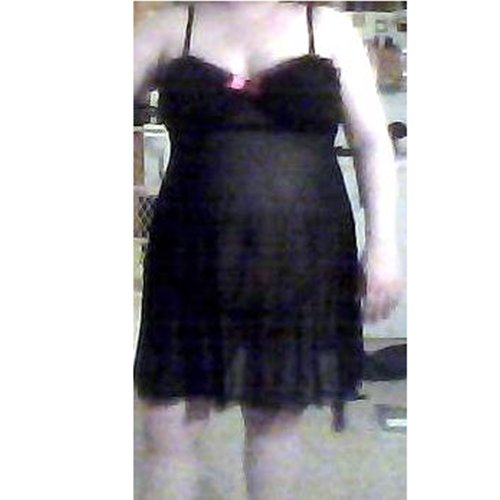 The hem of the babydoll has a lovely heavy lace border that, thanks to the empire waist, hangs in the proper visual line rather than hiking up and dipping down like a skirt will do if you have hips. I especially like this feature, as does Sigel, who believes it flows seductively when I move.
The babydoll comes with a G-string and like more larger ladies I cannot stand to wear it. It is a pretty basic black but feels awkward with my left over baby belly. It is not lined so isn't really suited for extended wear and I'll be keeping it for that fabled time when my belly isn't so difficult to work with! I normally wear a pretty pair of either fuchsia or basic black boyshorts with this babydoll, or go without!
Coquette suggests that you wash this babydoll in cool water, by hand with a gentle detergent. It recommends against drying in a dryer or ironing. I kind of agree given the lovely look of the lace and tulle around the bust line. Dryers have in the past caused this type of fabric to wilt and look terrible even on no heat cycles. I prefer to hand wash my lingerie though most well sewn lingerie can be washed in a special bag or even tied in a pillow case.
Experience
You guys will have to forgive my grainy pictures as my digital camera decided to die just before I could get some good pics of this babydoll on. Still, I wanted to make this important step while I felt confident rather than put it off while waiting for a replacement camera. I am sure that later reviews will be much more visually appealing. For now I am still trying to get comfortable with my body.
The panty I am wearing came with another lingerie set that isn't available here on EF.

I really love this babydoll and frequently wear it just to sleep in, it's that comfortable despite the minor problem with the underwire. It feel very feminine and the guys really love it as well. The silky material feels like a whisper of a caress when I turn over in the night and quite a few times it has woken up Sigel in a randy mood, and that is NEVER a bad thing! The lace around the bustline can be a touch scratchy but it softened up after being washed.

I hope the ladies out there dreaming about wearing some beautiful lingerie will give this little number a try. It is very forgiving of lumps and curves and runs a bit large in the plus sizes. In short it will fit you like a sexy glove and make you feel indescribably good.
Follow-up commentary
10 months after original review
This baby doll has held up to being washed numerous times and still looks amazing. It has softened up a bit but that isn't a detraction in my book!
This product was provided at a discounted price in exchange for an unbiased review. This review is in compliance with the FTC guidelines.

Thank you for viewing
Sheer babydoll and g-string
– babydoll and panty set review page!