Flocked damask corset
Corset by Coquette
Why Am I Always So Stubborn?!
I thought the Flocked damask corset was going to be a beautiful addition to my lingerie collection. Unfortunately, its details are flawed and it will not fit me... YET! This isn't due to small sizing on Coquette's part, or a strange cut either. It is 100% my fault for ordering a size down! So, if you would usually need a 1X/2X, I'm here to warn you that the XL probably will not do. This could be a wonderful addition to your own collection as long as you can overlook some of its flaws...
Published:
Pros:
Removable straps and garters. Cup placement is also less awkward than other Coquette corsets.
Cons:
Flimsy boning, feather trim, odd number of bows on broach.
So, I believe I may have found a little niche here at Eden. Lately I have been trying lingerie that doesn't come in plus size, in hopes that it will fit the 1X/2X girl. Unfortunately the Flocked damask corset is not one of those pieces. I was so upset that I couldn't get this one to fit, it didn't help that this is a gorgeous corset either! I just want to stress the fact that this is NOT a sizing issue with Coquette, and I will still try to make this as helpful as possible considering the fact that I cannot actually wear the corset yet.
This set is made in China by the one and only Coquette. It is made of 82% nylon and 18% spandex. The tag says only hand wash and hang dry. Now, I'm desperately hoping that I'm not the only one who didn't know what the word "flocked" meant. Just in case I'm not the only one, flocked is when a fabric, usually a cloth of wool, cotton, silk, or rayon, which is pulverized to form velvety patterns. It was a wonderful surprise to me that the texture of the material is actually furry. I was not expecting this at all, but it was a pleasant surprise because it really adds a lot to the design and I like it. However, this flocked pattern does not follow through to the back of the corset, which is a huge bummer. Here, you can probably see the texture more clearly.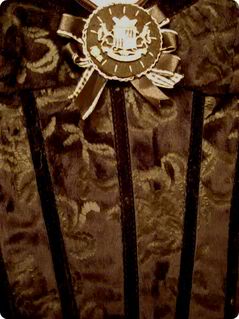 This piece is labeled a corset, but it's basically a bustier in my opinion. It closes in the back with 18 sets of hook and eye closures. There are two sets spaced roughly ¾" apart. The "metal" boning is more flimsy and bends more easily than the plastic boning in both the
Stretch lace corset
and the
Polka-dot mesh corset
that I own from Coquette. So, that confuses me quite a bit. I thought metal boning would automatically mean more structure, but that doesn't seem to be the case here. It bends.... very easily and with minimal effort.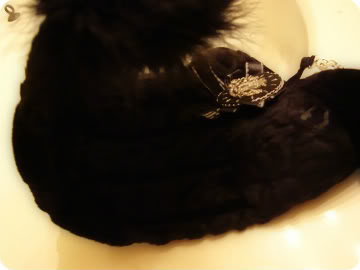 The boning is lined in velvet, which I think accents the piece nicely. This same velvet also lines the top of the cups, which I also like because it seems to give the bust more definition. The cups have no underwire, but I do feel a thin layer of padding. Included are the removable rhinestone chain straps and garters (both of which are fully adjustable). I am really fond of the rhinestone straps, but I am fully expecting them to come out of the setting, because there aren't any prongs holding them in, just glue. Also removable is the decorative broach, which I liked... until I realized it was flawed as well. On the left side I have two bows, but on the right, I have three! This really bothers me. Another thing, two random rhinestones accent the left side of the broach, but not the right. Here is a closeup of the rhinestone straps and broach.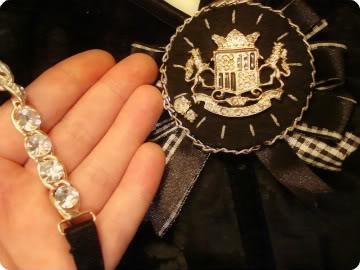 And the broach itself.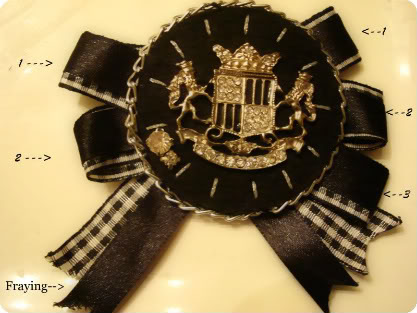 Unfortunately what isn't removable is the feather trim on the bottom. I'm not a fan of the feathers, but I can look past them on this piece because I don't think they look ugly or very tacky... I just don't like feathers as a rule. Also, I noticed the feather trim is only attached to the corset every few inches, leaving some gaps between the corset and the trim itself. So you can actually stick your fingers right through the trim, like so: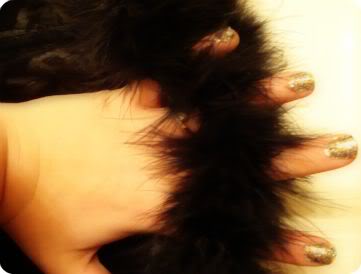 Measurements
:
As I said before, this absolutely will not fit me. I do hope this section will be helpful still because I can definitely tell you what measurements this will not fit and I can also estimate who will be able to get into the XL.
My Measurements
:
Chest: 42"
Waist: 36"
Hips: 48"
Corset Measurements
unstretched
Cups: 5" vertical 7" horizontal
Chest: 33"
Waist: 32½"
Hips: 36"
These measurements do stretch about 7" but it is still no surprise why this corset doesn't fit me. The largest measurements I'm comfortable recommending are:
Chest: 40"
Waist: 40"
Hips: 43"
Any larger, and I'm afraid this won't work out for you.
Experience
I have really mixed feelings about this piece, none of which have anything to do with it not fitting. While it looks really pretty, the details are flawed. I'm just waiting for the rhinestones to pop out. The broach is different than pictured, and that's really the main thing that makes this piece for me. There was also fraying straight out of the box on the ribbons. The boning can't possibly give any shaping or support because it's so flimsy. I put all of that together with the $66.99 price tag, and I come up with a 3 star rating. I know for a fact that there are better quality corsets here on Eden for an equal or lesser price. My recommendation? Spend the extra $4 and try the
Polka dot mesh corset
instead, it's similar and it's much higher quality.
This product was provided at a discounted price in exchange for an unbiased review. This review is in compliance with the FTC guidelines.

Thank you for viewing
Flocked damask corset
review page!