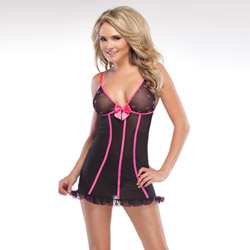 Bow mesh chemise
Chemise
by Coquette
Why Yes, Those Are Bows On My Breasts
If your into bows and petite, you might like this chemise. Personally, I don't care that much for bows, and I didn't find the bows on the cups to be very sexy. Further, I was highly disappointed at the cheap ribbon that Coquette chose to use for the straps; they just aren't enough to support bustier girls.
Published:
Pros
Cute, Durable mesh, Sweet looking ruffle
Cons
Bows on cups are cheesy, Straps are cheap, Won't fit most
Those of you that are familiar with my reviews might've guessed that I have something of a lingerie obsession. Having a rather large collection, I'm always shocked by how few pieces are comfortable enough for sleeping. Don't get me wrong; it's nice having pieces to throw on to seduce my lover, but it's always nice to have sexy numbers to sleep in, too. Looking at the picture, I thought that this would be a great choice for sexy sleepwear. Unfortunately, however, this piece isn't comfortable on me -- though it might be comfortable enough on someone with a smaller frame.

The Basics:
This pink and black chemise is made by Coquette. For $17.99, you get just the chemise. That's right; no matching g-string is included. Usually Coquette's g-strings are throwaways for me, so I wasn't too disappointed by the lack of g-string.

Material & Care:
The chemise is made out 82% Nylon and 18% Spandex, exclusive of the trim.

The black material is basically a very fine mesh, and as such, it's very sheer. If you're looking for coverage, this isn't the piece for you.

Comfort wise, I found the material to be quite comfortable against my skin. I have very sensitive skin, and often am irritated by the way materials feel. This, however, was soft on my skin, and it didn't make me itch at all.

Both the pink and black material is very stretchy, which is a good thing considering that this is a one size fits most piece. Still, as stretchy as this is? It's not going to fit most!

Now, lets take a moment to talk about the material that the straps are made out of. The straps are made out of a cheap ribbon. The ribbon is very fragile, and truthfully? It just looks cheap. The same can be said of the bow that sits on the front of the chemise, though the bow doesn't feel quite as cheap the straps.

To care for this item, it is recommended the tag states to hand wash only, and then hang to dry. Being the "rebel" that I am, I have thrown in the washing machine on the delicate cycle multiple times, and it has survived without a flaw.

Sizing:
This item only comes in one size fits most.

According to Coquettes size chart, one size fits most should fit someone with the following measurements:

Cup size: B
Bust: 34-40"
Waist: 26-32"
Hips: 36-40"

I wear a large C/small D cup, and have a 32" waist. My hips are 40". Looking at those measurements, I knew that I was pushing it for this piece. That said, I usually have fantastic luck with Coquettes one size, and I thought I could make it work.

In reality, I'm a bit torn on how this piece fits me. On the one hand, it is very snug, but it's supposed to snug. It does fit over my hips and waist nicely; it's my breasts that are the problem. Being larger than the size chart recommends, my breasts seem to spill out of the cups. My guy thinks this is a sexy look, but for me? It's just not comfortable.

In this instance, I would say that the size chart is accurate, and I really wouldn't recommend this piece for anyone larger than the size chart. In fact, I'd say that this piece is best suited to the smaller end of the chart.

Lengthwise, this covers a bit of my butt, but it's still very short. I find the shortness of it to be a bit sexy, but I do wish it was slightly longer.

I took the following measurements with the piece laying flat:
Length (from top of cup to bottom hem): 25"
Cup width (across the center of the cup): 4" (unstretched), 8" (stretched)
Cup length (down the center of the cup): 6" (unstretched)
Across the bottom of the chemise: 16" (unstretched), 22" (stretched)
Experience
Design:
This chemise is designed to hug your body -- it'll really show off all you've got! To put it on, you simply slip it over your head. If you're on the larger size of the size chart, slipping it on can be a bit of a challenge.
The pink stripes going down the chemise are just fabric (there's no boning at all), and while they do provide a little detail? They serve no real function. the pink stripes are only on the front; the back is just basic black.
The little ruffle trim on the bottom of the chemise adds a hint of femininity. I love the little ruffle, as it really flares out when I wear it. I think it's very sweet and playful looking.
The chemise has no underwire, and absolutely no padding. Further, the straps are so cheap that they don't help provide any hint of support. If you need breast support, this isn't the chemise for you.
Now, to answer the question on everyone's mind... what exactly is the design on the cups? Are they bows? Is it butterflies? Let's allow a picture to do the talking here...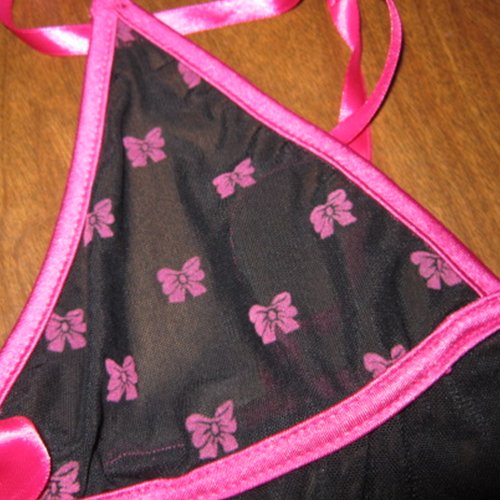 Yes, that's right -- it's bows! Little pink bows; each cup features little pictures of bows. Are bows supposed to be sexy, or something? I don't know, but I wish they were butterflies. Butterflies would've been cute, whereas the bows are just a bit cheesy.
If those bows on the cups aren't enough for you, there's also a large bow that sits between the cups. That large bow is not meant to be removable, but you could probably take a seam ripper to it.
Moving on, the straps on the chemise are adjustable, but the little plastic sliding bit that you adjust? Ugh! It's cheap plastic, and I feel like it'll snap off very easily. I'm surprised that it hasn't yet.
Quality:
The material feels to be decent quality, though I am disappointed with the quality of the straps, and the bow. The straps look as though they're going to fall off if you just look at them wrong.
Follow-up commentary
2 months after original review
I tried my hardest to love this piece, but so far... I jut don't like it. It's not long enough for me to feel comfortable wearing it as a nightgown, and it's just a little a little too snug for my liking.
This content is the opinion of the submitting contributor and is not endorsed by EdenFantasys.com
Thank you for viewing
Bow mesh chemise
review page!