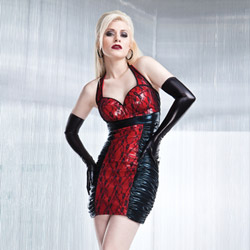 Wetlook halter top dress
Mini dress by Coquette
Would Be A Dream, If Only...
The wonderful people at Coquette bring to us this sexy dress. The color combination, the sleek look, and the sexy runching make this dress a must-have in my closet. This is one dress that I will throw on whenever I want an instant ego boost, even though the cups don't fit me properly.
Published:
Pros:
Sexy, Comfortable, Stretchy, Unique, Eye-catching, Opaque, Long enough to wear in public
Cons:
Cups run REALLY large, A few loose threads, Hand wash only
There's something truly sexy about this item. Is it the sexy red and black color combination? Is it the gorgeous lace paneling? Is it the shine? Is it the runched look? Whatever it is, this dress just screams of sex appeal. It screams of so much sex appeal that, at first, I thought it was too much. I almost didn't buy this, thinking it would make me feel trashy rather than sexy. I'm thankful that I decided to take a chance, as this is certainly one of my favorite dresses. That being said, I think I might've purchased the wrong size.

Basics:
This stunning dress is made by Coquette. The price is a little high at $49.99, but it's well worth it.

The dress does not come with any sort of bottoms.

Material & Care:
The tag states that the dress is made out 80% Nylon and 20% Spandex, exclusive of the trim. I am assuming that the trim refers to the lace overlay.

The material itself is very thin and light, yet somehow it still feels quite durable. I have pulled and picked at this dress; it's held up well to all of my abuse. As light as the dress is, I'm able to pleasantly report that the dress is NOT sheer. That's right ladies, this is an opaque dress that stays opaque, even when you stretch it all the way!

The black material on the outside of the dress feels very slick and smooth. It also feels cool to the touch, which is kind of nice. The red wetlook material is covered with floral lace trim. The lace feels quite durable. The lace also feels a little rough to the touch, but that's not a huge deal as the lace is not touching your skin directly. The red wetlook material under the lace looks amazing; it also makes the lace feel very sleek.

The interior of the dress is made of a softer material. It's great that it's made of a softer material, as I'd imagine the wetlook material to be quite uncomfortable directly on your skin (at least for long periods of time).

For those wondering about stretch, you'll be pleased to know that this dress does have some stretch to it.

To care for this dress, you're going to have to hand wash it and then line dry it. I see no reason why this couldn't survive a trip through the washing machine on the delicate cycle, but I love it too much to risk it.

Sizing:
Coquette has made this dress available in four sizes: small, medium, large, and extra large. I purchased this in a large, but I'm really thinking I should've went with a medium.

According to the size chart, a large should fit someone with the following measurements:
Cups: C
Bust: 38-40"
Waist: 30-32"
Hips: 40-42"

I typically wear a 34d bra. My waist measures 32", and my hips measure 40". Taking my measurements into account, I was expecting the cups of the dress to just very fit me, and for the dress to fit snugly around my waist. In reality... this fits me fine everywhere except the cups, which are HUGE!

The cups in this dress are definitely meant for those that are more top heavy.

The entire dress, in fact, seems to be sized a little larger than normal for Coquette. I mean, even the waist and hips are loose on me, and that's not what I was expecting. I could deal with the lower half of the dress being lose, but I can't have the top being loose. The top being loose means that I can't wear this out in public unless I want to show the world my chest. Even when I pair this with a padded bra, the top is still about 3 sizes too large.

Length wise, this covers enough that I'd feel comfortable wearing it in public. I'm 5'6", and it covered my butt entirely. It came down far enough that I could bend over without showing my ass to the world... now if only my breasts didn't pop out of the top whenever I bent over!

I'm going to try this in a medium, but for now... well, at least my guy thinks this looks sexy in private. As for my advice on sizing? Remember the cups run large, and size down!
Experience
Design:
This dress has a very sexy design to it. Firstly, there is the color combination, red and black. What is it about that color combination that's just so incredibly sexy? Both the red and black material have that shiny "wetlook" look, which looks especially sexy when the light hits it just right. All of the dress "wetlook", except for the lace overlay with covers the red material. The back of the dress is just simply the shiny black material, as shown on the product page.

To put the dress on, I find it easier to simply step into it and pull it up. If I try to put it on over my head, it takes a little more effort to get into the dress. However you put it on, you should know that there is no zipper, or closure options; the dress is simply meant to be slipped on.

The top portion of the dress is halter style. I think that the halter style is very pretty to the eye, but i sort of wish that it had just standard shoulder straps. You see, the halter style neck can get very uncomfortable after wearing it for awhile, especially if you need to tie it tightly for some bust support.

The bust on the dress does not feature underwire, and it is only lightly padded. That being said, the bust does provide some support, due primarily to seam that goes underneath it. Still, most of the support is going to come from the halter neck ties.

Underneath the bust, there is a simple black band. That black band is not sewn entirely flat, nor is it snug. I like that that little band separates the top half of the dress from the lower half.

The lower potion of the dress is meant to fit snugly, but it's still very flattering. The material is sewn in a way that gives it a runched look, which is surprisingly slimming.

Packaging:
The packaging was quite simple and minimal. The dress arrived on a plastic hanger, covered in a clear plastic bag. There was also a hang tag attached to the dress with a small black safety pin. The safety pin did not damage the dress at all.

Considering the price of this dress, I was surprised that this didn't come with a nice padded hanger. For those who don't know, Coquette sometimes ships items with really nice, elegant looking hangers. I would've expected this dress to come with a nicer hanger, but it's not a big deal that it didn't.

Quality:
I did find a few lace threads on the dress, but otherwise this dress was great quality. I do believe that $49.99 is a little steep, but this dress is so sexy that I would gladly purchase it again.
Follow-up commentary
17 days after original review
I finally purchased this in the medium, and I'm happy to say that I got a much better fit.

Getting the medium on was a bit of an effort at first, as the material really clings to my hips and waist. Once I get it on, it's completely comfortable, and it looks amazing. I'm also able to properly fill out the cups on the medium, which makes me very, very happy.
This product was provided at a discounted price in exchange for an unbiased review. This review is in compliance with the FTC guidelines.

Thank you for viewing
Wetlook halter top dress
– mini dress review page!