(XL) So comfortable the Cat wants it too!
It is pretty bad when you have to hide your lingerie from the cat because he'll pull an item out of a pile of lingerie to sleep on it.

This item is very comfortable to wear and I could easily wear it all day as long as my guy wasn't around to try and take it off me.

It is a classy piece that won't go out of style.
Published:
Pros:
Forgiving of figure flaws
Elegant looking
Adjustable straps
Longer length
Cons:
Recommended that you hand wash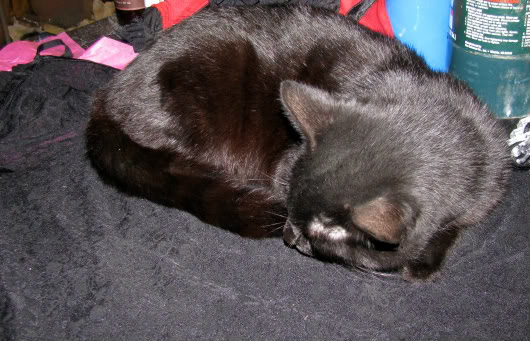 It's pretty bad when you have to fight your cat so you can wear your lingerie. It's even worse when it's your daughter's cat and he keeps winning.
To say I
love
this piece would be an understatement. I looked at it for weeks and weeks but figured I would never be able to fit in it because it is only an XL. Let's face it, at 265+ pounds, I'm not an XL.
But the more I tried on Coquette items, the more I realized that in plus sizes, their cups were just too large for me. If I wanted something that would fit my breasts, I need to go down a size. So I chose three items for this test to see if it would be possible to go down to XL for Coquette. Two of them passed the test and one failed miserably. This is one that passed.
So here are my tips to plus size gals who read my reviews.
If you find the 1x/2x cups are too big for you, consider going down to XL in items that have a skirt that sort of flows away from the body or in something that isn't super close knit. As you will see from my measurements below, I am too big for this item and yet if fits me very well. I figure it might be worth a try if your waist and hips are my size or a bit smaller.
By the way, I
highly recommend
this piece. It feels classic and elegant and I could almost picture Audrey Hepburn wearing something like this.
What it is … how to wear it
This is a basic chemise. You could wear it as a dressy slip because it is very comfortable. However, I prefer to wear it as a nightgown. It is too see-through to try and wear out clubbing which is a shame because it almost feels like a second skin to me.
This item is currently available at Eden Fantasys in: XL only.
Packaging
This came in a plastic bag with a cheap clear plastic hanger.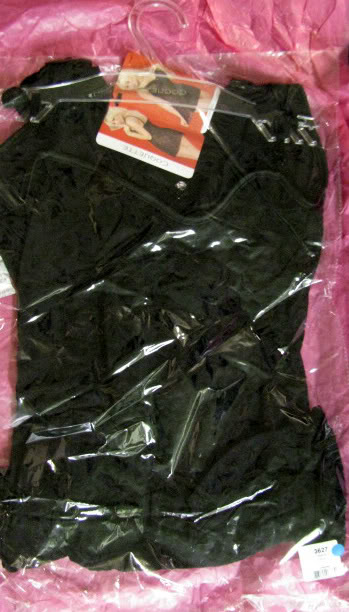 Material & Care
This is made out of 82% nylon and 18% spandex. The tag says to hand wash this and hang it to dry. I am going to wash it in the washing machine on delicate cycle with cool water. It will be in a lingerie bag too.
I think they recommend this type of care due to the bow and little gemstone at the top, however, these are on a safety pin and can be detached.
Design, Sizing & Fit
According to the sizing chart, I should wear clothes size 14-16, my bra should be 42-44D, my waist 34"-36" and my hips 44"-46".
.
I am currently 275 pounds, wear 18-24 tops, wear 44D bra, with a waist of 49", hips of 57" and a torso of 18-19" long.
Based on these measurements this item should not fit me at all or really ride up quite a bit on my butt.
Specific Measurements
All measures are approximate lengths and unstretched:
center top of front to hem
26"
top of cup to hem
31"
width of front
18" under cup, 26" at hem
cup width & length
8" wide & 8" long at widest part
strap length
adjustable to 20" - slip style strap
Close-up photos
Close-up of fabric: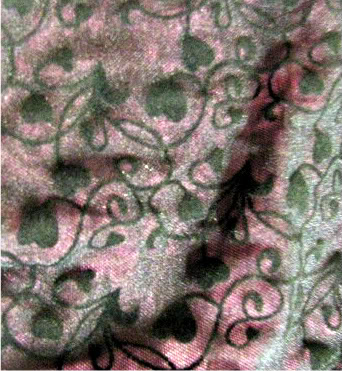 PLEASE NOTE - Hearts are "flocked" unto mesh fabric which means they have a velveteen feel to them.
Close-up of bow and gem: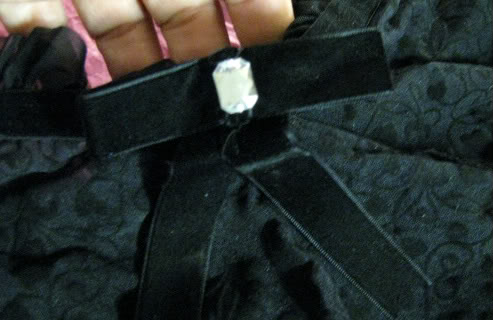 Please note - this can be removed as it is on a pin
Top of cup with lace: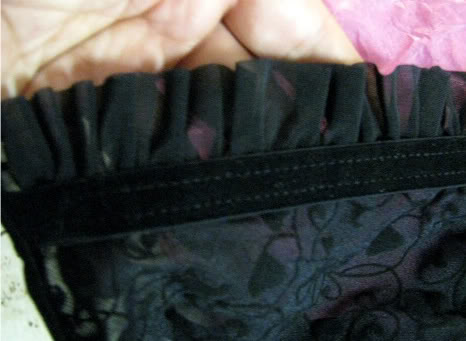 Modeling the Garment
Front:
Side: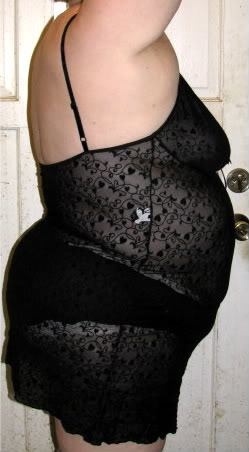 Back: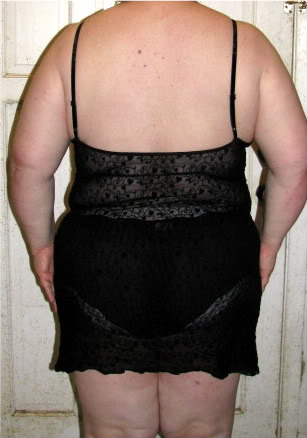 Breast Support: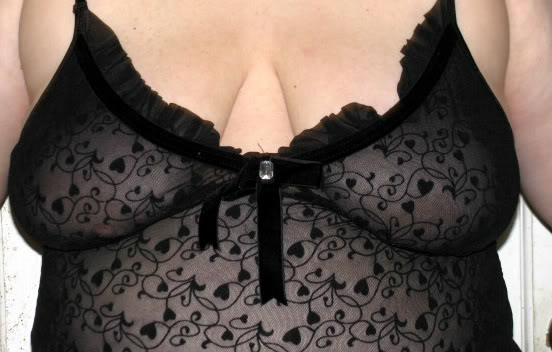 Experience
Comfort

I love this piece. It is very comfortable to wear and from 1 to 5 with 5 being the most comfortable, I'm giving it a 4. The only reason I'm giving it a 4 is that some ladies may not like the feeling of the flocked fabric and feel it through the mesh. I did not feel it through the mesh - for me personally this would be a 5.

I felt really pretty in this and I love the length on me.

Final Thoughts

I am very pleased I risked trying an XL in Coquette. This piece is just so comfortable and I feel elegant when I wear it. My husband likes it too.

But I'm not pleased that the cat is so fond of it. You see, I thought he was just sleeping on it because it was convenient to sleep on since he likes my photo shoot spot.

However, when it was placed in a pile with other lingerie after I took photos, he went over and pulled it out of the pile and slept on it again.

That's right - it is so comfortable that the cat will pull it out of the pile of lingerie to sleep on it.

I think he recommends it too.
This content is the opinion of the submitting contributor and is not endorsed by EdenFantasys.com

Thank you for viewing
Hearts of fire chemise
review page!