Yeah, dresses get ruffled. (L)
I really, really, really like this dress. Any complaints I have about this dress pale in comparison to the good things I have to say about it. Beware, though. This runs large. It's also short, and the zipper trim can be kind of irritating, so this is probably best paired with a pair of leggings.
Published:
Pros:
Cute, Comfortable fabric, Hides my lack of endowment in the posterior, Halter ties, Silicone band
Cons:
Some hooks may come undone, Very short on me, Zipper trim can irritate, Gap chest thing goin' on
A special thanks to
sktb0007
for uniting me with this dress, a dress I have coveted since first I laid my eyes upon it. Surely, many nights I cried myself to sleep, my heart laden with sorrow because the largest size this dress comes in is a large, a size which has unremittingly scorned me up until now......well, that's WAY over-dramatizing, but it's true that Large and I generally have a very bad relationship. HOWEVER, this dress runs big, something that clearly works to my advantage in this case.....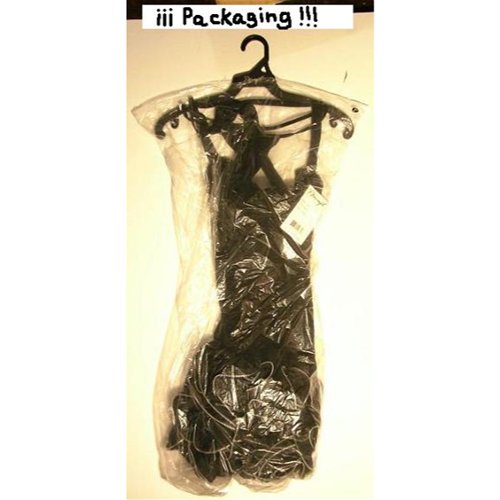 This set came affixed to a Dream Girl hanger inside of a plastic bag. Some people may like to preserve the bag for storing the dress...I, on the other hand, chose to rip it off as soon as I saw it.
Included in this set: One adorable, comfortable dress and a matching thong
The thong tag reads: Hand wash in cold water, Line dry, 92% Polyester 8% Spandex
The dress tag reads: Dry clean only, 92% Polyester 8% Spandex
.....dry clean only. There's no way in hell I'm doin' that. I'm going to take my chances with hand washing. Just a note: if you get this dress and hand wash it, it would probably be best to dry it upside down, as the bottom is much heavier than the top and it might stretch out the fabric of the bodice to have the bottom pulling down on it. Also, I intend to hang this upside down, personally, since I cut out the annoying hanging loops and I have hangers with little rubber grippy things. ANYWAY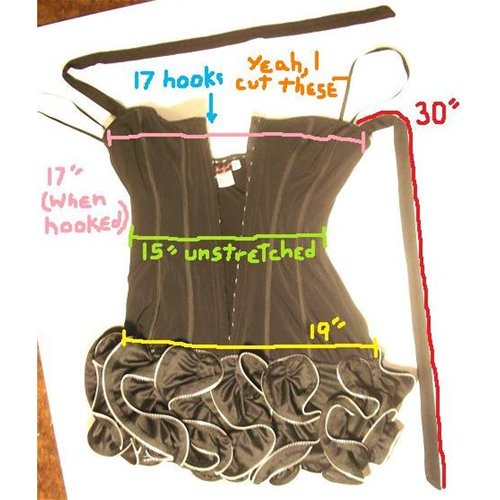 Here is the dress, laid flat. The hooks only go down to the ruffled skirt, so the dress can't fully open.
The material of the bodice is rather thin, very soft, extremely comfortable, and hella stretchy. It's about as thick as the
Eden Fantasys T-shirt
(excluding the small, which is a thicker, less comfy material for whatever reason). I'm not saying it's the same material, just the same thickness and comfort level.
The material of the skirt is still stretchy and thin, but there is not quite as much give and it is not quite as smooth. This is actually a very good thing as the zipper trim makes the bottom of the dress heavier and the different fabric helps the skirt (and hence the bodice) stay up.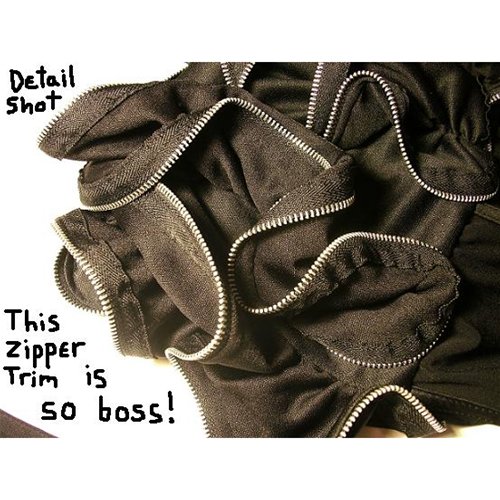 I really, really love this trim.....I MEAN JUST LOOK AT IT!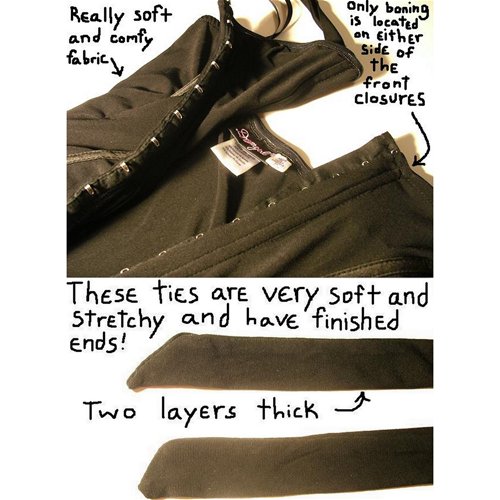 Closeup of the hooks and the ends of the halter ties. There is one row of eyes, meaning the dress is not "adjustable," but it is very stretchy so that's really not an issue. The halter ties are so comfortable and don't dig into my neck at all. The fabric is very soft and very stretchy. Don't expect to get any breast support from the halter ties, though, because it's not happening.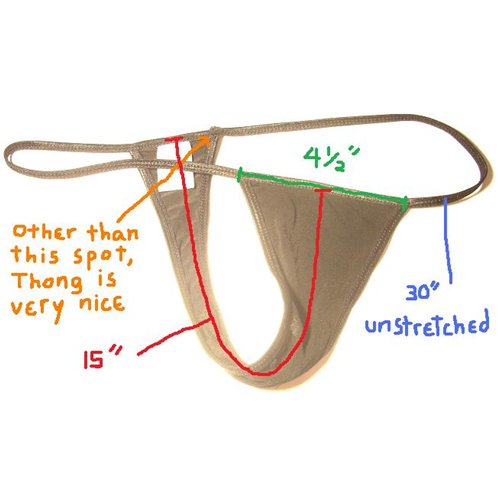 The thong. It's a well-made thong with a decent, well-placed panty liner. Too bad it's a little too small for me, band-wise. The material seems slightly different than the dress material, but still very soft and comfortable.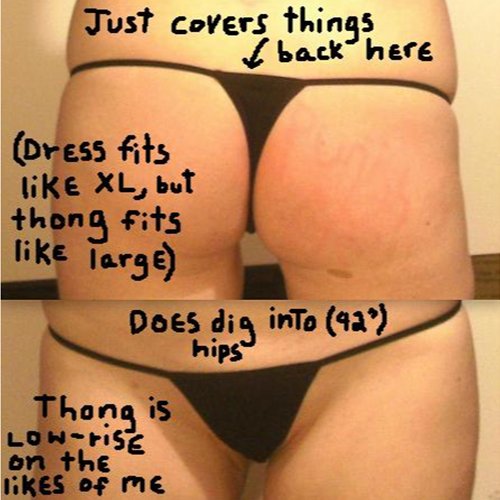 Some pics of how the thong fits me. I know most people probably don't care about the thong, but, darn it, it came in the set so I'm gonna review it.
Sizing Information
What do you know? I don't have to import the DreamGirl size chart that includes the XL because I'm actually reviewing a Large. Sweet.
So, According to the
DreamGirl size chart on Eden
, a large should fit the following:
Size 10-14
Cup C-D
Bust 36-38
Waist 28-32
Hips 38-40
Weight 140-150
Me:
Size 16
Cup C
Bust 42
Waist 32
Hips 42
Weight 180
Clearly, This should be too small for me, but it's not even really
tight
on me. I think it's a pretty comfortable fit (you know, excluding the thong), and there's definitely room to spare. This definitely runs big. It fits way more like an XL than some XL's I own. Those in the lower end of the range would almost certainly need to order down. Though I'm quite happy with the fit of this, I find myself wondering if I could cram into a medium, just for the hell of it.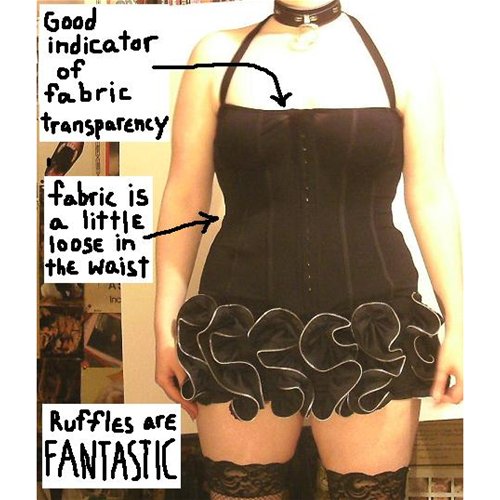 I'd like to note that I feel that the dress doesn't look as frumpy on me in real life as it does in this picture...maybe that's just wishful thinking.
This is where I'd usually do a rundown of how everything fits from top to bottom (at least that's what I've done in my last few reviews), but that's not really necessary here. Nothing is too tight, but nothing is loose, either (besides ever so slightly in the waist. It is a little loose there).
Experience
(Continued)
Yes, there are halter ties and there's a silicone band that runs along the top of the dress to help keep it in place (I don't know that it's actually silicone, but it serves the same purpose that the "stay-up" bands in stockings do), but neither of those cause me any discomfort.
This dress has only two pieces of boning- on either side of the front closures. I found it to be rather warp-tastic and removed it (The last pic is with the boning removed). All of the other strips in the bodice that look like boning are not.
When sitting for extended periods of time, the zippers can irritate the skin a bit. For sktb0007's adorable self, it was her legs. For me, it was the bottom of my rear (when I sit, the skirt rides up and wants nothing to do with the backs of my legs). This can be remedied by wearing leggings or tights.
The boning causes the hooks to come undone sometimes when sitting and a small gap at the top of the middle of the bust for me. It's pretty annoying. (More on that later.)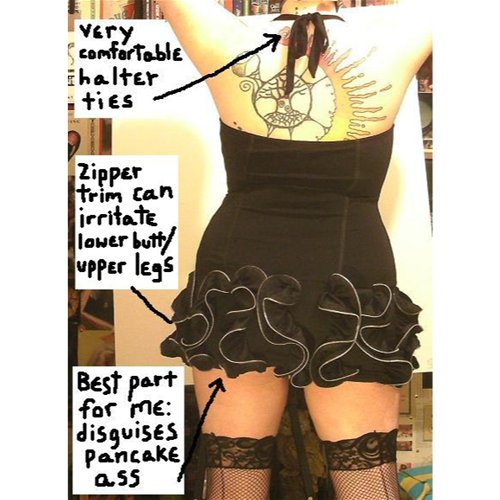 I actually like the back view on this....because it hides my butt. I can imagine that this dress would make big butts look HUGE, which I know is something not everyone desires. It also accentuates the hips; again, I don't have a problem with that. I'm all about curves, but I understand that some people don't want bigger hips.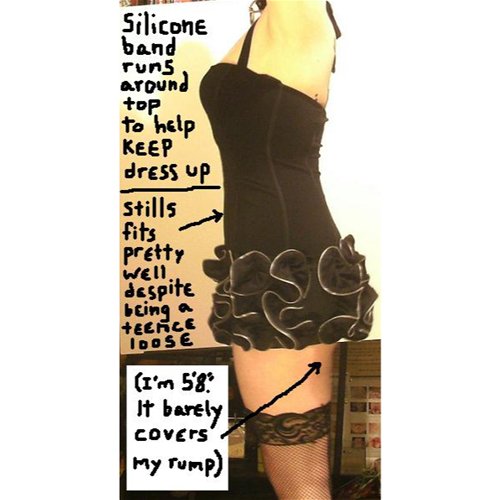 The obligatory side view. I feel that this view best communicates the shortness of this dress on my 5'8" self.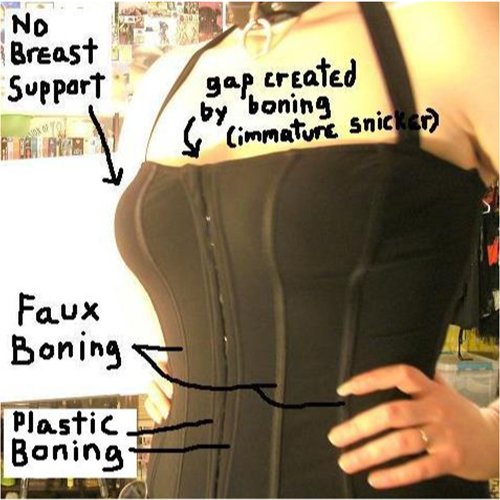 Though this dress has plenty of room for boobs, it has NO bust support. Luckily, this piece can be paired with a strapless bra, something many folks would want to do anyway due to the thinness of the fabric.
My best attempt at a redone size chart for this dress:
Bust 38-46
Waist 30-42 (though it will be slightly loose at the lower end of that range)
Hips 39-46/47
This dress is seriously accommodating. I don't even have to undo the hooks to
easily
get into/out of it!
The dress is a full-blown five for me without the boning. I was worried about taking it out, that the dress might not want to stay up, that other unfortunate, vague things might happen. I'm glad I did. Not only did it eliminate the gap, but it eliminated the hooks coming undone by themselves (the boning pieces were warped in different directions and were competing with each other and thus unhooking) and made the dress EVEN MORE COMFORTABLE. The bodice has no trouble staying up without the boning and getting rid of the boning gets rid of all of the problems caused by it (obviously).
It's very easy to remove the boning (if it is causing you frustration. You may be fine with it). All I did was:
1) Use a seam ripper to make a small incision in each of the bottoms of the boning sheaths in the inside of the dress.
2) Pull out the boning.
VOILA!
I will answer any questions to the best of my abilities in the comments. Or message me. Or whatever. It's all good. :)
This product was provided at a discounted price in exchange for an unbiased review. This review is in compliance with the FTC guidelines.

Thank you for viewing
Ruffled dress and thong
– mini dress review page!