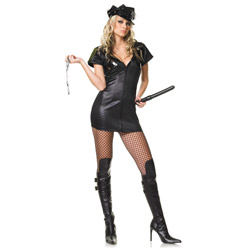 Officer costume
Costume by Leg Avenue
Yes Ma'am, Arrest me!
The Officer Costume is an amazing costume all around. It will flatter more than one form in it's various sizes. I recommend it to any woman who is looking for that great police officer outfit, because of the great quality of this one. I believe that anyone will enjoy this costume, because it is sexy and sleek. It has great accessories.
Published:
Pros:
Sexy, well constructed, form fitting.
Cons:
Difficult to wash.
The Officer Costume is a fantastic costume. It is great for spicing up any bedroom situation, or it makes a great Halloween costume. The overall construction is great, the stitching is fantastic.

This costume is made up of pure polyester. I was surprised with how comfortable the costume was to wear. I ordered an XL costume, and it fit my body fantastically. It is a costume that looks great on almost any body type. The costume comes with a dress that has a police patch on the right sleeve, and the pockets are made of vinyl, but they are not functional. The hat is made up of vinyl with an attached star badge. The hat is not sized, but it fit my head perfectly. I love the addition of the hat, because it really adds a bit of sex appeal. It is shaped like a cap, or any baseball hat. This costume also comes with a plastic baton and set of handcuffs, as well. These are made out of plastic, and they have a little bit of a 'cheap' look to them, but they are a nice addition to the costume.

I love the overall look of this costume. The seams of the dress are sewn together very well, and I had no problem slipping it over my form. The look is very sleek, and sexy. Being a big, beautiful woman I have a sarcastic eye when it comes to costumes, mainly because of the fact they often do not cover enough. When I buy costumes or lingerie I always worry about how the seams will hold up to continual wear, but I've never had a problem with this costume's seams.

This costume continues to perform great. It is well constructed, and comfortable to wear. The accessories that the costume comes with adds to sex appeal. It can be a pain to wash, as it is only recommended that it be washed by hand and air dried. However, mine did end up in a bundle of laundry and it did get washed by machine and dried by machine. I did not notice any change with the costume, but I do not recommend cleaning it this way. The main con to this costume is that it is short. It ends just at my thighs, being 5ft 4 inches tall, and when I bend over everything is plainly seen. The costume also likes to ride upward when worn against bare skin. If you do choose to wear this as a Halloween costume, I recommend adding a matching skirt to add a bit of length to the costume, or wearing a pair of yoga pants beneath it.

As previously mentioned, the only guaranteed way to wash this costume without having to worry about tearing, shrinking, or anything else, is to wash it by hand. It is a little tedious, but it will preserve the costume and extend it's life time. As it is such a great costume, it is a little task that will make the costume last much longer.

Traveling with this costume should be easy. Most people who see it in luggage will think that it is a Halloween costume, until it is seen on one's person. Because of this, it is easy to explain why a costume could be in your luggage without having to expose any dirty secrets.

The packaging is just like any other Halloween costume. It is a plastic bag. Inside, the dress is hung on a cardboard piece. The hat, baton, and handcuffs are held in their own bags inside the large plastic one. I do not recommend storing the costume in this bag because it could possibly get wrinkled. I keep mine in a drawer, folded neatly to keep it from wrinkling. It can also be stored safely on a hanger in a closet.
Experience
I love this costume. My first experience with it was fantastic. I wore it with yoga pants, (black ones) for Halloween to a costume party. I received a lot of positive comments about this costume, and I was asked a lot about where I purchased it from. This costume will definitely be in my closet for years to come, even if I have to order replacements.
Follow-up commentary
1 day after original review
I have had this costume for four months. It still has held up wonderfully, and the color has not faded. As mentioned, it is a fantastic costume, and I am glad to have it in my drawer.
This product was provided at a discounted price in exchange for an unbiased review. This review is in compliance with the FTC guidelines.

Thank you for viewing
Officer costume
review page!