Yes, Please!
I really do love this thong and it will immediately be put into my regular underwear rotation. They are comfortable, flattering and just sexy enough to accessorize with other lingerie. I highly recommend them to everyone, and if you are bordering on the large end of the hip/booty spectrum, go ahead and try plus size. You might find them pleasantly comfortable.
Published:
Pros:
lace band is flattering, great fit, stretchy, comfortable
Cons:
might be too low-rise for true 1X-3X women
Presentation

I love lace-top thongs. Soft, stretchy lace makes a sexy, comfortable fit. When I saw these on EF, I was hesitant since Coquette has some hit-or-miss underwear. And then, the sizing is not exactly desirable for a girl like me.

See, I have an XL bottom for full-coverage underwear. However, with thongs, I generally wear a large, sometimes a medium (with Victoria's Secret and Forever 21). I was torn on what to get, but having gained a little weight over the past year I decided to play it safe with purchasing the "Plus Size" version of this thong.
It came to me in a plastic bag, with a Coquette tag safety pinned to it.

Materials, Care and Quality

This thong is 100% Nylon, exclusive of trim. You should hand wash this only, and hang to dry. I myself usually throw all my thongs, lace-top or not, in the wash with everything else (on cold). I haven't washed these yet, but I will be sure to include an update in my follow-up with how these fair in the washer. You are supposed to hand wash and hang to dry, though.

As far as quality goes, these $12 undies are on par with the price tag. There is not one thread missing or out of place. They also seem sturdy, without being abrasive either. They are soft and comfortable.

I feel I should also mention that this thong is a mix of mesh-crotch and lace-band. I was mistakenly thinking that they weren't mesh/sheer crotched. Either way, though, I'm still pleased.

There is a very small cloth liner in the thong, and it seems too far back for me (with how these fit on my body).

Also something that might bug those who are OCD, there is a seam in the lace band smack dab in the center of the front and back of the thong. It seems for the price for ONE pair of panties, they would find a way to keep the seam on just the BACK of the panties. I have similar panties, the 4 for 20$ kind from Forever 21, and none of them have hugely obvious front seams.

Oh, and another thing oddly missing from these Coquette panties? A bow! (gasp!)
Experience
Fit
I purchased the "Plus Size/OS" from Coquettte. There is only a "Queen Size OS" on EF, which says it should fit 48-56" hips. I wasn't sure, so I looked it up on Coquette's website, and their Plus Size/OS is supposed to fit someone with hips 42-50".
I myself have hips that are 41" wide. These should be just a little too big on me.
However, Coquette makes thongs that are usually too low-rise for me and end up looking wonky.
These panties fit me perfectly, without clinging to my hip fat at all. While they are plus-size in the band, though, I am convinced they are not so plus sized in the actual width/length of the crotch of the thong. They're still pretty low rise in the crotch for me.
The band measures 38" without stretching. They do have a decent amount of stretch, too. I am not sure they would fit someone up at the 50" range, though.
The crotch, laid out flat, has a length of 12" (lace band in front, to lace band in back).
The crotch liner is 2.25" long, and barely an inch wide at its widest.
Overall, I love these panties and will buy them in the other colors soon.
If you are a Coquette lingerie "large" and usually find their thongs to be too low-rise and a bit small for you, please try these in the plus size and you might find yourself surprised. These fit me really nicely without being TOO low-rise and thin along the crotch.
I do think that a larger woman (true 1X-3X) might find these to be too low-rise, though.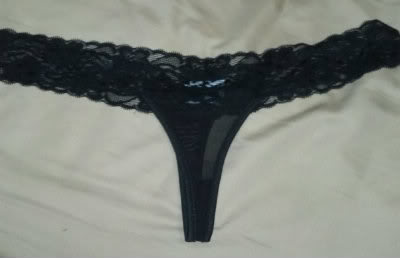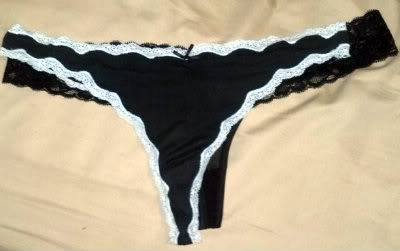 Up against a VS size Large. I didn't do a good job of aligning on the left, but you can see that it is slightly longer, without the lace, and only about an inch or two smaller than the Plus Size for Coquette.
This product was provided at a discounted price in exchange for an unbiased review. This review is in compliance with the FTC guidelines.

Thank you for viewing
Black mesh thong with lace waist
– sexy panty review page!