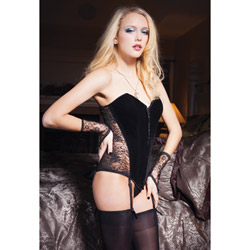 Holiday stretch corset
Corset
by Coquette
You can stretch the corset from here to Finland. (L)
Coquette items are usually hit or miss for me. This one is definitely a hit. It's comfortable, flattering, and I'm pretty sure I can get away with wearing it in public (at locations devoid of children). It's super stretchy, which is fortunate for my XL self, and it hooks in the front, which does away with the need for a team of servants to help me dress.
Published:
Pros:
Comfortable, Flattering, Easy to get on and off, Detachable garters and straps, Accommodating
Cons:
Hand wash, Plastic boning, Lack of breast support, Garment nature probably means short life
I took a leap of faith with this one. I wasn't in love with this piece, but I was itching to get a free review item and this seemed to be the most favorable option. Even riskier, I usually wear an XL, and the largest size this comes in is large. Granted, Coquette's large is larger than the other brands on Eden claim to be, but still. Luckily, the lingerie gods shone their light upon me and blessed me.
To my delight, this garment came packaged on one of those lovely padded Coquette hangers and inside of some cellophane wrapping (to clarify, the cellophane doesn't delight me; just the hanger).
Included: Stretch "corset", Four detachable garters, Two detachable shoulder straps, Lovely padded hanger.
The tag reads: 80% Nylon 20% Spandex Exclusive of trim. Hand Wash Only. Hang to dry.
I don't think this is one of those things you can just sneak into the washer with any sort of realistic hope that things with come out okay. This is a well-made garment, and seems durable for what it is, but what it is is this: a single layer of cloth (mainly referring to the lace panels here) meant to stretch around and move with the body. If properly taken care of, I'm sure I can get lots of wear out of this piece.
The front of the garment, laid flat. As you can see, this "corset" has seven cloth panels, all of which are only one layer thick. There are three lace panels, one on each side and on the back, two (almost exclusively decorative) lacing panels, and four nylon velvet panels in the front.
The vast majority of the stretch in this stretch "corset" comes from the lace panels. There is some slight stretch to be gained by loosening the ribbons on the ribbon panels (by the way, these ribbons can be removed and replaced with different ribbon, if so desired). The velvet panels have no stretch whatsoever.
This top has eight pieces of flexible plastic boning. Altogether, I have worn this piece for about twelve hours. Much of this time was spent sitting or in other positions that could've compromised the shape of the boning, and the warping has been so minimal that I wouldn't have noticed it had I not removed a piece to specifically check for warping.
I'll note that the inside of the garment does have hanging loops, and they are oriented downward (like all hanging loops should be), so I won't have to cut them out and can actually use them.
The various straps that came with the top. They fasten quite securely to it (the garters don't slide around or pop out like they are sometimes fond of doing).
Sizing Information
According to Eden's
Coquette size chart
, a large should fit the following measurements:
Size 12-14
Cup C
Bust 38-42
Waist 30-32
Hips 40-42
Me:
Size 16
Cup C
Bust 42
Waist 32
Hips 42
(Some of you may be thinking I'm a solid 14. While it's true that I may sometimes fit into a 14, this is the exception, not the rule. You see, I have a sizable bust measurement, but relatively small breasts. This combination is constantly working against me to ensure that things fit awkwardly.)
The front of the "corset," with and without straps and garters.
There aren't any cups in this top, but there is a little breast support, and there's quite a bit of breast support with the shoulder straps attached. I can actually get quite a bit of cleavage going in this thing, but I prefer to wear it strapless.
The fit in the waist and hips are both quite satisfactory, and I feel the stretch could accommodate slightly larger measurements, though that may put extra strain on the garment and shorten the life of it.
Obligatory side view.
I love love love the back of this.
I actually have a massive amount of cleavage going on here, but the reflection on my skin is so intense (it was necessary to get a good shot of the fabric) that it's not visible. Just trust me. You may notice that having a lint roller handy is a good idea, as the velvet will attract a lot of lint (or cat hair).
Thanks for reading. Feel free to ask questions in the comments or send me a message :)
This product was provided free of charge to the reviewer. This review is in compliance with the FTC guidelines.
Thank you for viewing
Holiday stretch corset
review page!