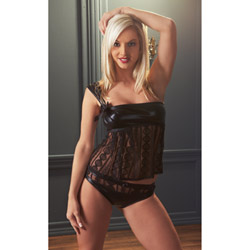 Wet look top and panty set
Camisole set
by Cottelli
You'll be breathtaking. He'll be speechless.
The Wet look top and panty set, dubbed the "Nancy," is a sure fire way to cause all immediate bystanders uncontrollable arousal. The top is sleek and comfortable and the bottoms are merciless jaw droppers. If you pay attention to the sizing and accompany the set with a fierce sexual character, there will be few who can resist.
Published:
Pros:
Ultra sexy, easy to get on and more importantly, easy to get off. Actually fits a real woman!
Cons:
The price is high and it probably shouldn't be worn out, under clothing.
This set is soooo sexy. I bought it for my wife as a present to myself and it looked incredible on her. The way the panties and top are cut, if you follow the sizing chart, it should look good on just about any body type.

The top is a simple slip on tube design that hugs just your breasts and the lower half is a looser fitting lace material. Sorry to disappoint the peanut gallery that left comments about the unique lace pattern but what is shown in the picture is not what you get in the mail. The lace they use in the photo is very nice, but the actual shipped product is flowered lace that does look like a doily. Also the lace looks rather long and loose in this photo because the model is probably somewhere in the ball park on 5' 3" and rail thin. My wife is about 5'10 and is also very skinny but the lace came to about her belly button and was a little more snug (which I thought was sexier than the photo anyway. The "bra" region on the top is very thin, about 4-5" on the medium. So, if you are a medium size girl with very large breasts you may have trouble keeping the girls under wraps, as there is little to no support from that so-called strap.

Now, on to my favorite part, the bottoms! Let me first express my sympathy for the poor girl in the photo. Apparently, the booty snatcher swooped in and stole her ass right before this picture was taken. She isn't doing the back of these any justice at all. My wife on the other hand, has quite the opposite problem; tiny waist, but a truck load of butt cheeks. However, the panty still had her covered. Vacuum packed and bulging? Yes, but still sexy.

The material is not something you would want to wear for an extended period of time, as it does not breath and will make you sweat. And the only other problem I have is the price is a little high for what you are getting (Think $30 dollar set in terms of quality). In summary, the set is definitely a crowd pleaser and an overall success. If you are trying to tease and excite your man this is a no brainer. And for all you dominatrixes out there, the set goes exquisitely with fishnets, lace gloves, a whip, and a pair off killer boots!
Experience
I bought the set and left it laid out on the bed for when she got home. Several moments after her arrival I heard a "can you come back here," coming from our bedroom. When I walked in she was standing on the bed with her hands on her hips wearing black stilettos, lace gloves, and the wet look set. She had her hair in a loose bun, glasses on, and a riding crop clenched between her teeth. I barely made it to the bed.
This product was provided free of charge to the reviewer. This review is in compliance with the FTC guidelines.
Thank you for viewing
Wet look top and panty set
– sexy camisole review page!