3-Way pocket vibe...I kinda like you.
The 3-way pocket rocket gave me a little more faith after one unfortunate experience. I loved how it came with its own pouch, and three different attachments to suit individual needs. Perfect starter toy and perfect travel buddy. I wish that it had more vibration setting.
Published:
Pros:
Travel friendly, Storage pouch, Interchangeable heads, Waterproof,
Cons:
Lack of settings
Out of all the vibrators I've used. I have had the worst luck with pocket rockets, one incident left me in pain and bleeding. (Posted it in the experience section)
I looked around the site for a new pocket rocket. I was in luck because Eden was/is having a buy one get one sale. They had a couple of pocket rockets to choose from, and I picked the 3-way pocket vibe. It was the best one to me, and seemed not have that much texture, and your clit does not come in direct contact with the vibrating balls that all pocket vibrators have. Just about all are clitoral.
Three days after ordering. I had my new pocket rocket, and I tried it out that same afternoon. When you get the pocket vibe it comes in this really pretty pink box, and the box has windows so you can see everything that comes inside. The pocket vibe comes in two different colors pink and purple. The box is decorated in beautiful white flowers. The box is made of plastic and can be reused. The box has some information on the box. It is not much just what it is made of, and what kind of battery it runs on. The same information that is on the product page is the same on the box. The pocket vibe comes with its own carrying pouch, which makes traveling with it even better. It also comes with one N battery. When open the box, there is a plastic try where all items are setting in along with the pouch.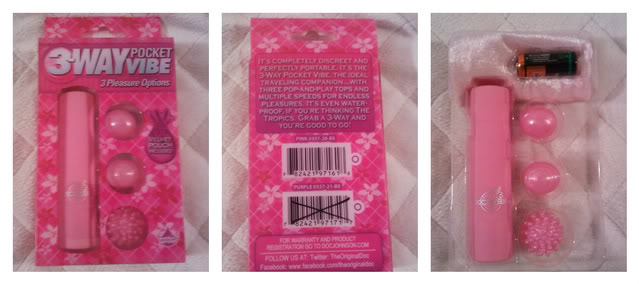 The pocket rocket comes with multiple interchangeable heads. It has a lightly textured dome with little indentations, nothing you notice during use. The second of the three is a perfectly smooth dome; it has no texture or anything, which is perfect for women who do not like texture at all. The last of the three is a pointed nabbed dome. The nubs spike up from the base. The nubs are not hard they are actually extremely forgiving. When you are, using the most textured one it is not bad what-so-ever. All of the textures are soft and very forgiving so when pressed on the clit. It does not press back like toys with stiffer textures. When no attachments are on the pocket rocket, the ending looks like a mushroom. You can use it without any of the attachments; I did and did not have any problems.

The pocket rocket itself is very small; it is about the size of a tube of lipstick, or lip gloss. When traveling this is perfect, you can attach you favorite dome and place the top on it and head out the door. You can also use the storage bag it comes with. Using the storage bag, means you will be less likely to lose any of the attachments. The pocket rocket opens up at both ends; one end is for the attachments, and the other end is where your battery is to be placed. The pocket rocket does not have a texture it is perfectly smooth. There is the Doc Johnson logo on the front, but it is not raised so you do not feel it what-so-ever. The storage pouch matches the color of the pocket rocket. I'm unsure of what it is made of, but I'm assuming it is a synthetic silk. If you happen to get it dirty or anything, you should hand wash the pouch in warm water, and allow it to air dry. I will not risk putting it in the washer or dryer.

The pocket rocket is made of two different materials. The pocket rocket is made of plastic and attachments are made of TPR. Although, the TPR can be used with silicone and water lube, and the plastic can be used with silicon, water and oil. You should only use water, and silicone lube, do not even bother with the oil. The picket rocket is waterproof, so you can use it in the shower and washing you can submerge it. The pocket rocket and the attachments can be washed with mild soap and water, or your favorite toy cleaner. The pocket rocket only has three setting, the normal low, medium and high. At the highest, you can hear it through covers but not a closed door. The pocket rocket is operated by one single push button at the bottom.
Experience
I have a terribly unfortunate history with some vibrators, mostly finger vibrators and pocket rockets. I did give the finger vibrators another chance. Although I was kind of worried I gave it ago, and I do not regret the choice. Now pocket rockets, I was deathly scared to give another try. The last time I used one (3years ago) I ended up in pain, and bleeding. I could not today tell you what I did wrong. My boyfriend talked me into trying this one. His whole thing was. This is a new toy. You may not have problems with this one. Finally, I gave in and ordered a new pocket rocket. Although it did not make me fall madly in love, it did change my mind a little bit.

When I laid eyes on it, I thought wow this is cute. I opened it up and examined the different toppers. I tried out the smooth one first, before trying the textured ones. I happen to like all three, but the most textured one was the least favorite. The vibrations were very strong, and it did get me off. It did not do It in record time. I was a little worried about hurting myself. Once, I relaxed everything went OK. Trying this one has made me more open to trying other ones. My favorite part of the whole thing was the storage pouch. Not that many lower priced, and even some more expensive toys come with storage pouches. The pouch also has a decent amount of space; I was able to fit my toy and the attachments along with a small bottle of lube and another smaller bullet.
This content is the opinion of the submitting contributor and is not endorsed by EdenFantasys.com

Thank you for viewing
3 way pocket vibe
– pocket rocket review page!