7 Pulses of pleasure
This is a great buy for anyone! couples love it and it is great for hands free solo play as well. The battery life seems pretty good, but I do recommend that you don't leave the batteries in the toy when it is not in use, since it has a simple on/off switch that can easily be hit by anything that touches it.
Published:
Pros:
Waterproof, great for those who like the idea of being turned on in public places.
Cons:
Takes an uncommon battery (N)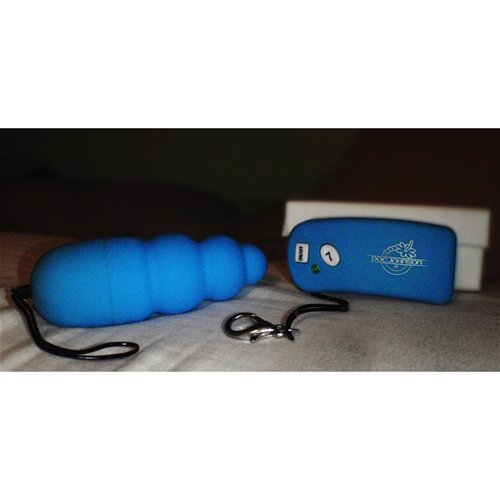 BUYERS BEWARE: This toy has serious side affects… all of which including…
The desire to randomly ditch your table in the restaurant to go have sex in the car …
Leaving the shower pre-rinse to go jump on your man…...
Clever partners will use this to keep you from winning any game of monopoly.
I would HIGHLY recommend this product to a buyer of either sex.
I find that remote control toys are great for almost any mood that you are trying to suffice. It is great for people who want a little solo play, but don't want to get their hands dirty. This product is also great for couples since it offers something for both the men and the women.
For men it is a great turn on to have the power to control what's going on inside their woman's pants, so the idea alone is usually enough to get your man started.
For women the turn on can be the idea of handing themselves over to their significant other… as well as the fact that us lucky women get to have the vibrator inside of us.
You can use this product virtually anywhere, the bedroom, in a car, in a restaurant or any other public place that you can imagine. Plus, as an added benifit it is also safe to take this toy in the tub with you so long is you are careful not to get the remote wet, since only the vibrator is waterproof.
This product is pretty much designed for vaginal use only, and I haven't really explored any other options -besides on my breasts- I pretty much just hand this vibe over to my boyfriend and let him take me to heaven with it.
This product is very travel friendly, this is a small enough vibe to toss in a small purse for an on the go vacation or business trip, which is always something I admire since I am often out on vacation with my boyfriend and his family… I pack heavy with clothes, so it doesn't leave a lot of room in the suitcase… which leaves this being one of my go-to toys for our vacation trips
(P.S. Great for on the beach at Daytona)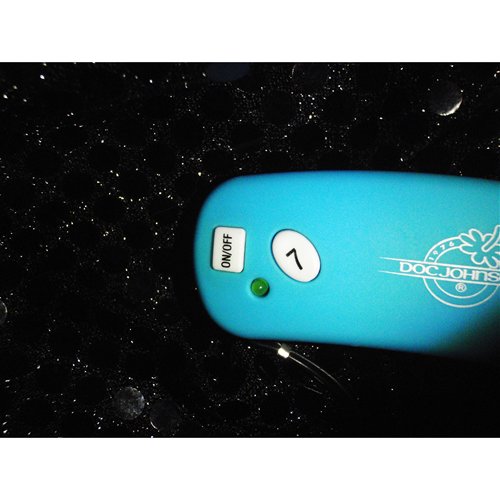 This toy is made out of PU coated plastic which has a semi velvety feel to it..
This vibrator is on the hard side and does not feel like skin in the least, so if you are looking for something "realistic" that feels like a penis this isn't the toy for the job. But on the other hand it is also odorless which I like.
The design is cute, lots of people would describe it as having a bulged appearance. This
vibrator has an insertable length of 4 inches that fits nice and snug in the vagina and wont go anywhere when you are dancing the
night away(no matter how crazy you may move)
The remote control is very simple and easy to use, it has an on/off button and a functions button that has the number 7 on it (for the seven different functions)
The functions go as followed:
1. A light, straight vibration, that isn't super strong.
2. A straight vibration, slightly stronger than the first.
3. The strongest straight, non pulsating vibrations.
4. A light pulsating vibration.
5. A pulsating vibration, slightly stronger and different than the one before it.
6. A fast pulsating vibration, with about the same power as the one before it.
7. The strongest pulsating vibration, with different speeds and variations.
The care and maintenance of this product is simple, as are all water proof products… simple wash in the sink with soap/toy cleaner and water, then dry and put it back in your toys box… simple, easy, and not time consuming.
The packaging of this product isn't discreet in the fact that it clearly reads in all different neon colors "7 function wireless remote vibe" on the front, as well as "Doc Johnson"…
But it is clean with no naked people on it, which I always like, so I keep it for storage… plus, who doesn't like neon colors?
Experience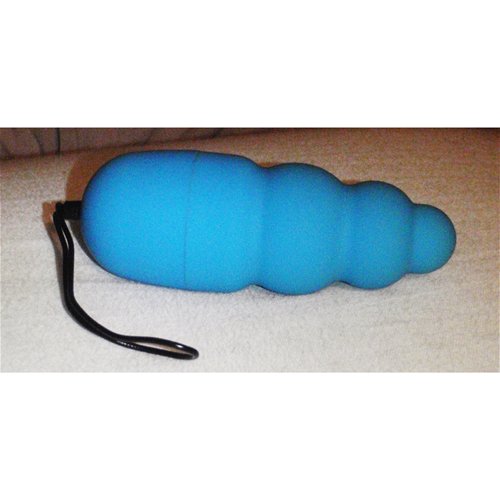 My experience has been great, my friend (Sexystuffeve)recommended me this product after she bought it for her boyfriend's birthday and I have to say that my partner and I have really enjoyed it. The blue is a gorgeous color and its different then any of my other toys so it adds a nice little perk to our sex life.
My boyfriend likes to make me wear this little vibe when I am taking a shower by myself so that he can turn me on while I'm showering(so I will hurry back to him), men do have the tendency to use this toy as an unfair advantage though, if they feel like they want attention when you are busy they seem to have no qualms against using this vibe to get it.
This content is the opinion of the submitting contributor and is not endorsed by EdenFantasys.com

Thank you for viewing
7 function wireless remote vibe
– bullet vibrator review page!