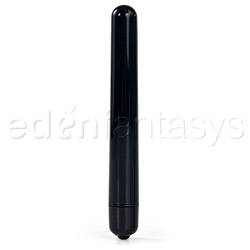 Executive power bullet
Bullet
by BMS Enterprises
A Good, Long Bullet
Hard, slippery, slim, and directional, the Executive Power Bullet is a pleasurably utilitarian vibrator. At five inches long, it will extend your reach juuust enough to hit your hot spots with greater comfort. Three speeds strong, waterproof, and easy to operate.
Published:
Pros
Easy to operate, simple to care for, directed vibrations, waterproof, discrete.
Cons
Porous, highest setting can be a little numbing for some.
The
Executive Power Bullet
is primarily made of plastic, which is hygienic and simple to care for, but requires some extra care as it is porous. Before and after cleaning is necessary to maintain this vibe's usability, which is easily accomplished with simple soap and water, or toy cleaner.
The
Executive Power Bullet
is waterproof, so there are some rubber (not sure?) parts. There is a gasket between the upper and lower half, and the button which controls the 3 power levels is covered in rubber as well.
All in all, the
Executive Bullet
is simple to the point of being a sure thing. A hard, slim and slick tube, with two rounded points, and that's that for shape.
One point sports the 'rubber' power button. 1 click turns on the lowest setting, and each click amps up the power one step, for 3 total power settings and then 'off'. The lowest setting might qualify as a 2.5, and the highest setting is possibly a 3.5, it's hard to say… however, all three steps are no slouch, and it's quite powerful when compared to my
Little Chroma|Little Chroma Review
(a vibe with an extremely similar shape). However, the vibrations aren't similar… the
Power Bullet
is a higher vibration, which tends to dissipate a just a little on the skin. It's not as high pitched as other vibes I've owned (such as
Nea|LELO Nea Review
/
Lily|LELO Lily
), so it does penetrate reasonably well. I'm positive that for many, it'd be incredibly stimulating, but for me, the highest setting does tend to numb me after a few minutes.
I would not call this vibe quiet or noisy… I'd say it's louder than many of my so-called quiet toys, but it's not so loud it's easy to hear. It's easily muffled, is what I'm saying in the end.
The shape and length of the toy is pleasantly utilitarian. I'm a real fan of the shape, it's just long enough to give a few crucial inches to your reach, just slim enough to stay out of the way -- and as it's just a tube, there is no 'backwards' to contend with. This loooong bullet is great at pinpoint stimulation, and specifically clitoral stimulation. I can use it while lying down very very easily, so the ergonomic value of a 5" bullet is pretty high.
Experience
Let me tell you something. Noise level aside, this vibe is so discreet, I accidentally became a vibe smuggler earlier today. I had put it in my purse and forgot it was there. In fact, I thought I'd lost it. The next day I went grocery shopping, and when I whipped out my credit card, discovered it neatly tucked in my pen stash – blending in like a Zebra in the Serengeti. It's a good thing the button requires a somewhat firm press to turn on, or else I'd have to fake a ring tone or something.

I do sometimes use it to tease my clit, and it does handle that very well, but the use I prefer for it is more of a 'me' thing, I suspect. I like to insert it vaginally, hold it as tight as I can, and then masturbate until orgasm while trying to hold it in. It's a game I play. I'm not really sure how I started it, but whenever I have a slim vibe, I always do it. This vibe was juuust barely long enough to touch my cervix when inserted, and clenching tightly caused it to tease my G-spot. If I can hold the vibe in during the moment of orgasm, the orgasm is usually pretty sweet. Lots of fun!…*crickets* OK. *cough* Continuing…

It's a good, basic bullet. It sports 3 fairly powerful levels, is hard, slippery, slim, and easily directed, and easily muffled. It doesn't have a billion bells and whistles, but that isn't always what a person wants from a sex toy. It'll vrrm, and it'll vrrm where you want it.
This product was provided free of charge to the reviewer. This review is in compliance with the FTC guidelines.
Thank you for viewing
Executive power bullet
– bullet vibrator review page!