A Little Hottie
If you can get around the fact that this toy has a few minor flaws, then you'll be able to appreciate the intensity of this toy for what it's worth. I really love using mine and I would recommend this to the Clit-o-steel Club with my seal of approval. Oh and it's quiet! Definitely much quieter than a traditional bullet.
Published:
Pros:
Five intense speeds, Constant vibration, No patterns
Cons:
Eats batteries, the Red Light is really strong and laser-like.
I usually save the not-so-great features of a toy for the last part, but I'm going to give it to you upfront and center. There are only two downsides to this toy: 1) it gets warm, very warm and 2) it eats batteries like it's nobody's business. Now, that we've got that out of the way, let's talk about how freakin' awesome this little hottie is.
Five speeds of constant vibration that will rock your world. This is not a vibrator for women or men who like light, surface vibrations. These are deep, they are strong and they will make you cum. Hard. I won't even try to lie, I'm a whore for a good bullet. I stand behind my Eden bullet and I've had a devil of a time trying to find anything that remotely compared.
I jumped on this item for three reasons: 1) I like black and silver toys, a lot a lot a lot, 2) I had been wanting a plastic coated bullet to keep skin tears and rips at a miminum, and 3) the number of speeds available. I was praying like hell there weren't any patterns in this toy. I find them to be annoying on most days and I have to be in a very
different
kind of mood to play with the pulsations and things like that.
I was not disappointed. The lowest setting on this vibrator feels like the middle setting on a good bullet. I had no trouble reaching climax on this setting and the higher I went up in clicks, the easier it became to reach that point quickly. This is a good thing because the bullet does tend to get really warm. A combination of body heat and the motor spinning inside at terrific speeds seems to be the cause. I'm not necessarily concerned with it catching fire or anything, but I do make sure that when I'm done using it that I don't leave it lying on a potentially flammable surface, like the bedspread.
That aside, within less than ten minutes I can achieve a gushing climax using the bullet on my clitoris alone. It's that intense! I can get off pretty hard with my Eden bullet, but this one sends me to the moon and back.
The plastic coating on the end of the bullet helps build a barrier between the skin and the toy because it holds onto natural and artificial lubricants quite nicely. It's so easy to glide around that you'll be tempted to place it elsewhere on your body! I highly recommend that you do! The lowest setting feelings really good against the nipples and breast, but I had trouble going higher than that without making myself raw.
The other awesome thing about this toy is that in the end of the bullet there are four grooves to place your fingertips. This helps immensely, because trying to hold onto a round vibrating object can become cumbersome at times and I've had many a bullet slide out of my hands and land squarely at my ass cheeks, and it just feels weird. So that problem is solved!
Check it out: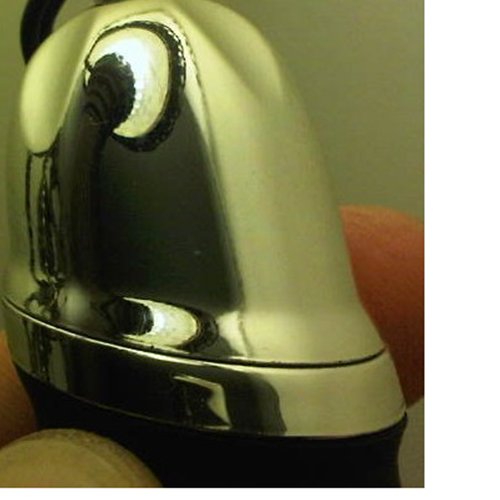 The whole unit is really slick and I like the way that it looks sophisticated and elegant instead of something you would get out of a bubble gum machine. The silver hasn't chipped or peeled in anyway since I've been using it and the matte finish is still just as deep and rich as it was the day I pulled it out of the package. It's super easy to clean, just use a toy wipe, cleanser or soap and water. It is not waterproof. It requires AAA batteries.
And here's the rub---it cuts off without warning when the batteries are dying. It'll just stop. You can turn it back on and get a few more seconds out of it, but that's it and then you'll need to change them. I've already gone through three sets of batteries in testing this toy and I have been able to get about twelve sessions in, ranging from ten minutes to thirty minutes of use at a time. That's not that great of a battery life, but if you use rechargeables your wallet and the environment will take less of a hit.
What can I say? I like it a lot.
Follow-up commentary
1 month after original review
I still like it, I just never use it. Especially after receiving the Bedroom Kandi Happiness & Joy. That thing just rocks my socks and this little guy just doesn't hold a candle to it.
This product was provided free of charge to the reviewer. This review is in compliance with the FTC guidelines.

Thank you for viewing
Bound By Diamonds diamond teaser
– classic bullet review page!