Wire We Even Bothering?
Overall, this is a quality product that packs a punch without waking up your neighbors. Just consider how good you are when it comes to wires, because if you're a person who's squirmy and squirts, you might want to look for a wireless toy. I also think this toy is best for special occasions and not regular use, because the cost of batteries can really add up.
Published:
Pros:
POWERFUL, Quiet, Reasonable price, Very pretty, Not too bulky.
Cons:
THE WIRE, Noms batteries, Heats up quickly, Rigid.
Now, to start off, I have to say that my girlfriend and I have never been good with anything on a wire. It's honestly my fault, but I'm just too darn squirmy and slippery to keep from completely ruining a perfectly good toy. So, before I begin, keep in mind that I think this toy is great, but it doesn't work for me and it may not work for you if you're particularly squirmy in the heat of the moment, or if you're on the rough side with your toys.
It came in a neat, not terribly discreet package, as pictured. But what exactly do you expect? The remote was a lot thinner and daintier than I expected, but it was a lot prettier too. The remote is maybe a little over an inch across, if you want a good picture.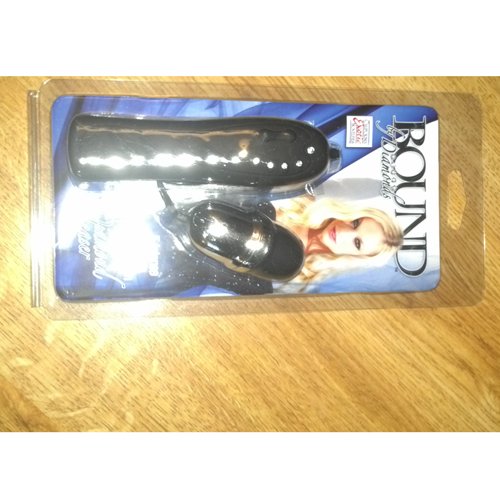 Anyway, we popped the three AAA batteries into the little remote and we were ready to roll. Since it's a rather rigid bullet, my girlfriend and I assumed it would be a lot louder than it was when we pressed the "up" button to turn it on. That's *definitely* the coolest part about this toy. It is freaking *powerful* but still, even at the highest setting (which there are five of), it's pretty darn quiet. Maybe, just *maybe* 3 bees at the fifth setting.
So, if you're looking for a super powerful, remote-controlled bullet, you should definitely consider this. Even though my girlfriend has what you folks call a "clit of steel" and she finds reaching orgasm to be difficult, this baby got her off pretty fast when I fingered her and pressed this on her clit. That being said, it is powerful to the point of making your fingers pretty numb and there's no way you can just 'leave' it on your clit without it skittering away. In addition to the wealth of power the toy has to offer, it also gets pretty hot after maybe ten minutes of constant use. Of course, it feels good to have some warmth without having to get warming lube, but I know that a toy that heats up too fast is not a good thing.
Oh, and another downside (man, I feel like I'm being a Negative Nancy today): It IS a battery guzzler: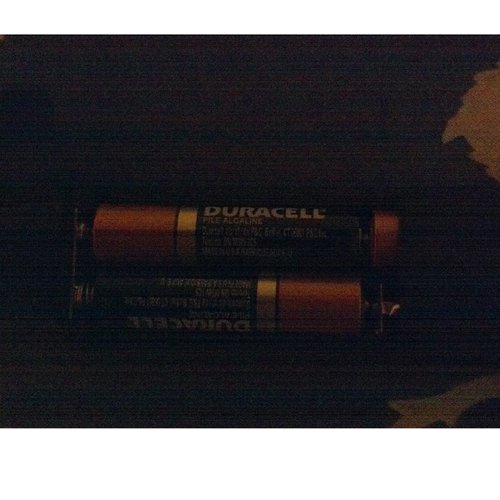 See those three little babies there? After maybe thirty minutes, they'll be going 'bye-bye' and you'll need to get up and get some more. This is one of the main reasons why I wouldn't use this toy on a regular basis. With our sex drives, I'd be spending a fortune on batteries.
Oh-- and the other primary reason why I won't be using this toy more? The wire. Yep. Betcha you were wondering when I'd get there. To make a long story short, I've never been good with wired bullets. Since I tend to get a little wild when having a bullet on me, I end up unintentionally tugging on the wire, which is never good for any device. It's just hard for me (even during solo play) to keep from damaging the wire a little after each use. Honestly, bullets on wires may last a month for me, two months tops. Heck, I even broke one once after one use. Because I'm also a squirter, I have a suspicion that my...erm... *fluids* might creep into the crevice where the wire enters the bullet, but that's just a guess.
I'm not sure what possessed me to give a wired toy another chance. Regardless, I shouldn't be allowed around toys like these because sure enough, after a week an a half of (almost daily) use, the bullet started shorting out. And much to our disappointment, we realized it was because of damage to the wire. While the damage was definitely internal, we knew it was the wire because when we wiggled the base of it, the vibrations would kick up when the wire was held a certain way.
Now, this is NOT the fault of the company OR EdenFantasys. This is definitely a case of user error, not that I can really help it, but I still take responsibility. That's why this product gets four stars from me. It IS a great product with great materials (not silicone, but still nice, and it means you can use that lovely silicone lubricant without worrying about disintegration), a beautiful design, and a great price in comparison to products with an equal amount of power + quietness.
Just be wary of those wires and use this toy gently! I'd also suggest cleaning the bullet with toy wipes instead of submerging it in water. Even if a wired toy says it's waterproof, I always suggest keeping it away from water.
This content is the opinion of the submitting contributor and is not endorsed by EdenFantasys.com

Thank you for viewing
Bound By Diamonds diamond teaser
– classic bullet review page!