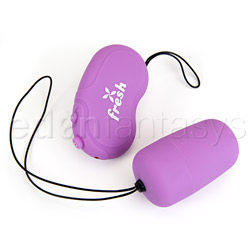 Remote egg vibe
Egg
by PHS International
A little love from afar!
If you're looking for a remote controlled toy with a wide variety of functions that you can tease your partner with from up to 30 feet away, this just might be what you're looking for. What? You need it to be waterproof too? No problem! This one's got it all! Choose from three speeds of steady vibrations or seven different patterns to push the limits of public decency! Just remember that I might be trying to watch the movie so please, keep your moans down if you can.
Published:
Pros:
Waterproof, multi-speed, multi-function, powerful, remote controlled and batteries included.
Cons:
It's a bit on the loud side.
Have you ever wanted that special someone to be in control of the pleasure you derive from a sex toy? With the Remote Egg Vibe, that's totally possible and they can even choose from 10 different steady or pulsating patterns to gently massage you or work you into a sensual frenzy! Simply hand the remote over to your partner and be prepared for the teasing to ensue as they cycle through the patterns from up to 30 feet away.
This
Remote Egg
is manufactured by PHS International, a vegan friendly company, as part of their "Fresh" line of toys. It's hard plastic with a velvety finish so it's okay to use water, oil or silicone based lubes. It's also waterproof, so go with a silicone based lube if you plan on taking it into the water. Clean-up is easy, just wash it off in the sink with antibacterial soap, spray it off with your favorite toy cleaner or wipe it down with isopropyl alcohol. Either way it will be ready whenever you are! Just remember to cover it with a condom when sharing.
The packaging is colorful, as well as unintimidating, so you won't be turned off by blatant and distasteful illustrations. Your first set of batteries are even included so you won't waste any time trying out your new toy. The remote control uses one 12V battery (the little round kind) while the egg requires two N size batteries. These may prove to be more difficult to acquire but they really provide this Remote Egg with power that other, similar remote eggs that require watch batteries, just don't have. The battery life is also much longer than those with watch battery alternatives. Just remember it's a good idea to remove all of the batteries from remote controlled devices when not in use because there is the potential for the batteries to go dead quickly even when not in use.
To access the battery compartment on the egg, you simply grasp both ends and twist to expose the battery holder. For convenience, it even has a diagram for proper battery insertion. This does create a seam on the exterior of the egg but it didn't prove to be much of a problem to keep clean. Also, the egg will vibrate for about 1 second when you put the two pieces back together but it's supposed to do that and it's not a malfunction. The remote control, on the other hand, has a slide off battery cover on the back that is secure and provided no problems and didn't pop off during use.
The egg measures about 2 1/4" in length while the attached, plastic-like, retrieval string measures an additional 5 1/4". These measurements paired with its 1 1/4" diameter make it a great fit for a wide range of users! This was not designed to be used anally. It lacks a flared base so there's the potential that it could accidentally get sucked all the way inside of your rectum. That really wouldn't be a turn on for anyone, so please refrain from using this one anally!
The remote is very small and inconspicuous. As a matter of fact, it could almost pass for a car remote! I say almost because, well, it's purple and it says "Fresh" on the front so that might cause a problem. It's small though at 2 1/4" x 1 1/4" so it could easily hide inside of a pocket instead. It also has a plastic-like loop so that you could attach it to something too. There are only two buttons located on the remote, On and F for function.
This Remote Egg Vibe has no taste and is scent free but it's loud, so while no one will smell it, they will more than likely hear it because it's easily heard through a closed bedroom door. When used internally, it's still loud but more muffled so you might get away with wearing this one out to a concert but it's probably not a good choice for the library. Just remember that along with power, comes the noise so it might be a fair trade off for you. There's a wide variety of patterns to please just about anyone though and this egg will even tell you if it's on with its red light that pulsates in time with the vibration!
Just a bit of advice on this one, it's not your typical on/off type toy. It's a bit more involved than that so make sure to keep the little instruction sheet it comes with for reference until you get the hang of it. It isn't overly complicated but you should probably familiarize yourself with the controls before taking it out on the town. That way you'll be ready for action rather than simply frustrated!
Experience
I did notice an error on the packaging of mine. It states that the egg uses three LR44 watch batteries instead of the two N batteries. two N batteries are included for the egg but I did try to use three LR44 watch batteries from my personal collection just to see if they would work and I can assure you, there is no way that three LR44 watch batteries are going to operate this egg. It's probably just a misprint that will be corrected soon.

This Remote Egg is pretty advanced as far as remote eggs go so, I decided to include the operation directions. They are as follows:

1. Insert batteries into controller and the egg. Note: Egg will vibrate momentarily upon closing.
2. Turn on controller by pressing the on button.
3. Turn the egg on by pushing and holding the function "F" button for 2 seconds and then release. Note: On red and purple eggs there will be a visible light when the egg is on.
4. To change the function of the egg press and hold the "F" button for 1 second and release. The function of the egg will change once the button is released.
5. Turn off the egg by holding down the "F" button for 3 seconds and then release.
6. Turn off the controller by pressing the "On" button.

I also noticed that if you have the egg on and set to a certain function, you can shut the remote off by pressing the "On" button and the pattern will stay the same on the egg. This helps to keep the function from accidentally changing but I really had no problems with that.

I'll also try to explain the different patterns of vibration for everyone. The first three are just low, medium and high steady vibrations. The fourth would be a fast pulse. The fifth is also a pulse but goes kind of buzz, buzzz, buzz-buzzz; repeat. Number six is also a pulsation pattern. It goes, buzz-buzz-buzzzz, buzz-buzz-buzzz; repeat. The seventh function is an escalation pattern. It escalates up and starts over. Number eight is a rollercoaster variation that increases up, stays up for a few seconds and then starts all over. The ninth pattern is basically the same as number eight except it rollercoasters back down too. The tenth and last pattern is kind of a combo of all of the above. There's just so many different options you'd be hard pressed to not find something you liked and its power surpasses many in the same category.
This product was provided free of charge to the reviewer. This review is in compliance with the FTC guidelines.
Thank you for viewing
Remote egg vibe
– vibrator review page!