A Little Surprise, and a Big & Little Surprise
All in all, I think this was a really fun promotion. Edenfantasys didn't have to send out all of those free toys to people, and I'm really glad they did and that I was able to get a couple of them. It was fun to anticipate what I might get, and it was fun to get something unexpected (not a bunny). Thanks, Eden!
Published:
Pros:
Fun!
Free!
Something arrives that you wouldn't normally order.
Cons:
Something arrives that you wouldn't normally order.
When Edenfantasys.com started advertising an offer for a "Free Mystery Gift" for orders of $59 or above, I figured the gift wouldn't be anything I was interested in, and I actually didn't add it to my cart when I placed my first qualifying order after the promotion started. But I kept seeing the banner ad, and so when I placed my next order, I added it to my cart to see what I would get.
I had been reading the forum posts, and it seemed pretty clear that nearly everyone was getting the
Silicone Bunny Buddy
, which didn't excite me at all. The only question remaining was, would I get blue or pink?
When my order arrived, I opened the box, and--SURPRISE!--inside was the pink Silicone Bunny Buddy! It is just as creepy-looking in person as it is online, and is powered by watch batteries, so there's not much power there. But it sure makes a spectacular buzzy-vibration fuss, especially at its higher speeds! I set it aside and gave up on the "Mystery Gift" idea.
Then, while catching up on the forums one night, I read that there were a whole bunch of other items being received as "Mystery Gifts"! Some of them were kind of interesting. So I placed another order, for a larger dollar amount this time. As I waited for the order to arrive, in anticipation of enjoying the high-quality expensive toy I had ordered, I forgot about the "Mystery Gift" that was also on the way to me.
When my shipment arrived, I opened the bag and inspected the toys I had ordered. (This was my first order that arrived in the new bubble-padded envelope instead of the usual trusty Eden brown box. I was a little worried about what shape my toys would be in, coming all this way in a plastic padded envelope. Everything seemed okay; a couple of boxes were smashed in quite badly, but luckily I wasn't giving them as gifts, and the toys were intact). But then I came across something I didn't expect! It was a medium-sized California Exotics box with a picture on the front, of...a mutant penis? A very thick, pinkish-lavender cock, with a smaller deformed cock growing out of it! Then I remembered...my "Mystery Gift!" Sure enough, instead of the requisite cartoon bunny, I had received an
Over-and-Under Power Stud
! I was a little bit shocked. And I was a little bit worried that my husband would walk in and see it, and think that somewhere buried in me was a desire to have a tiny mutant cock growing out of his perfect one, and that desire made me order this thing, in HOT LAVENDER-PINK!
Well, I haven't used my Over-and-Under Power Stud yet, but I will, and I will review it separately under its own product page. This review is to report what I received as "Mystery Gifts," and that I've done.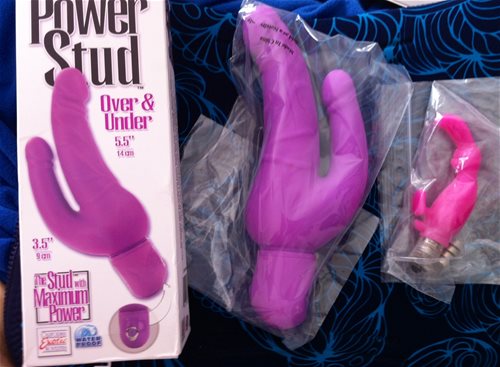 This content is the opinion of the submitting contributor and is not endorsed by EdenFantasys.com

Thank you for viewing
Mystery Gift
– miscellaneous review page!